A " Double-Edged " Scaffold: Antitumor Power within the 
 Antibacterial Quinolone
ABSTRACT
---
In the late 1980s, reports emerged describing experimental antibacterial quinolones having significant potency against eukaryotic Type II topoisomerases (topo II) and showing cytotoxic activity against tumor cell lines. As a result, several pharmaceutical companies initiated quinolone anticancer programs to explore the potential of this class in comparison to conventional human topo II inhibiting antitumor drugs such as doxorubicin and etoposide. In this review, we present a modern re-evaluation of the anticancer potential of the quinolone class in the context of today's predominantly pathway-based (rather than cytotoxicity-based) oncology drug R&D environment. The quinolone eukaryotic SAR is comprehensively discussed, contrasted with the corresponding prokaryotic data, and merged with recent structural biology information which is now beginning to help explain the basis for that SAR. Quinolone topo II inhibitors appear to be much less susceptible to efflux-mediated resistance, a current limitation of therapy with conventional agents. Recent advances in the biological understanding of human topo II isoforms suggest that significant progress might now be made in overcoming two other treatment-limiting disadvantages of conventional topo II inhibitors, namely cardiotoxicity and drug-induced secondary leukemias. We propose that quinolone class topo II inhibitors could have a useful future therapeutic role due to the continued need for effective topo II drugs in many cancer treatment settings, and due to the recent biological and structural advances which can now provide, for the first time, specific guidance for the design of a new class of inhibitors potentially superior to existing agents.
No MeSH data available.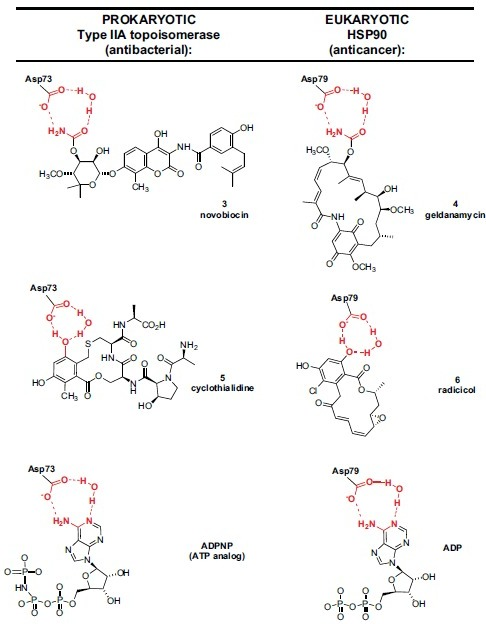 © Copyright Policy - open-access
License
getmorefigures.php?uid=PMC4997924&req=5
Mentions: Over the following decades, other synthetic and natural product agents were discovered acting through broad or specific mechanisms common to both eukaryotic and prokaryotic cells and having application (or potential application) as antibacterial or anticancer agents depending on the degree of selectivity that could be attained. An interesting illustration of prokaryotic vs eukaryotic selectivity in the domain of natural products is provided by a set of four molecules which at first glance appear quite dissimilar from one another: novobiocin (3, first reported 1956), geldanamycin (4, 1970), cyclothialidine (5, 1987), and radicicol (6, 1962) (Fig. 2). In fact all four compounds competitively bind to a unique ATP-binding fold--the Bergerat fold[42]--thereby inhibiting the ATPase activity of either bacterial Type II topoisomerase (novobiocin and cyclothialidine) or the eukaryotic anticancer chaperone target Hsp90 (geldanamycin and radicicol) [43-45]. A specific functional group motif plays a key role in the binding event for each prokaryotic/eukaryotic targeted pair of these molecules: a primary carbamate group for novobiocin and geldanamycin, and a phenol hydroxy group for cyclothialidine and radicicol (Fig. 2). These two functional groups are key anchoring points for the binding of these molecules to the Bergerat fold and involve an interaction with a critical aspartic acid - water motif in the enzyme ATP binding pocket: Asp73 (E. coli numbering, shown) or Asp79 (yeast numbering, shown) and Asp93 (human numbering). ATP itself binds to these aspartate-water motifs in the Bergerat fold via its purine 1-amine and 6-amino groups (Fig. 2; co-crystal structures have been obtained for the ATP analog ATPNP in bacterial topoisomerase, and for ADP in Hsp90). The anchoring interactions for all the compounds are highlighted in red in Fig. (2). In bacteria, the Asp73 binding interaction is so critical that no resistant mutants to competitive ATPase inhibitors have been found with a change in this amino acid. Even though the Bergerat fold is similar for both Type II bacterial topoisomerase and eukaryotic Hsp90, certain structural differences surrounding these N-terminal ATP binding pockets are sufficient to alter the general binding mode of the inhibitors outside the critical Asp-water motif interaction. Thus novobiocin and cyclothialidine both largely orient away from the remainder of the ATP binding site, while geldanamycin and radicicol generally overlap with the ATP binding site (Fig. 2). Novobiocin was employed for several decades as an antibacterial agent especially for therapy against penicillin-resistant Staphylococcus aureus infections, while cyclothialidine served as the starting point for a significant preclinical antibacterial optimization program at Roche [45]. Both geldanamycin and radicicol serve currently as starting points for the preparation of more optimized anticancer analogs, several of which have been investigated in clinical trials [46-51]. Unlike the anticancer DHFR inhibitors methotrexate and aminopterin which are also antibacterial by a DHFR mechanism, neither geldanamycin or radicicol exhibit appreciable cross inhibitory activity for bacteria, and do not inhibit prokaryotic topoisomerase [52-54]. Conversely neither novobiocin nor cyclothialidine significantly inhibit the N-terminal ATPase domain of Hsp90. This relatively compartmentalized selectivity profile for these four natural products is nevertheless subtly nuanced by recent discoveries that novobiocin can slightly inhibit Hsp90 activity by weakly binding to a C-terminal (apparently non-catalytic) ATP binding site, while radicicol has been shown to inhibit (weakly) a second human target, topo II, presumably via interaction with the enzyme's ATPase Bergerat fold [55, 56].