Moyamoya disease manifested as multiple simultaneous intracerebral hemorrhages: A case report and literature review
ABSTRACT
---
Multiple simultaneous intracerebral hemorrhages (MSIH) caused by Moyamoya disease (MMD) is extremely rare. To date, the clinical manifestations, imaging characteristics and mechanism of MMD-induced MSIH have not yet been elucidated. In order to improve the understanding on such cases, the present study described a rare case of MSIH caused by MMD. A 40-year-old female patient with no history of hypertension or diabetes mellitus experienced a sudden headache followed by coma. Cranial computed tomography (CT) examination revealed MSIH in the left frontal area, temporal lobe and basal ganglia. CT angiography and digital subtraction angiography examinations revealed typical characteristics of MMD. Subsequent to excluding disorders of the blood system and blood coagulation, we concluded that the present case of MSIH was caused by MMD. Hematoma evacuation and decompressive craniectomy were performed with satisfactory results. In addition, after reviewing previous MSIH cases in the literature, potential mechanisms of MMD-mediated MSIH were considered. In conclusion, MMD should be considered as a possible cause of MSIH during diagnosis and treatment. MMD can lead to pathological changes in the fragility of small arteries; therefore, rupture and hemorrhage at one site may induce a transient increase in blood pressure, causing the rupture of small arteries at other sites, and thus leading to MSIH. Hematoma evacuation and decompression should be conducted in selective cases of MMD-induced MSIH in order to achieve a good prognosis.
No MeSH data available.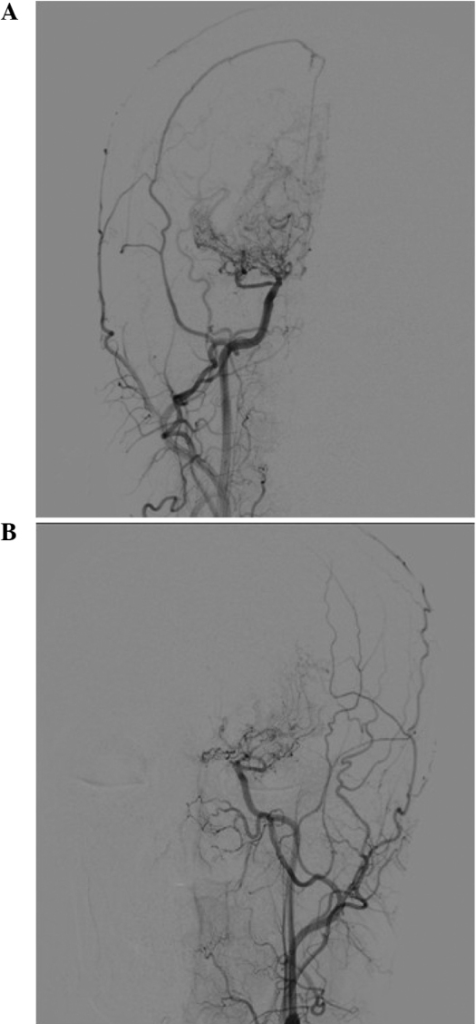 © Copyright Policy - open-access
License
getmorefigures.php?uid=PMC4997912&req=5
Mentions: An emergency hematoma evacuation and decompressive craniectomy was scheduled. To further clarify the circumstances of the intracranial arteries, preoperative digital subtraction angiography (DSA) was performed under general anesthesia in the catheterization room. The DSA results showed occlusions at the ends of the bilateral carotid arteries, which were replaced with 'smoke-like' blood vessels (Fig. 3). With the exception of these smoke-like blood vessels, no aneurysms or vascular malformations were observed in the areas of the left middle cerebral artery or anterior artery areas (Fig. 3). Hematoma evacuation and decompressive craniectomy were performed under general anesthesia in order to remove the majority of the hematoma in the left basal ganglia and posterior temporal lobe; however, the hemorrhage in the left frontal lobe was not treated as it was risky and unnecessary. Following hematoma evacuation, the temporal muscle was attached to the brain surface for fusion. A postoperative CT scan revealed that the majority of the intracranial hematoma was removed and that the ventricular size had returned to normal, with the midline in the center (Fig. 4). Postoperative nutritional support, including Nutrison Fibre (80 ml/h intranasally; Nutrica Pharmaceutical Co., Ltd., Wuxi, China) and trimebutine maleate (400 mg once every three days; Tanabe Pharmaceutical Co., Ltd., Tianjin, China), and symptomatic treatment were provided for 1 week, and the patient gradually regained consciousness, with motor aphasia, low pressure in the left decompression window, right hemiplegia and degree 3 muscle strength. Over the 3-month follow-up period the patient was aphasic, with degree 4 muscle strength in her right limb, and essentially self-sufficient in her daily life. In June 2016, the patient's symptoms persisted but no hemorrhage had reoccurred, and the patient's quality of life was good.