The Heterodimeric ABC Transporter EfrCD Mediates Multidrug Efflux in Enterococcus faecalis
ABSTRACT
---
Nosocomial infections with Enterococcus faecalis are an emerging health problem. However, drug efflux pumps contributing to intrinsic drug resistance are poorly studied in this Gram-positive pathogen. In this study, we functionally investigated seven heterodimeric ABC transporters of E. faecalis that are annotated as drug efflux pumps. Deletion of ef0789-ef0790 on the chromosome of E. faecalis resulted in increased susceptibility to daunorubicin, doxorubicin, ethidium, and Hoechst 33342, and the corresponding transporter was named EfrCD. Unexpectedly, the previously described heterodimeric multidrug ABC transporter EfrAB contributes marginally to drug efflux in the endogenous context of E. faecalis. In contrast, heterologous expression in Lactococcus lactis revealed that EfrAB, EfrCD, and the product of ef2226-ef2227 (EfrEF) mediate the efflux of fluorescent substrates and confer resistance to multiple dyes and drugs, including fluoroquinolones. Four of seven transporters failed to exhibit drug efflux activity for the set of drugs and dyes tested, even upon overexpression in L. lactis. Since all seven transporters were purified as heterodimers after overexpression in L. lactis, a lack of drug efflux activity is not attributed to poor expression or protein aggregation. Reconstitution of the purified multidrug transporters EfrAB, EfrCD, and EfrEF in proteoliposomes revealed functional coupling between ATP hydrolysis and drug binding. Our analysis creates an experimental basis for the accurate prediction of drug efflux transporters and indicates that many annotated multidrug efflux pumps might be incapable of drug transport and thus might fulfill other physiological functions in the cell.
No MeSH data available.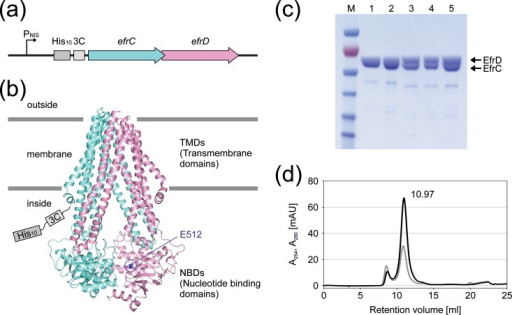 © Copyright Policy - open-access
License
getmorefigures.php?uid=PMC4997860&req=5
Mentions: Insufficient overexpression or protein aggregation in L. lactis NZ9000 ΔlmrA ΔlmrCD could explain why four out of seven transporters did not exhibit drug transport activities. To explore this possibility, the seven transporters were overexpressed in, and purified from, L. lactis via a deca-His tag attached to the N terminus of the first chain of the heterodimeric transporter complex. In agreement with previous studies on LmrCD (43), PatAB (25), and TM287/288 (20), the enterococcal transporters were purified as heterodimers, as judged from SDS-PAGE (Fig. 4; see also Fig. S2 in the supplemental material), indicating that a stable heterodimeric complex was formed between the corresponding half-transporters. The identities of the SDS-PAGE bands corresponding to EfrC and EfrD (Fig. 4c) were confirmed by matrix-assisted laser desorption ionization—time of flight (MALDI-TOF) analysis (not shown). Size exclusion chromatography analysis of the Ni2+-NTA-purified transporters revealed that they elute at a retention volume of ca. 11 ml, which corresponds to the size of a typical heterodimeric ABC exporter (44) (Fig. S2). Hence, without any exception, the transporter complexes appeared to be well folded and even withstood the protein purification procedure, including extraction from the membrane by detergent. This provides strong evidence that in the native context of the membrane, all transporters are correctly assembled, precluding protein aggregation as a cause for missing transport activity. For all transporters, an inactive E-to-Q mutant was purified and served as a negative control in the ATPase activity measurements for background subtraction. The expression levels of the E-to-Q mutants were equal to those of the wild-type transporters (not shown). A narrow fraction of the SEC peak eluting at 11 ml was used for the determination of basal ATPase activity. (Basal activity stands for the ATP turnover of an ABC transporter in the absence of added substrates.) Except for EF1592/93, all transporters exhibited basal ATPase activities when measured in the presence of 1 mM ATP at 30°C. However, the ATP hydrolysis rates observed differed markedly, ranging from 350 to 12,000 nmol Pi/min/mg of protein (Table 4).