The Heterodimeric ABC Transporter EfrCD Mediates Multidrug Efflux in Enterococcus faecalis
ABSTRACT
---
Nosocomial infections with Enterococcus faecalis are an emerging health problem. However, drug efflux pumps contributing to intrinsic drug resistance are poorly studied in this Gram-positive pathogen. In this study, we functionally investigated seven heterodimeric ABC transporters of E. faecalis that are annotated as drug efflux pumps. Deletion of ef0789-ef0790 on the chromosome of E. faecalis resulted in increased susceptibility to daunorubicin, doxorubicin, ethidium, and Hoechst 33342, and the corresponding transporter was named EfrCD. Unexpectedly, the previously described heterodimeric multidrug ABC transporter EfrAB contributes marginally to drug efflux in the endogenous context of E. faecalis. In contrast, heterologous expression in Lactococcus lactis revealed that EfrAB, EfrCD, and the product of ef2226-ef2227 (EfrEF) mediate the efflux of fluorescent substrates and confer resistance to multiple dyes and drugs, including fluoroquinolones. Four of seven transporters failed to exhibit drug efflux activity for the set of drugs and dyes tested, even upon overexpression in L. lactis. Since all seven transporters were purified as heterodimers after overexpression in L. lactis, a lack of drug efflux activity is not attributed to poor expression or protein aggregation. Reconstitution of the purified multidrug transporters EfrAB, EfrCD, and EfrEF in proteoliposomes revealed functional coupling between ATP hydrolysis and drug binding. Our analysis creates an experimental basis for the accurate prediction of drug efflux transporters and indicates that many annotated multidrug efflux pumps might be incapable of drug transport and thus might fulfill other physiological functions in the cell.
No MeSH data available.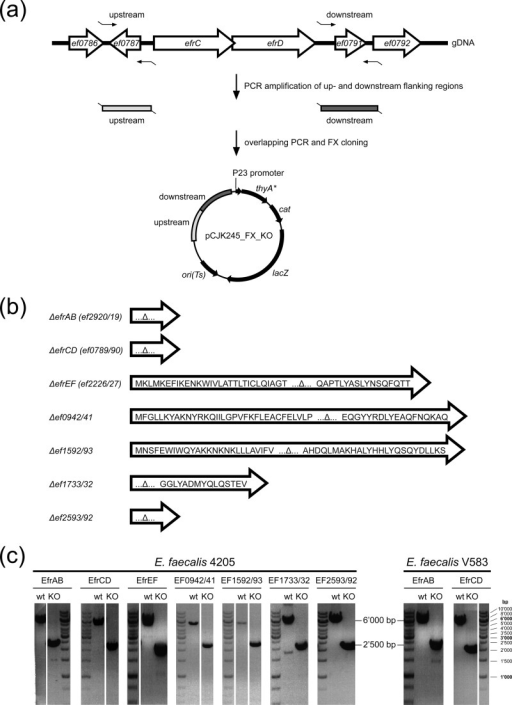 © Copyright Policy - open-access
License
getmorefigures.php?uid=PMC4997860&req=5
Mentions: Gene deletions were generated using the counterselection strategy based on a dominant negative mutant of the thymidylate synthase gene, thyA*, in a two-step recombination mechanism (27). Flanking regions of the genes of interest (see Fig. 2) were amplified from E. faecalis 4205 and E. faecalis V583 using primers (see Table S2 in the supplemental material) designed on the basis of the genome sequence of E. faecalis V583. All primers worked equally well for E. faecalis 4205, confirming the close sequence relationship between E. faecalis 4205 and E. faecalis V583 observed for the 16S rRNA sequence. The two flanking regions were fused by overlapping PCR and were cloned into the gene deletion vector pCJK245_FX using fragment exchange (FX) cloning (28). To create the FX-cloning-compatible gene deletion vector pCJK245_FX, a fragment containing the ccdB marker and the two SapI restriction sites was amplified from pINIT_cat (28) with primers containing an XbaI or NcoI restriction site as an overhang (see Table S3 in the supplemental material) and was cloned into pCJK245 (27). The gene deletion vector pCJK245_FX contains a temperature-sensitive origin of replication, which permits plasmid replication at 30°C but not at 42°C. The gene deletion vectors were transformed into electrocompetent E. faecalis cells and were selected for resistance to chloramphenicol at 30°C. Colonies were grown in hBHI in the presence of chloramphenicol at 30°C overnight. This preculture was diluted 1:100 into fresh medium and was grown at 30°C for 3 h, followed by a temperature shift to 42°C for 2 h to facilitate the first recombination (integration). Cells were plated onto hBHI agar plates containing chloramphenicol and 5-bromo-4-chloro-3-indolyl-β-d-galactopyranoside (X-Gal) (120 μg/ml) and were grown at a nonpermissive temperature (42°C). In order to facilitate the second recombination step, blue colonies of the first recombinants were picked and were propagated in thymine-poor MM9YEG medium in the absence of chloramphenicol. In this medium, no growth was expected for cells containing the gene deletion vector due to the dominant negative counterselection marker ThyA*, which dimerizes with wild-type ThyA and blocks its capability to synthesize thymine. However, counterselection strength was limited, i.e., all first recombinants grew readily in MM9YEG. Counterselection strength could not be improved by using a chemically defined medium completely lacking thymine. Therefore, the first recombinants were screened by monitoring cell growth (expressed as the optical density at 600 nm [OD600]) to identify those that grew comparatively slowly in MM9YEG. Slow-growing clones (20% of 1,000 clones tested) were streaked out onto MM9YEG agar plates containing X-Gal (120 μg/ml) and were incubated at 30°C. White colonies (in total 600 for the seven deletion mutants) were screened for gene deletions using colony PCR (with GoTaq G2 DNA polymerase; Promega). Genomic DNA was prepared from chloramphenicol-sensitive clones, and PCR amplifications were performed to confirm gene deletions (Phusion DNA polymerase; Thermo Fisher Scientific). Although a ∼1:1 ratio was expected between mutant and wild-type strains as a result of the second recombination, we obtained only 5% gene deletions, whereas 95% of strains reverted to wild type. Finally, we were able to generate markerless gene deletions for the seven heterodimeric ABC exporters in E. faecalis strain 4205 and to delete the efrAB and efrCD transporters from the genome of the vancomycin-resistant E. faecalis strain V583 (see Fig. 2).