Staphylococcus aureus Alpha-Toxin Is Conserved among Diverse Hospital Respiratory Isolates Collected from a Global Surveillance Study and Is Neutralized by Monoclonal Antibody MEDI4893
ABSTRACT
---
Staphylococcus aureus infections lead to an array of illnesses ranging from mild skin infections to serious diseases, such endocarditis, osteomyelitis, and pneumonia. Alpha-toxin (Hla) is a pore-forming toxin, encoded by the hla gene, that is thought to play a key role in S. aureus pathogenesis. A monoclonal antibody targeting Hla, MEDI4893, is in clinical development for the prevention of S. aureus ventilator-associated pneumonia (VAP). The presence of the hla gene and Hla protein in 994 respiratory isolates collected from patients in 34 countries in Asia, Europe, the United States, Latin America, the Middle East, Africa, and Australia was determined. Hla levels were correlated with the geographic location, age of the subject, and length of stay in the hospital. hla gene sequence analysis was performed, and mutations were mapped to the Hla crystal structure. S. aureus supernatants containing Hla variants were tested for susceptibility or resistance to MEDI4893. The hla gene was present and Hla was expressed in 99.0% and 83.2% of the isolates, respectively, regardless of geographic region, hospital locale, or age of the subject. More methicillin-susceptible than methicillin-resistant isolates expressed Hla (86.9% versus 78.8%; P = 0.0007), and S. aureus isolates from pediatric patients expressed the largest amounts of Hla. Fifty-seven different Hla subtypes were identified, and 91% of the isolates encoded an Hla subtype that was neutralized by MED4893. This study demonstrates that Hla is conserved in diverse S. aureus isolates from around the world and is an attractive target for prophylactic monoclonal antibody (MAb) or vaccine development.
No MeSH data available.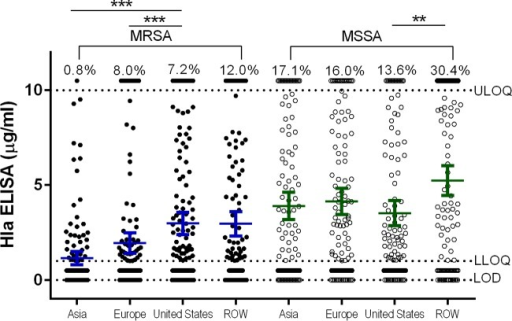 © Copyright Policy - open-access
License
getmorefigures.php?uid=PMC4997823&req=5
Mentions: Comparing Hla expression levels by geographic region revealed that a higher proportion of Asian, European, and ROW MSSA isolates than MRSA isolates from the same regions expressed detectable Hla, while U.S. isolates were more comparable in terms of relative Hla expression levels (Fig. 2). These data suggest that there are regional differences in Hla expression in MSSA and MRSA isolates from around the world. Because MSSA patients were on average younger than MRSA patients and MSSA isolates expressed larger amounts of Hla, the correlation between Hla expression levels and patient age was evaluated (Fig. 3). MSSA isolated from infants, adolescents, and young adults aged 0 to 20 years expressed the highest levels of Hla, suggesting these isolates were qualitatively different from the others. The relationship between Hla expression levels and length of stay in the hospital associated with MSSA and MRSA isolates was also determined (Fig. 4). For MRSA, isolates from patients with longer hospital stays were more likely to be Hla negative, and conversely, shorter stays were associated with isolates being Hla positive (P = 0.0030). These data suggest that there is a complex interplay between the infecting strain, antibiotic resistance, alpha-toxin, and the host immune response.