Staphylococcus aureus Alpha-Toxin Is Conserved among Diverse Hospital Respiratory Isolates Collected from a Global Surveillance Study and Is Neutralized by Monoclonal Antibody MEDI4893
ABSTRACT
---
Staphylococcus aureus infections lead to an array of illnesses ranging from mild skin infections to serious diseases, such endocarditis, osteomyelitis, and pneumonia. Alpha-toxin (Hla) is a pore-forming toxin, encoded by the hla gene, that is thought to play a key role in S. aureus pathogenesis. A monoclonal antibody targeting Hla, MEDI4893, is in clinical development for the prevention of S. aureus ventilator-associated pneumonia (VAP). The presence of the hla gene and Hla protein in 994 respiratory isolates collected from patients in 34 countries in Asia, Europe, the United States, Latin America, the Middle East, Africa, and Australia was determined. Hla levels were correlated with the geographic location, age of the subject, and length of stay in the hospital. hla gene sequence analysis was performed, and mutations were mapped to the Hla crystal structure. S. aureus supernatants containing Hla variants were tested for susceptibility or resistance to MEDI4893. The hla gene was present and Hla was expressed in 99.0% and 83.2% of the isolates, respectively, regardless of geographic region, hospital locale, or age of the subject. More methicillin-susceptible than methicillin-resistant isolates expressed Hla (86.9% versus 78.8%; P = 0.0007), and S. aureus isolates from pediatric patients expressed the largest amounts of Hla. Fifty-seven different Hla subtypes were identified, and 91% of the isolates encoded an Hla subtype that was neutralized by MED4893. This study demonstrates that Hla is conserved in diverse S. aureus isolates from around the world and is an attractive target for prophylactic monoclonal antibody (MAb) or vaccine development.
No MeSH data available.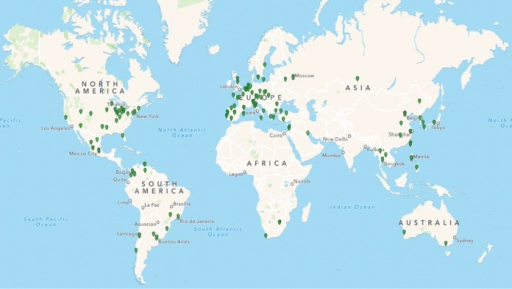 © Copyright Policy - open-access
License
getmorefigures.php?uid=PMC4997823&req=5
Mentions: To better understand the global prevalence of the hla gene and Hla expression in S. aureus respiratory isolates, we randomly selected 500 MSSA and 500 MRSA isolates from a total of 2,068 MSSA and 3,434 MRSA isolates collected during 2012 and 2013 as part of a prospective 5-year global antibacterial resistance surveillance program. One hundred and twenty-five identified MSSA and MRSA respiratory isolates from each of four geographic regions (Asia, Europe, the United States, and the rest of the world) representing 34 countries (Fig. 1) were selected for culture and characterization. Of the 1,000 isolates selected, 2 isolates originally classified as MSSA by culture were determined to be Staphylococcus epidermidis and 4 isolates did not grow, leaving 994 for analysis (Table 1). All the isolates were derived from endotracheal aspirates, bronchoalveolar brush samples, lavage samples, or sputum and came from nine different departments in the participating hospitals. Isolates were also categorized as coming from patients who had been in the hospital for less than or more than 48 h and male or female and by the age of the patient. The majority of the isolates came from either general medicine, ICU, general surgery, or surgical ICU, and less than 1% came from outpatient departments. Interestingly, the isolates from the pediatric departments were more likely to be MSSA than MRSA (46 versus 23; P = 0.0040) (Table 1).