Synergistic chiral iminium and palladium catalysis: Highly regio- and enantioselective [3 + 2] annulation reaction of 2-vinylcyclopropanes with enals
ABSTRACT
---
A cooperative catalytic strategy of chiral iminium catalysis by regioselective activation of the C=C bond in enals and a transition metal promoting to open the 2-vinylcyclopropanes for highly regio- and enantioselective [3 + 2] cycloaddition reaction of 2-vinylcyclopropanes with α,β-unsaturated aldehydes has been developed.
No MeSH data available.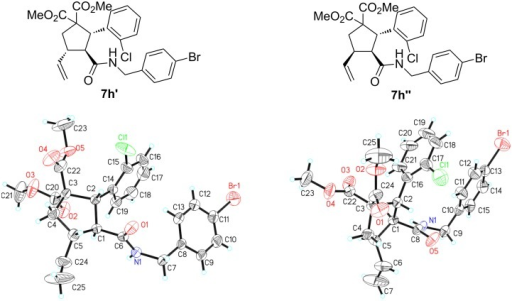 © Copyright Policy - Beilstein
License 1 - License 2


getmorefigures.php?uid=PMC4979765&req=5

Mentions: Encouraged by this result, we carried out further investigations of the co-catalysts promoted process (Table 2). First, we determined the diastereo- and enantioselectivity of the reaction. The 1H NMR of the reaction crude mixture showed three diastereoisomers. The two major diastereoisomers were determined to be (2S,3S,4S)-3a' and (2S,3S,4R)-3a'' in 2:1 ratio (Table 2, entry 1) based on single X-ray crystallographic analysis (see Scheme 2). Unfortunately, the third diastereoisomer 3a''' was too hard to be separated to determine its stereochemistry. The enantioselectivities of two major diastereoisomers are even more encouraging (80 and 76% ee). Further investigations of solvents revealed the medium-dependent effect (Table 2, entries 1–8). No reaction happened in toluene (Table 2, entry 2). Disappointing outcomes were also received in DCE, ether, CH3CN and EtOAc (Table 2, entries 3–6). Gratifyingly, in CHCl3 this reaction proceeded smoothly to furnish the desired cyclopentanes in 63% yield with 99% ee for major 3a' and 83% ee for minor 3a'' with a dr ratio of 1.7:1 (Table 2, entry 7). The reaction performed in THF was interesting: No reaction occurred at rt (Table 2, entry 8), but at 50 °C, 54% yield with high enantioselectivity for both isomers while 3a'' as the major product (dr: 3a'':3a' = 5:1, Table 2, entry 9) was obtained. We decided to further optimize the reaction in CHCl3 accordingly (Table 2, entries 10–13). A longer reaction time helped to increase the reaction yield (60 h, 76% yield entry 10). More steric hindered amine catalysts with bigger TES and TBDMS groups, II and III, were then probed and gave rise to the slight drop of enantioseletivity (Table 2, entries 11 and 12). A further optimization of reaction conditions found that the addition of additional 0.5 equiv 1a into the reaction mixture in 4 portions significantly improved the reaction yield (83%, Table 2, entry 13). In order to improve the diastereoselectivity of this reaction, other cyclopentanes used in Trost's system were also tested in this reaction [45]. Unfortunately, the reactions proceeded slowly to afford the cycloaddition products in less than 10% yield.