Synergistic chiral iminium and palladium catalysis: Highly regio- and enantioselective [3 + 2] annulation reaction of 2-vinylcyclopropanes with enals
ABSTRACT
---
A cooperative catalytic strategy of chiral iminium catalysis by regioselective activation of the C=C bond in enals and a transition metal promoting to open the 2-vinylcyclopropanes for highly regio- and enantioselective [3 + 2] cycloaddition reaction of 2-vinylcyclopropanes with α,β-unsaturated aldehydes has been developed.
No MeSH data available.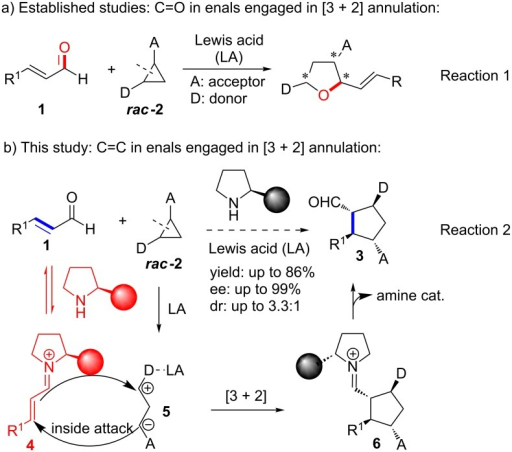 © Copyright Policy - Beilstein
License 1 - License 2


getmorefigures.php?uid=PMC4979765&req=5

Mentions: The power of "donor–acceptor" (D–A) cyclopropanes as versatile 1,3-dipolar components is fuelled by its capacity of serving a complementary approach to a wide array of 5-membered ring structures, which are difficult or impossible to access by classic [3 + 2] cycloaddition reactions [1–34]. In recent years, significant efforts have been devoted to developing a catalytic enantioselective version of the processes. In this context, the D–A cyclopropanes have been applied for the reaction with highly active dipolarophiles, such as electrophilic C=O [35], e.g., aldehydes [36–38], ketones [38–39], and imines [40], and nucleophilic enol ethers [38,41], enamides [42], and indoles [43]. Nonetheless, the reactions with the α,β-unsaturated aldehydes and ketones face important challenges. To the best of our knowledge, so far merely two catalyst manifolds have been realized to effect the transformations with C=C double bonds instead of C=O in the α,β-unsaturated systems. Tsuji described the first organometallic promoted non-asymmetric reaction between D–A cyclopropanes and methyl vinyl ketone and α,β-unsaturated esters [44]. Trost and co-workers orchestrated the only example of the enantioselective reaction of D–A cyclopropanes with C=C double bonds with Meldrum's acid and alkylidenes or azlactone alkylidenes, catalyzed by the chiral Trost Pd(0)-complexes [45]. However, it is difficult to apply the catalytic system for the regio-controlled reaction with C=C bonds in α,β-unsaturated carbonyl compounds, particularly enals. The highly active aldehyde functionality reacts more favorably with the D–A cyclopropane resulting 1,3-dipoles, as elegantly demonstrated by Johnson and Waser for the formation of chiral tetrahydrofurans (Scheme 1, reaction 1) [36,38]. Achieving a regioselective control at the C=C bond rather than at C=O in enals represents a challenge and has not been reported.