Beta-hydroxyphosphonate ribonucleoside analogues derived from 4-substituted-1,2,3-triazoles as IMP/GMP mimics: synthesis and biological evaluation
ABSTRACT
---
A series of seventeen β-hydroxyphosphonate ribonucleoside analogues containing 4-substituted-1,2,3-triazoles was synthesized and fully characterized. Such compounds were designed as potential inhibitors of the cytosolic 5'-nucleotidase II (cN-II), an enzyme involved in the regulation of purine nucleotide pools. NMR and molecular modelling studies showed that a few derivatives adopted similar structural features to IMP or GMP. Five derivatives were identified as modest inhibitors with 53 to 64% of cN-II inhibition at 1 mM.
No MeSH data available.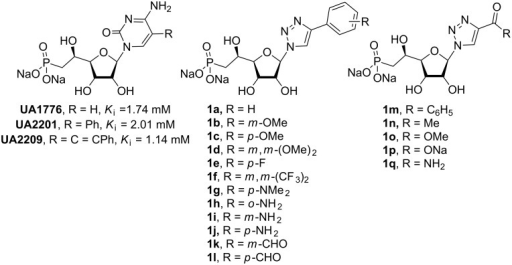 © Copyright Policy - Beilstein
License 1 - License 2


getmorefigures.php?uid=PMC4979751&req=5

Mentions: Nucleotidases are an important family of enzymes involved in the metabolism of nucleotides [1]. In particular, human cytosolic 5'-nucleotidase II (cN-II) catalyses the dephosphorylation of purine 5'-monophosphate derivatives to their corresponding nucleosides [2–3]. Recent studies on patients affected by haematological malignancies, such as acute myeloid leukaemia (AML) and myelodysplasic syndrome (MS), have demonstrated the involvement of cN-II in the resistance to cytotoxic drugs such as mercaptopurines and suggested the effectiveness of cN-II inhibitors in the treatment of these diseases [4–5]. As a result of our interest in this area, we and others [6] have investigated a number of structure–activity relationships (SAR) [7–8] and various medicinal chemistry approaches [9–10] to identify potential cN-II inhibitors. As part of a research program on phosphonate derivatives of nucleosides as mimics of 5'-monophosphate nucleosides, we explored the SAR of various beta-hydroxyphosphonate analogues. Such derivatives have been extensively studied and exhibited Ki values in the same range as the known natural substrates (IMP, inosine 5'-monophosphate and GMP, guanosine 5'-monophosphate) [6–7]. In the particular context of cN-II, which is also known as High-Km nucleotidase owing to the high substrate concentration required for activity (in the mM range), the Ki values of approximately 1 mM previously obtained for cytidine-containing derivatives are biologically interesting (Fig. 1) [7]. In addition, molecular docking studies have been performed and highlighted the importance of three binding areas within the active site of the protein: a hydrophobic clamp (Phe157, His209 and Tyr210) interacting with the nucleobase, a hydrophilic pocket (Ser251 and Lys215) where the hydroxy groups of the sugar interact and a phosphonate binding site close to the magnesium ion located in the substrate binding site. Thus, as few cytosine-containing analogues were equipotent in terms of cN-II inhibition to their purine counterparts (Fig. 1) [7], we were interested in studying the effect of replacing the nucleobase by a 1,2,3-triazole moiety, linked to various substituents, with the aim to retain or modulate essential elements for enzyme recognition. Indeed, the assembly of the triazole ring with various substituents confers to the final compound high flexibility. Initially reported by K. Seley-Radtke's group, the replacement of the nucleobase by a "flexi-moiety" where the imidazole ring and a six-membered heterocycle is linked through a C–C bond lead to new derivatives behaving as nucleosides and even as enzyme inhibitors [11–13]. The inherent flexibility of the corresponding nucleobase-mimics allows to accommodate steric and electronic clashes encountered in protein binding sites and to interact with other amino acids. Another type of fleximers, obtained by a click chemistry approach, was developed by R. H. E. Hudson to obtain "click-fleximer" as expanded nucleobase mimicking the purine [14]. "Click-fleximer" nucleoside analogues are easily accessible derivatives using copper-catalysed alkyne–azide cycloaddition (CuAAC) and this synthetic methodology allows generating a small library of derivatives depending on the nature of the alkyne employed.