Landscape genetics of the nonnative red fox of California
ABSTRACT
---
Invasive mammalian carnivores contribute disproportionately to declines in global biodiversity. In California, nonnative red foxes (Vulpes vulpes) have significantly impacted endangered ground‐nesting birds and native canids. These foxes derive primarily from captive‐reared animals associated with the fur‐farming industry. Over the past five decades, the cumulative area occupied by nonnative red fox increased to cover much of central and southern California. We used a landscape‐genetic approach involving mitochondrial DNA (mtDNA) sequences and 13 microsatellites of 402 nonnative red foxes removed in predator control programs to investigate source populations, contemporary connectivity, and metapopulation dynamics. Both markers indicated high population structuring consistent with origins from multiple introductions and low subsequent gene flow. Landscape‐genetic modeling indicated that population connectivity was especially low among coastal sampling sites surrounded by mountainous wildlands but somewhat higher through topographically flat, urban and agricultural landscapes. The genetic composition of populations tended to be stable for multiple generations, indicating a degree of demographic resilience to predator removal programs. However, in two sites where intensive predator control reduced fox abundance, we observed increases in immigration, suggesting potential for recolonization to counter eradication attempts. These findings, along with continued genetic monitoring, can help guide localized management of foxes by identifying points of introductions and routes of spread and evaluating the relative importance of reproduction and immigration in maintaining populations. More generally, the study illustrates the utility of a landscape‐genetic approach for understanding invasion dynamics and metapopulation structure of one of the world's most destructive invasive mammals, the red fox.
No MeSH data available.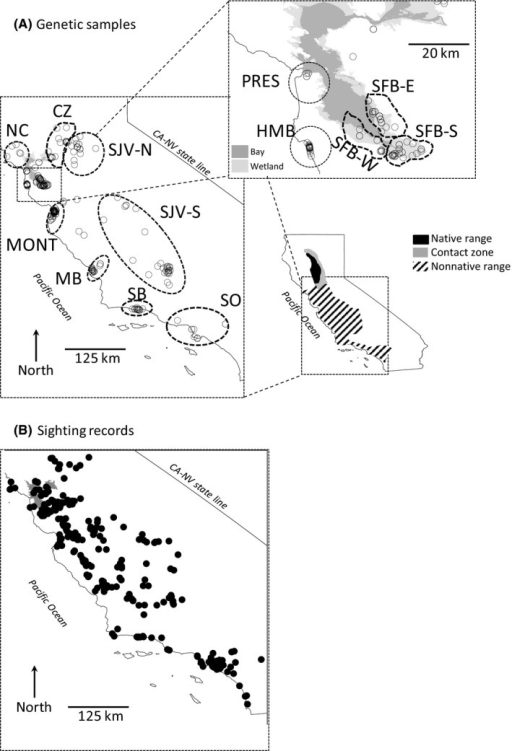 © Copyright Policy - creativeCommonsBy
License
getmorefigures.php?uid=PMC4979706&req=5
Mentions: We obtained most of our sample over a 15‐year period spanning 1996–2010, and small numbers of additional samples from as far back as the early 1900s, which enabled us to investigate stability of genetic patterns to more directly assess these postestablishment dynamics. We obtained samples for genetic analyses primarily from foxes removed in predator control activities aimed at protecting endangered prey species. As a consequence, most of our sampling reflects some spatial clustering in localized sampling sites (Fig. 1A). For convenience, we therefore used discrete sampling sites as a basis of several analyses, although we did not consider sites to represent biologically meaningful population units. The dispersion of samples varied among sites, in some cases reflecting somewhat arbitrary groupings (e.g., San Joaquin Valley [SJV‐S]); the grouping of such samples with a particular site was decided independently of genetic data, based solely on considerations of sample size, proximity, and commonality to a landscape (e.g., within the same valley). Consequently, it is likely that some sites contained multiple populations and some populations were spread across multiple sites. In total, we sampled 402 red foxes from 13 sites scattered across most of the known range of the nonnative red fox in California. These sites encompassed the range of nonnative red fox occurrence identified by Lewis et al. (1999), except the southernmost extent of San Diego, where foxes apparently were extirpated, and most of the Sacramento Valley, which was subsequently (to that study) found to contain the native Sacramento Valley red fox (Perrine et al. 2007; Sacks et al. 2010a,b; Fig. 1A). We included samples from the southern end of the Sacramento Valley, a known contact zone between native and nonnative red foxes (Sacks et al. 2011). After necropsy and tissue sampling, vouchers for many of these samples (n = 157) were accessioned in the UC Berkeley Museum of Vertebrate Zoology or other collections (n = 16). Data for these and all unaccessioned (i.e., all) samples were deposited in the Dryad Digital Repository (DOI No.: doi: 10.5061/dryad.hj722). For the purposes of distribution modeling, we used an independent data set of 349 red fox occurrence records that were obtained by Lewis et al. (1993) through a statewide survey of wildlife biologists and managers, including rigorous screening for reliability (Fig. 1B).