Unusual traits of cis and trans -2,3-dibromo-1,1-dimethylindane on the way from 1,1-dimethylindene to 2-bromo-, 3-bromo-, and 2,3-dibromo-1,1-dimethylindene
ABSTRACT
---
Do not rely on the widely accepted rule that vicinal, sp3-positioned protons in cyclopentene moieties should always have more positive 3J NMR coupling constants for the cis than for the trans arrangement: Unrecognized exceptions might misguide one to wrong stereochemical assignments and thence to erroneous mechanistic conclusions. We show here that two structurally innocent-looking 2,3-dibromo-1,1-dimethylindanes violate the rule by means of their values of 3J(cis) = 6.1 Hz and 3J(trans) = 8.4 Hz. The stereoselective formation of the trans diastereomer from 1,1-dimethylindene was improved with the tribromide anion (Br3−) as the brominating agent in place of elemental bromine; the ensuing, regiospecific HBr elimination afforded 3-bromo-1,1-dimethylindene. The addition of elemental bromine to the latter compound, followed by thermal HBr elimination, furnished 2,3-dibromo-1,1-dimethylindene, whose Br/Li interchange reaction, precipitation, and subsequent protolysis yielded only 2-bromo-1,1-dimethylindene.
No MeSH data available.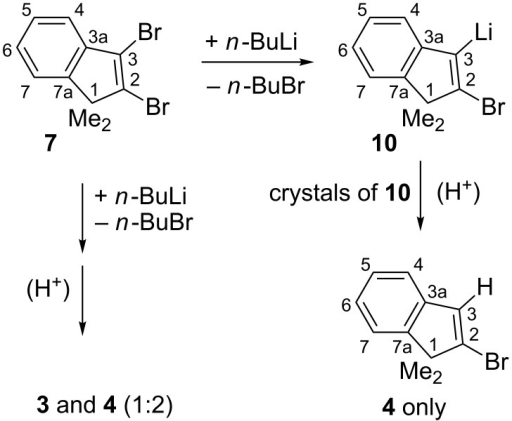 © Copyright Policy - Beilstein
License 1 - License 2


getmorefigures.php?uid=PMC4979680&req=5

Mentions: For practical purposes, 7 may be useful as an alternative starting material in place of 2,3-diiodo-1,1-dimethylindene that had been employed [13–14] in cross-coupling studies. We actually used crude 7 as follows for a first specific route to 2-bromo-1,1-dimethylindene (4). The rapid Br/Li interchange reaction of 7 in hexane as the solvent with n-butyllithium (n-BuLi) ocurred predominantly at the 3-position of 7 with formation of 2-bromo-3-lithio-1,1-dimethylindene (10, Scheme 3). In the absence of cycloalkanes or benzene from the hydrocarbon solvent, rather concentrated mixtures of 7 and n-BuLi slowly deposited unsolvated 10, which opened the possibility of purifying 10 through simple washings with dry pentane under inert gas cover. Like the related 3-chloro-2-lithio-1,1-dimethylindene [15], 10 did not eliminate LiHal at rt, so that its final hydrolytic work-up provided clean 4 even from moderately contaminated 7. Due to a well-known mixing problem [16–17], this final protolysis will be successful only in the absence (or at least after an adequate washing-out) of residual n-BuLi: Since protonation of n-BuLi and 10 is comparably rapid, a local depletion of the added proton source will leave the generated portion of 4 together with remnant n-BuLi, so that a very rapid Br/Li interchange reaction of 4 with n-BuLi will produce 1,1-dimethyl-2-lithioindene, whose protolysis forms 1,1-dimethylindene (2).