C9orf72 Hexanucleotide Expansions Are Associated with Altered Endoplasmic Reticulum Calcium Homeostasis and Stress Granule Formation in Induced Pluripotent Stem Cell ‐ Derived Neurons from Patients with Amyotrophic Lateral Sclerosis and Frontotemporal Dementia
ABSTRACT
---
An expanded hexanucleotide repeat in a noncoding region of the C9orf72 gene is a major cause of amyotrophic lateral sclerosis (ALS), accounting for up to 40% of familial cases and 7% of sporadic ALS in European populations. We have generated induced pluripotent stem cells (iPSCs) from fibroblasts of patients carrying C9orf72 hexanucleotide expansions, differentiated these to functional motor and cortical neurons, and performed an extensive phenotypic characterization. In C9orf72 iPSC‐derived motor neurons, decreased cell survival is correlated with dysfunction in Ca2+ homeostasis, reduced levels of the antiapoptotic protein Bcl‐2, increased endoplasmic reticulum (ER) stress, and reduced mitochondrial membrane potential. Furthermore, C9orf72 motor neurons, and also cortical neurons, show evidence of abnormal protein aggregation and stress granule formation. This study is an extensive characterization of iPSC‐derived motor neurons as cellular models of ALS carrying C9orf72 hexanucleotide repeats, which describes a novel pathogenic link between C9orf72 mutations, dysregulation of calcium signaling, and altered proteostasis and provides a potential pharmacological target for the treatment of ALS and the related neurodegenerative disease frontotemporal dementia. Stem Cells2016;34:2063–2078
No MeSH data available.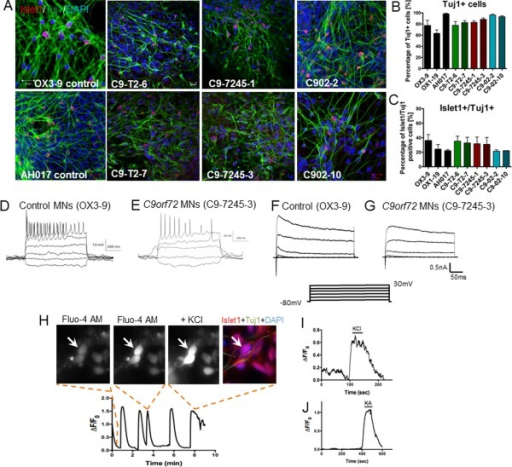 © Copyright Policy - creativeCommonsBy
License
getmorefigures.php?uid=PMC4979662&req=5
Mentions: Two iPSC lines were reprogrammed from each patient's fibroblasts and differentiated to MNs for characterization. To assess differentiation efficiency, MNs positive for Islet1/Tuj1 were counted in control lines AH017‐13, OX3‐9, OX1‐19, and in C9orf72 patient lines C9‐T2‐6, C9‐T2‐7, C9‐7245‐1, C9‐7245‐3, C902‐2, and C902‐10 (Fig. 2A). Differentiation efficiency was assessed after 8 weeks of neural culture, with a highly neuralized population indicated by a mean of 82% of Tuj1‐positive cells across all lines (Fig. 2B). Approximately half of the Tuj1‐positive neural cells in these cultures were also positive for the postmitotic MN marker Islet1 (42.7%–46.4% of total cells) (Fig. 2C). CNs were differentiated in parallel, and functional experiments were carried out after 70–100 days in culture 34 (Supporting Information Fig. S2E). The sizes of the expansions were determined by Southern blotting in the mature MNs and estimated at 510–690 repeats for C9‐T2‐6, 420–640 repeats for C9‐T2‐7, 1,210 for C9‐7245‐1, 1,380 for C9‐7245‐3, 1,000 for C902 (Supporting Information Fig. S3A). The presence of the repeats was also confirmed by RP‐PCR in C9‐02‐2 and C9‐7245‐3 MNs and the absence of repeats was confirmed in the control lines OX1‐19 and AH017‐13 (Supporting Information Fig. S3B).