Rearrangements of organic peroxides and related processes
ABSTRACT
---
This review is the first to collate and summarize main data on named and unnamed rearrangement reactions of peroxides. It should be noted, that in the chemistry of peroxides two types of processes are considered under the term rearrangements. These are conventional rearrangements occurring with the retention of the molecular weight and transformations of one of the peroxide moieties after O–O-bond cleavage. Detailed information about the Baeyer−Villiger, Criegee, Hock, Kornblum−DeLaMare, Dakin, Elbs, Schenck, Smith, Wieland, and Story reactions is given. Unnamed rearrangements of organic peroxides and related processes are also analyzed. The rearrangements and related processes of important natural and synthetic peroxides are discussed separately.
No MeSH data available.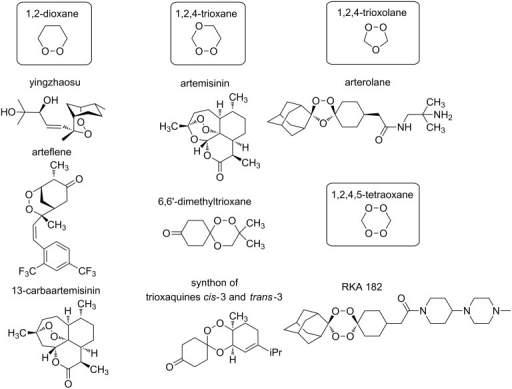 © Copyright Policy - Beilstein
License 1 - License 2


getmorefigures.php?uid=PMC4979652&req=5

Mentions: The extensive development of the chemistry of organic peroxides has been stimulated largely by the isolation of the antimalarial agent artemisinin from leaves of the annual wormwood Artemisia annua in 1972. The structural identification showed that artemisinin contains a cyclic endoperoxide moiety (1,2,4-trioxane ring), which plays a key role in its antimalarial activity [526–527]. The highly reactive and unusual chemical structure, in addition to low yields isolated from natural sources gave impetus to the development of total synthesis methods of artemisinin. Several routes towards the total synthesis of this compound were elaborated and several semisynthetic derivatives were prepared [12,16,528–533]. The high costs of these products stimulated the search for alternative peroxides, which are synthetically easier accessible and less expensive compared with the natural and semisynthetic structures. It was shown that 1,2-dioxolanes [35], 1,2-dioxanes [40], 1,2,4-trioxolanes [534–536], 1,2,4-trioxanes [44], and 1,2,4,5-tetraoxanes [537] exhibit antimalarial activity, which was sometimes higher than that of the parent artemisinin (Scheme 172). As a milestone of this research, arterolane, a fully synthetic 1,2,4-trioxolane was discovered and in 2012, the arterolane-based drug synriam was approved to the market.