The hydrolysis of geminal ethers: a kinetic appraisal of orthoesters and ketals
ABSTRACT
---
A novel approach to protecting jet fuel against the effects of water contamination is predicated upon the coupling of the rapid hydrolysis reactions of lipophilic cyclic geminal ethers, with the concomitant production of a hydrophilic acyclic hydroxyester with de-icing properties (Fuel Dehydrating Icing Inhibitors - FDII). To this end, a kinetic appraisal of the hydrolysis reactions of representative geminal ethers was undertaken using a convenient surrogate for the fuel–water interface (D2O/CD3CN 1:4). We present here a library of acyclic and five/six-membered cyclic geminal ethers arranged according to their hydroxonium catalytic coefficients for hydrolysis, providing for the first time a framework for the development of FDII. A combination of 1H NMR, labelling and computational studies was used to assess the effects that may govern the observed relative rates of hydrolyses.
No MeSH data available.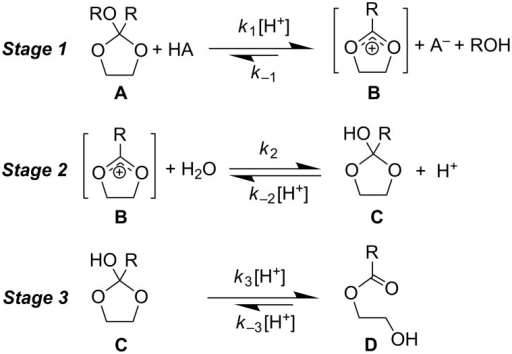 © Copyright Policy - Beilstein
License 1 - License 2


getmorefigures.php?uid=PMC4979634&req=5

Mentions: Our interest in organic dehydrating agents for applications in the aeronautical industry is stimulated by the commercial case for developing a new approach to managing water contamination in jet fuel. The acid-catalysed hydrolysis reactions of cyclic orthoesters present an attractive platform from which to develop Fuel Dehydrating Ice Inhibitors (FDII) [1], since jet fuel is itself mildly acidic [2] and the products of hydrolysis can in principle afford protection against ice formation by residual water [3]. From Brønsted's ground-breaking work on acid catalysis [4], to more recent investigations as models for glycosidic bond cleavage [5], orthoesters have been examined using a range of methods, solvents (i.e., water, methanol, dioxane, and mixtures thereof), and conditions [6–7]. It has been difficult to draw upon this disparate body of data for our purposes, as potential FDII will operate under non-buffered, relatively apolar conditions. Though easily stated, the mechanism for the formation of a charged intermediate [5,7–11] followed by attack of water, cleavage of RO–C bonds, and several proton-transfer reactions is non-trivial [6,8,10,12–13]; and indeed the debate about the factors influencing the overall rate of reaction and the synchronicity of steps has yet to achieve consensus [11,14–15]. Factors such as solvent [13], catalyst pKa [9], –OR basicity [6,16–17], the kinetic anomeric effect [18], the impact of substituents upon the formation [10–1119–22] and reactivity of charged intermediates [14] have all attracted scrutiny. A generic 2-alkoxy-2-alkyl-1,3-dioxolane A is used to illustrate the generally accepted specific acid-catalysed three-stage hydrolysis mechanism of orthoesters (Scheme 1) [23].