Genetic determinants in head and neck squamous cell carcinoma and their influence on global personalized medicine
ABSTRACT
---
While sequencing studies have provided an improved understanding of the genetic landscape of head and neck squamous cell carcinomas (HNSCC), there remains a significant lack of genetic data derived from non-Caucasian cohorts. Additionally, there is wide variation in HNSCC incidence and mortality worldwide both between and within various geographic regions. These epidemiologic differences are in part accounted for by varying exposure to environmental risk factors such as tobacco, alcohol, high risk human papilloma viruses and betel quid. However, inherent genetic factors may also play an important role in this variability. As limited sequencing data is available for many populations, the involvement of unique genetic factors in HNSCC pathogenesis from epidemiologically diverse groups is unknown. Here, we review current knowledge about the epidemiologic, environmental, and genetic variation in HNSCC cohorts globally and discuss future studies necessary to further our understanding of these differences. Long-term, a more complete understanding of the genetic drivers found in diverse HNSCC cohorts may help the development of personalized medicine protocols for patients with rare or complex genetic events.
No MeSH data available.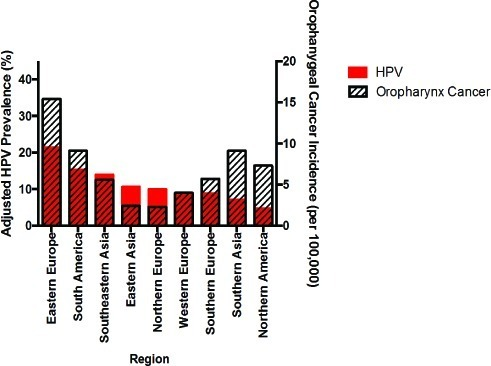 © Copyright Policy - open-access
License
getmorefigures.php?uid=PMC4979591&req=5
Mentions: While rates of HPV infection worldwide are not fully realized, evidence does indicate that prevalence may be rising globally and may drive increased incidence of HNSCC. Considering the large proportion of the population that is infected with HPV [62], malignant transformation is comparatively rare as HPV infections are usually cleared quickly [63]. In rare cases, however, genomic instability and unrestricted proliferation caused by viral oncogene activity lead to tumorigenesis. Cervical infection with HPV, if not cleared, can lead to precancers in the genital area as well as the head and neck region through sexual contact. Thus, as a high-level surrogate for oropharyngeal cancer prevalence, we can analyze the reports of HPV prevalence in women, noting a wide range of cervical infection rates in cohorts worldwide [64–66]. Based on a meta-analysis of women with normal cytology, Bruni et al. estimated that the regionally-adjusted prevalence of high risk HPV infection, as detected by polymerase chain reaction (PCR) or Hybrid Capture 2 (a DNA hybridization assay for detecting HPV strains with a fluorescent readout), in females is 47,271/851,901 (5.0%) worldwide. The prevalence of both low and high-risk HPV strains is 73,019/1,016,719 (11.7%), which varies between rates as high as 75/225 (35.4%) in the Caribbean to those as low as 31/1,435 (1.7%) in Western Asia [66]. Of all viral strains, HPV16 was the most commonly detected in this study but tended to correlate inversely with overall HPV prevalence. In the more limited analysis of data from male patients, an important population given the increased prevalence of HNSCC in this group, a similar overall prevalence (182/1139, 16%) and even more significant amount of variation was observed, particularly when separating low- and high-risk groups [67, 68]. We compared adjusted HPV infection prevalence with oropharyngeal cancer incidence in cohorts worldwide to consider possible associations between these two variables (Figure 2). In a subset of countries, both increased HPV prevalence and oropharyngeal cancer incidence were observed. (For example, women in Eastern Europe have high prevalence of cervical HPV infection (904/4053, 21.4%), and the oropharyngeal cancer incidence in Slovakian men is also elevated (15.4/100,000)). Alternatively, in other regions, decreased HPV prevalence and increased oropharyngeal cancer incidence were noted. (In India, only 1816/23,061 (7.1%) women tested positive for HPV infection, but 9.1/100,000 men develop oropharyngeal tumors [66, 69]). These findings may be explained by regional differences in HPV infection rates; however, developing a more complete understanding of this relationship is additional motivation for controlled HPV testing in global cohorts.