mTORC2 controls cancer cell survival by modulating gluconeogenesis
ABSTRACT
---
For rapid tumor growth, cancer cells often reprogram the cellular metabolic processes to obtain enhanced anabolic precursors and energy. The molecular changes of such metabolic rewiring are far from established. Here we explored the role of mTOR (mechanistic target of rapamycin), which serves as a key regulator of cell growth, proliferation and survival, in the metabolic reprograming of cancer cells. When we inhibited mTOR in human hepatocellular carcinoma (HCC) and renal cell carcinoma (RCC) cells, using pharmacologic inhibitors or by RNA interference, we noticed shuttle of the glycolytic flux to gluconeogenesis pathway along with reduction in cellular proliferation and survival. Augmentation of gluconeogenesis was mechanistically linked to upregulation of the key gluconeogenic enzymes PCK1 and G6PC expressions, enhanced lactate dehydrogenase activity and glucose-derived lipogenesis without causing any attenuation in mitochondrial function. Interestingly, concomitant knocking down of PCK1 and not G6PC along with mTOR pathway could overcome the inhibition of cancer cell proliferation and survival. These observations were validated by identifying distinctive diminution of PCK1 and G6PC expressions in human HCC and RCC transcriptome data. Significant correlation between mTOR-dependent upregulation of PCK1 and cell death in different cancer cell lines further emphasizes the physiological relevance of this pathway. We reveal for the first time that inhibition of mTORC2 and consequent redistribution of glycolytic flux can have a prosurvival role in HCC and RCC cancer cells only in the presence of downregulation of gluconeogenesis pathway genes, thus identifying novel pivots of cancer cell metabolic rewiring and targets for therapy.
No MeSH data available.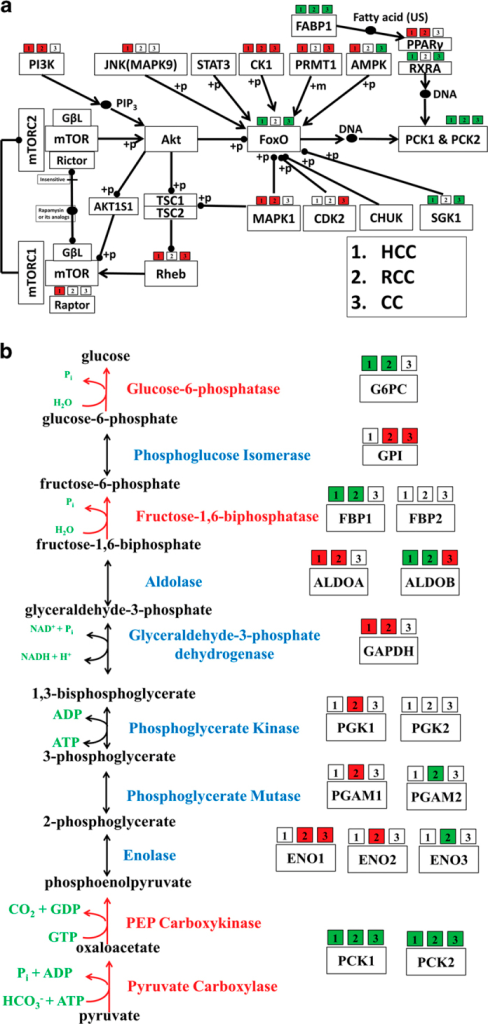 © Copyright Policy - open-access
License
getmorefigures.php?uid=PMC4979518&req=5
Mentions: As liver and renal cortex are the two most important sites of gluconeogenesis in human, malignant tumors developed from these tissues would possibly be more sensitive to mTOR-dependent enhancement of gluconeogenesis as metabolic insult and cell death. Conversely, downregulation of key gluconeogenic enzymes including PEPCK1 would be a survival mechanism for these tumor cells. To examine whether PCK1 expression is altered in human cancers (e.g., HCC, RCC and CC), we analyzed differential expression patterns of genes involved in the mTOR-PCK1 metapathway subnetwork (see Materials and Methods). PCK1 was seen to be significantly downregulated (raw values for all data sets in this study are available at www.hpppi.iicb.res.in/images/oncomine_pck1.zip) in all these three cancers (Figure 6a). FOXO, which is a positive regulator of PCK1 gene, is observed to be downregulated in HCC and CC patient samples without any change in AKT and mTOR expressions. However, raptor, which is a key component of mTORC1 complex, was found to be upregulated, whereas other key genes such as Rheb and PI3K, which directly or indirectly impact mTOR and AKT, were also overexpressed. Hence, it could be postulated that the expressions of mTOR complex and AKT are sufficiently high to downregulate FOXO, which in turn may negatively control PCK1 expression. Next, we checked the expression levels of other gluconeogenesis enzymes in HCC, RCC and CC tumors (Figure 6b). Interestingly, all the rate-limiting enzymes including PCK1, FBP1 and G6PC are found to be downregulated in HCC and RCC tumors compared with the adjacent tumor-free tissues, suggesting suppression of gluconeogenesis pathway, which putatively endows a survival cue to these tumors.