SAG-UPS attenuates proapoptotic SARM and Noxa to confer survival advantage to early hepatocellular carcinoma
ABSTRACT
---
Hepatocellular carcinoma (HCC) is a deadly cancer because of its commonly late diagnosis and limited treatment options. SAG (sensitive to apoptosis gene)-dependent UPS (ubiquitin–proteasome system) is a key switch between immune-mediated apoptosis and overactivation-mediated protumorigenesis, prompting us to hypothesize that SAG-UPS modulates chronic inflammation-induced tumorigenesis. Here, we investigated the molecular mechanism by which SAG-UPS regulates death/survival of liver cancer cells. By retrospective studies, we found reciprocal expressions of anti-/proapoptotic factors: SAG/SARM and SAG/Noxa in human primary HCC tissues – the antiapoptotic SAG was significantly upregulated whereas the proapoptotic SARM and Noxa were markedly downregulated, suggesting their involvement in hepatocarcinogenesis. Upregulated SAG-UPS effectively manipulates the levels of high-molecular-weight ubiquitinated SARM and Noxa in carcinoma tissues compared with corresponding normal tissues. SAG-overexpressing HCC cell lines display reduced SARM and Noxa (but not Bcl-2, Bax and Bcl-xL), suggesting that SARM and Noxa are specific substrates of SAG-dependent ubiquitination. SARM overexpression activated caspase-3 and caspase-9, reducing cell viability. SAG knockdown significantly elevated apoptosis with increased cytosolic cytochrome c, confirming SAG-mediated antiapoptosis in HCC. SAG overexpression stimulated protumorigenic cytokines, IL-1β, IL-6 and TNF, but not antitumorigenic IL-12p40 and anti-inflammatory IL-10. This is consistent with higher proinflammatory cytokines (IL-1β, IL-6 and TNF) in hepatoma compared with healthy tissues. Altogether, early stage-upregulated SAG-UPS exacerbates hepatocarcinogenesis progression, through: (1) ubiquitination-mediated degradation of proapoptotic SARM and Noxa; and (2) production of protumorigenic cytokines that induce a protumorigenic microenvironment, conferring survival advantage to HCC cells. Thus, we propose SAG-UPS to be an early diagnostic marker for HCC, and a potential target for therapeutics development.
No MeSH data available.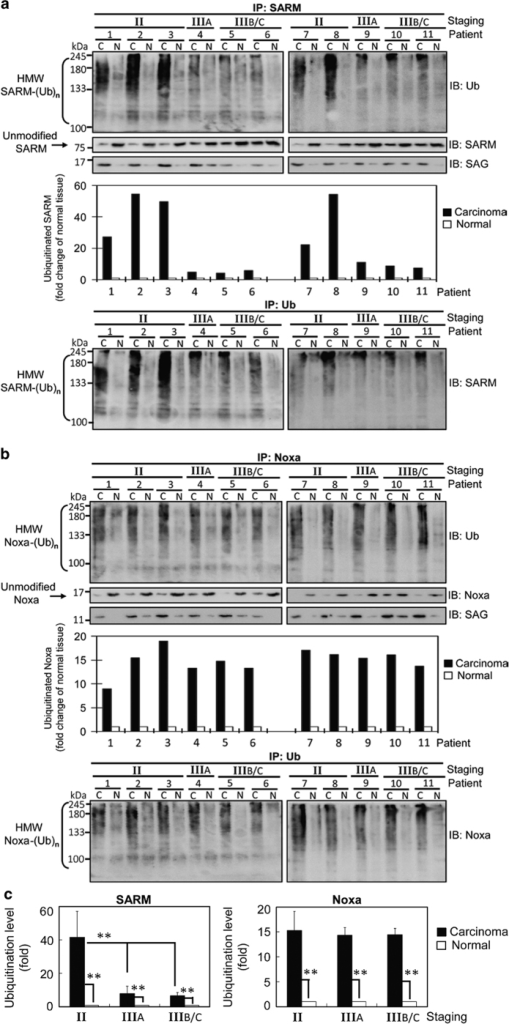 © Copyright Policy - open-access
License
getmorefigures.php?uid=PMC4979479&req=5
Mentions: To elucidate the mechanism of action of SAG-UPS that leads to the progress in liver cancer, the ubiquitination status of SARM and Noxa was retrospectively examined in tissues from different stages of liver cancer. Total protein extracts from primary tissues were immunoprecipitated with SARM or Noxa antibody, followed by ubiquitin-specific immunodetection. To confirm that the specificity of ubiquitination was due to SARM (or Noxa), a converse immunoprecipitation (IP) with anti-ubiquitin antibody followed by immunoblotting with SARM (or Noxa) was also performed. Figure 1a shows the corresponding immunoblots (before IP) with whole tissue lysates that were sequentially probed with antibodies against SAG, BAX, SARM, Noxa, Bcl-2 and Bcl-xL. The results show the presence of these proteins in the whole tissue lysates. A negative control immunoprecipitation was performed with an isotype rabbit IgG. Co-IP showed a significant increase in both the high-molecular-weight ubiquitinated SARM and Noxa (HMW SARM-(Ub)n and HMW Noxa-(Ub)n) in carcinoma tissues, compared with corresponding normal control tissues (Figures 2a and b). Among the different stages of carcinoma tissues examined, a 15-fold increase in Ub-Noxa was observed in HCC tissues (Figure 2c, P<0.01), whereas Ub-SARM was increased over a range of 7–40-fold (Figure 2c, P<0.01). Both of the co-IP of SARM and Noxa showed pulldown of SAG in the immunocomplexes, indicating that SAG physically interacts with SARM and Noxa. Elevated SAG was associated with increased ubiquitination of SARM (or Noxa) that corresponded to decreased unmodified proteins in carcinoma tissues (see arrows). Figure 2c depicts a 40-fold rise in Ub-SARM at the early stage (II) of HCC, compared with a 7-fold rise in the advanced stages (IIIA and IIIB/C) (P<0.01), consistent with the early increase of 10-fold of SAG in stage II (Figure 1). This suggests that the regulation of SAG/SARM is probably exerted by SAG-UPS as the disease progresses. Taken together, our findings affirm that SAG-UPS interacts with and ubiquitinates SARM and Noxa in hepatocarcinogenesis.