SAG-UPS attenuates proapoptotic SARM and Noxa to confer survival advantage to early hepatocellular carcinoma
ABSTRACT
---
Hepatocellular carcinoma (HCC) is a deadly cancer because of its commonly late diagnosis and limited treatment options. SAG (sensitive to apoptosis gene)-dependent UPS (ubiquitin–proteasome system) is a key switch between immune-mediated apoptosis and overactivation-mediated protumorigenesis, prompting us to hypothesize that SAG-UPS modulates chronic inflammation-induced tumorigenesis. Here, we investigated the molecular mechanism by which SAG-UPS regulates death/survival of liver cancer cells. By retrospective studies, we found reciprocal expressions of anti-/proapoptotic factors: SAG/SARM and SAG/Noxa in human primary HCC tissues – the antiapoptotic SAG was significantly upregulated whereas the proapoptotic SARM and Noxa were markedly downregulated, suggesting their involvement in hepatocarcinogenesis. Upregulated SAG-UPS effectively manipulates the levels of high-molecular-weight ubiquitinated SARM and Noxa in carcinoma tissues compared with corresponding normal tissues. SAG-overexpressing HCC cell lines display reduced SARM and Noxa (but not Bcl-2, Bax and Bcl-xL), suggesting that SARM and Noxa are specific substrates of SAG-dependent ubiquitination. SARM overexpression activated caspase-3 and caspase-9, reducing cell viability. SAG knockdown significantly elevated apoptosis with increased cytosolic cytochrome c, confirming SAG-mediated antiapoptosis in HCC. SAG overexpression stimulated protumorigenic cytokines, IL-1β, IL-6 and TNF, but not antitumorigenic IL-12p40 and anti-inflammatory IL-10. This is consistent with higher proinflammatory cytokines (IL-1β, IL-6 and TNF) in hepatoma compared with healthy tissues. Altogether, early stage-upregulated SAG-UPS exacerbates hepatocarcinogenesis progression, through: (1) ubiquitination-mediated degradation of proapoptotic SARM and Noxa; and (2) production of protumorigenic cytokines that induce a protumorigenic microenvironment, conferring survival advantage to HCC cells. Thus, we propose SAG-UPS to be an early diagnostic marker for HCC, and a potential target for therapeutics development.
No MeSH data available.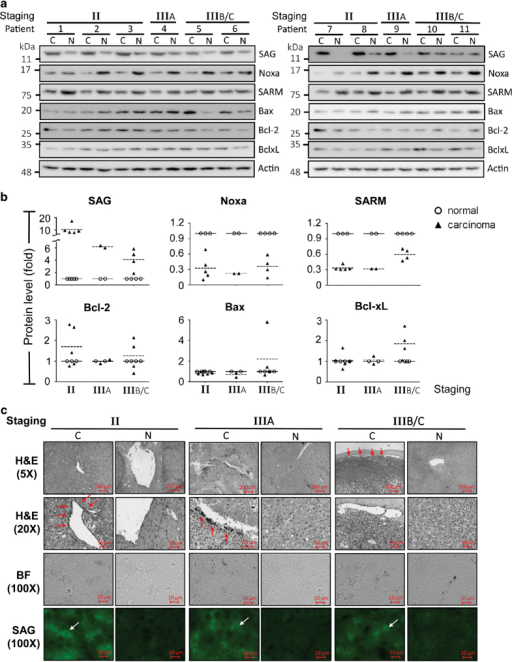 © Copyright Policy - open-access
License
getmorefigures.php?uid=PMC4979479&req=5
Mentions: We characterized the expression profiles of a panel of apoptotic factors in primary HCC, with a view to their potential involvement in hepatocarcinogenesis. In total, six apoptotic factors were examined, including SAG, Noxa, SARM, Bax, Bcl-2 and Bcl-xL, based on our earlier observations.11 Furthermore, consistent with recent findings in lung cancer,13 the antiapoptotic SAG protein in the HCC tissues was remarkably higher than that in the adjacent noncancerous hepatic tissues (P<0.01). In contrast, the levels of proapoptotic Noxa and SARM were significantly lower in HCC than in the healthy controls (P<0.01) (Figures 1a and b). The protein levels of Bax, Bcl-2 and Bcl-xL did not show a clear or consistent trend between HCC and the corresponding normal tissues among all tested samples. We observed that Bcl-2 was either upregulated in some HCC cases (patients 5/6/7/8) or downregulated in others (patients 10/11). Similarly, Bax was found to be mainly upregulated in certain HCC samples (patients 5/6) and showed no significant differences in other HCC samples. Overall, our results indicate reciprocal expression profiles between SAG/Noxa and SAG/SARM in primary HCC, suggesting that SAG might regulate liver cancer progression by opposing the roles of Noxa and SARM. To show the interpatient changes in the expression profiles of apoptotic factors in HCC samples, we also reorganized the western blot image according to tumor stages (Supplementary Figure 1). To confirm the expression status of SAG in human liver tissues, we performed immunofluorescence staining of SAG. Consistent with immunoblotting analysis, Figure 1c shows more strongly expressed SAG in punctate appearance in HCC tissues, whereas the adjacent normal tissues expressed SAG minimally. Furthermore, H&E staining shows increased infiltration of inflammatory cells in HCC tissues (red arrows), indicating higher inflammation levels in carcinoma tissues.