Expression of the anti-apoptotic BAG3 protein in leg venous ulcerative tissues
The healing process after an injury consists of a complex cascade of cellular and molecular events; the failure of one or more of these events causes chronic tissue ulceration that, despite several therapeutic options, represents a significant problem in our society... Although its participation in stress response may suggest a possible role for BAG3 in the healing pathologies, BAG3 expression in ulcerated wounds had never been studied... To this end, BAG3 expression was analyzed by immunohystochemistry in ulcerous tissues from 13 patients with lower leg venous ulcers of different etiology (diabetes, venous insufficiency, trauma or vasculitis)... BAG3 staining resulted positive in a portion of the tissue analyzed (Figure 1a) and its highest levels were found in endothelial and stroma cells in the granulation tissues (Figures 1a and b)... Notably, endothelial cells in normal skin adjacent to ulcerated tissue resulted negative (Figure 1b, right panel)... Because BAG3 was not expressed in all the analyzed tissues, a possible association between BAG3 expression and specific features of tissues, possibly reflecting specific phases of the healing process, were analyzed (Figure 1c)... We found a complete association (P=0.001) between BAG3 and presence of granulation tissue... Indeed, all the nine specimens with granulation tissue features were positive for BAG3 expression; on the other hand, specimens in which granulation tissue was not detectable were BAG3 negative... Therefore, BAG3 appeared expressed in the proliferation/repair phase of wound healing, probably sustaining cell survival and/or cell cycle progression... Consistently, the presence of endothelial hyperplasia in the granulation tissue was significantly (P=0.021) associated with BAG3 expression... BAG3 positivity of neo-vessels in granulation tissues is in agreement with the reported expression of BAG3 in tumor neoangiogenetic vessels... Importantly, this finding confirms the link between BAG3 expression and neoangiogenesis in a different pathophysiological context, probably in connection with BAG3 role in regulating ERK-DUSP6 interaction and cell cycle progression... In addition, BAG3 expression was observed not only in neo-endothelial but also in stromal cells.
No MeSH data available.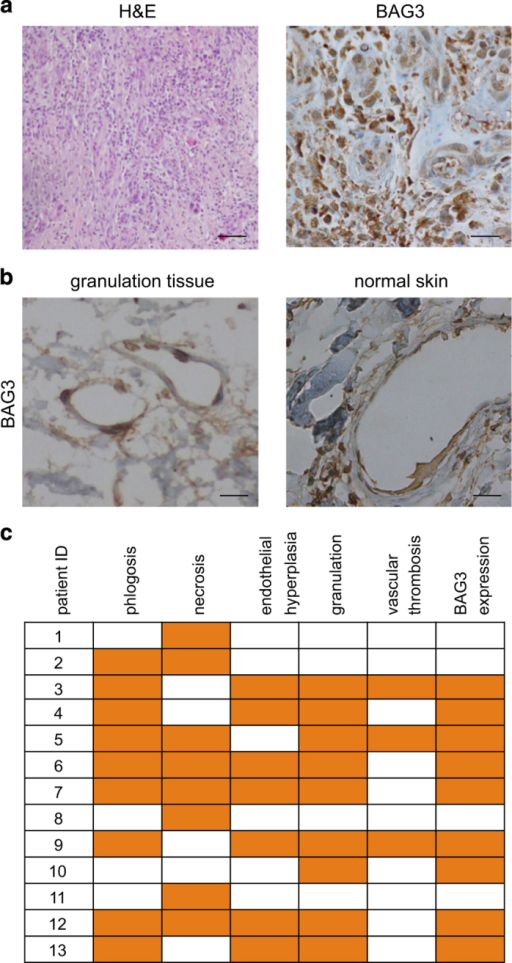 © Copyright Policy - open-access
License
getmorefigures.php?uid=PMC4979477&req=5
Mentions: To this end, BAG3 expression was analyzed by immunohystochemistry in ulcerous tissues from 13 patients with lower leg venous ulcers of different etiology (diabetes, venous insufficiency, trauma or vasculitis). BAG3 staining resulted positive in a portion of the tissue analyzed (Figure 1a) and its highest levels were found in endothelial and stroma cells in the granulation tissues (Figures 1a and b). Notably, endothelial cells in normal skin adjacent to ulcerated tissue resulted negative (Figure 1b, right panel). Because BAG3 was not expressed in all the analyzed tissues, a possible association between BAG3 expression and specific features of tissues, possibly reflecting specific phases of the healing process, were analyzed (Figure 1c). We found a complete association (P=0.001) between BAG3 and presence of granulation tissue. Indeed, all the nine specimens with granulation tissue features were positive for BAG3 expression; on the other hand, specimens in which granulation tissue was not detectable were BAG3 negative. Therefore, BAG3 appeared expressed in the proliferation/repair phase of wound healing, probably sustaining cell survival and/or cell cycle progression. Consistently, the presence of endothelial hyperplasia in the granulation tissue was significantly (P=0.021) associated with BAG3 expression. BAG3 positivity of neo-vessels in granulation tissues is in agreement with the reported expression of BAG3 in tumor neoangiogenetic vessels.7 Importantly, this finding confirms the link between BAG3 expression and neoangiogenesis in a different pathophysiological context, probably in connection with BAG3 role in regulating ERK-DUSP6 interaction and cell cycle progression.7 In addition, BAG3 expression was observed not only in neo-endothelial but also in stromal cells. Therefore, BAG3 might also participate in other stromal cell activities that contribute to skin repair. The identification of BAG3-positive stromal cellular components, and investigation of BAG3 role in their functional activities (survival/proliferation, migration and cytokine production) could contribute to our understanding of physiological and pathological mechanisms in tissue repair.1–3