An epithelial marker promoter induction screen identifies histone deacetylase inhibitors to restore epithelial differentiation and abolishes anchorage independence growth in cancers
ABSTRACT
---
Epithelial–mesenchymal transition (EMT), a crucial mechanism in development, mediates aggressiveness during carcinoma progression and therapeutic refractoriness. The reversibility of EMT makes it an attractive strategy in designing novel therapeutic approaches. Therefore, drug discovery pipelines for EMT reversal are in need to discover emerging classes of compounds. Here, we outline a pre-clinical drug screening platform for EMT reversal that consists of three phases of drug discovery and validation. From the Phase 1 epithelial marker promoter induction (EpI) screen on a library consisting of compounds being approved by Food and Drug Administration (FDA), Vorinostat (SAHA), a histone deacetylase inhibitor (HDACi), is identified to exert EMT reversal effects by restoring the expression of an epithelial marker, E-cadherin. An expanded screen on 41 HDACi further identifies 28 compounds, such as class I-specific HDACi Mocetinosat, Entinostat and CI994, to restore E-cadherin and ErbB3 expressions in ovarian, pancreatic and bladder carcinoma cells. Mocetinostat is the most potent HDACi to restore epithelial differentiation with the lowest concentration required for 50% induction of epithelial promoter activity (EpIC-50).The HDACi exerts paradoxical effects on EMT transcriptional factors such as SNAI and ZEB family and the effects are context-dependent in epithelial- and mesenchymal-like cells. In vitro functional studies further show that HDACi induced significant increase in anoikis and decrease in spheroid formation in ovarian and bladder carcinoma cells with mesenchymal features. This study demonstrates a robust drug screening pipeline for the discovery of compounds capable of restoring epithelial differentiation that lead to significant functional lethality.
No MeSH data available.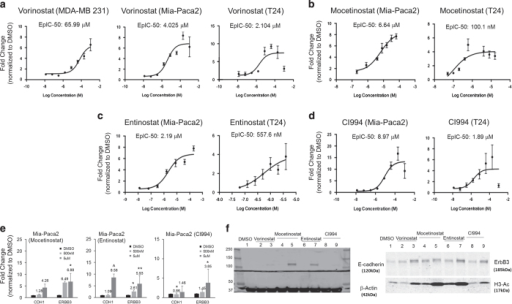 © Copyright Policy - open-access
License
getmorefigures.php?uid=PMC4979427&req=5
Mentions: We next explored whether the EpI screen could be applied to cancer cells other than ovarian cancer. Cancer cell lines with similar EMT scores19 as SKOV3 (+0.28), MDA-MB-213 (+0.391), T24 (+0.356) and Mia-Paca2 (+0.4345), were selected to validate the EMT reversal effect by HDACi. The EpIC-50 analysis of Vorinostat showed that MDA-MB-231 had the highest EpIC-50 up to ~66 μM, compared with 4.0 μM in Mia-Paca2 and 2.1 μM in T24 (Figure 4a). This suggested that MDA-MB-231 might have higher barrier to restore CDH1 expression by HDACi. The bladder carcinoma cell line, T24, showed very similar EpIC-50 ranges comparable to SKOV3 at 100.1 nM for Mocetinostat, 557.6 nM for Entinostat, and 1.89 μM for CI994 (Figures 4b–d). The pancreatic carcinoma cell line, Mia-Paca2, showed a micro-molar range of EpIC-50 for all HDACi at 6.64, 2.19 and 8.97 μM for Mocetinostat, Entinostat and CI994, respectively (Figures 4b–d). Similar to the ovarian lines, the EpI responses were also correlated with the induction of CDH1 and ERBB3 transcriptions (Figure 4e), as well as E-cadherin and ErbB3 protein expressions (Figure 4f) in Mia-Paca2 and T24 cells. Cancer cells with similar profiles as SKOV3, Mia-Paca2 and T24 might be the better responders for class I HDACi-induced EMT reversal. However, given that MDA-MB-231 did not showed EpI responses, the restoration of CDH1 and ERBB3 expression in mesenchymal-like cells by HDACi is therefore still context dependent. Collectively, our data suggested that the EpI screen strategy is an efficient and robust method to identify targets for restoring the epithelial differentiation.