Class I HDAC inhibitor mocetinostat induces apoptosis by activation of miR-31 expression and suppression of E2F6
ABSTRACT
---
The class I selective inhibitor of the histone deacetylases, mocetinostat, has promising antitumor activities in both preclinical studies and the clinical trials. To understand how mocetinostat induces apoptosis, we examined the effects of mocetinostat on miR-31, a proapoptotic microRNA that was previously found to be epigenetically silenced in prostate cancer. We found that miR-31 was significantly upregulated by mocetinostat in prostate cancer cells. Antiapoptotic protein E2F6, the target of miR-31, was decreased by mocetinostat treatment. When miR-31 was blocked with an inhibitor, the ability of mocetinostat to induce apoptosis was reduced. We further demonstrated that mocetinostat enhanced the activity of docetaxel in apoptosis induction. While siRNA knockdown of E2F6 sensitized cancer cells to mocetinostat-induced apoptosis, overexpression of E2F6 blocked mocetinostat-induced apoptosis. In an orthotopic xenograft model, we demonstrated that mocetinostat activated miR-31, decreased E2F6, induced apoptosis, and significantly reduced prostate cancer growth. Importantly, we found that mocetinostat also increased miR-31 expression, decreased E2F6, and induced apoptosis in the primary prostate cancer stem cells. Thus, activation of miR-31 and downregulation of E2F6 constitute an important mechanism in mocetinostat-induced apoptosis in prostate cancer.
No MeSH data available.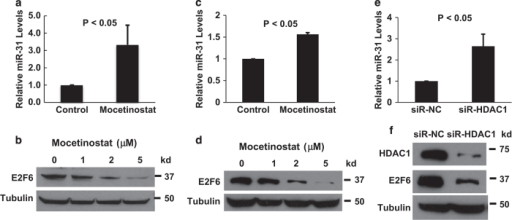 © Copyright Policy - open-access
License
getmorefigures.php?uid=PMC4979414&req=5
Mentions: We recently demonstrated that the downregulation of miR-31 contributes to apoptosis resistance in prostate cancer cells.22 Since miR-31 was shown to be repressed by epigenetic mechanisms in prostate cancer,23 we hypothesized that mocetinostat may activate miR-31 expression. The effects of mocetinostat on miR-31 expression were determined by real-time PCR. As shown in Figures 2a and c, mocetinostat significantly induced miR-31 expression in both DU-145 and PC-3 cells. We have previously shown that miR-31 targets E2F6,22 which is a potent antiapoptotic protein that can inhibit UV- and hypoxia-induced apoptosis.26,27 As a result of miR-31 induction, mocetinostat significantly decreased E2F6 protein in DU-145 and PC-3 cells (Figures 2b and d). To determine whether HDAC inhibition by mocetinostat is responsible for the activation of miR-31, we used siRNA to specifically knock down HDAC1. As shown in Figures 2e and f, siRNA knockdown of HDAC1 activated miR-31 expression and decreased E2F6 protein. To further understand the mechanism of mocetinostat-induced apoptosis, we determined the effects of mocetinostat on the expression of the proapoptotic members of the Bcl-2 family proteins.28 Interestingly, Bad was significantly increased by mocetinostat treatment while the expression levels of the other proteins were either reduced (Puma, Bid, and Bax) or unchanged (Bak) (Figure 3a). Since Bad is a key proapoptotic protein that triggers the intrinsic pathway of apoptosis,29,30 we examined the effects of mocetinostat on the caspases. As shown in Figure 3b, mocetinostat treatment significantly increased the levels of activated (cleaved) caspase-9 and caspase-3. The cleaved products of PARP, substrates of the caspases, were also increased by mocetinostat.