Targeted alpha therapy using short-lived alpha-particles and the promise of nanobodies as targeting vehicle.
Bottom Line: We review the importance of targeted alpha therapy (TAT) and focus on nanobodies as potential beneficial vehicles.In recent years, nanobodies have been evaluated intensively as unique antigen-specific vehicles for molecular imaging and TRNT.We expect that the efficient targeting capacity and fast clearance of nanobodies offer a high potential for TAT.
Affiliation: a Vrije Universiteit Brussel, In Vivo Cellular and Molecular Imaging , Brussels , Belgium.
ABSTRACT
---
Introduction: The combination of a targeted biomolecule that specifically defines the target and a radionuclide that delivers a cytotoxic payload offers a specific way to destroy cancer cells. Targeted radionuclide therapy (TRNT) aims to deliver cytotoxic radiation to cancer cells and causes minimal toxicity to surrounding healthy tissues. Recent advances using α-particle radiation emphasizes their potential to generate radiation in a highly localized and toxic manner because of their high level of ionization and short range in tissue.
Areas covered: We review the importance of targeted alpha therapy (TAT) and focus on nanobodies as potential beneficial vehicles. In recent years, nanobodies have been evaluated intensively as unique antigen-specific vehicles for molecular imaging and TRNT.
Expert opinion: We expect that the efficient targeting capacity and fast clearance of nanobodies offer a high potential for TAT. More particularly, we argue that the nanobodies' pharmacokinetic properties match perfectly with the interesting decay properties of the short-lived α-particle emitting radionuclides Astatine-211 and Bismuth-213 and offer an interesting treatment option particularly for micrometastatic cancer and residual disease.
No MeSH data available.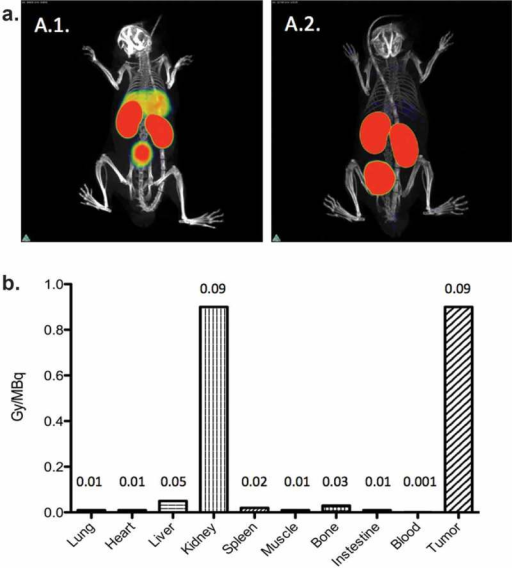 © Copyright Policy - open-access
License
getmorefigures.php?uid=PMC4940885&req=5
Mentions: Recently, there has been a growing interest in the use of nanobodies as vehicles for TRNT. Nanobodies are the smallest, antigen-binding fragments from unique heavy-chain-only antibodies naturally occurring in Camelidae (Figure 1).[101] Several applications of nanobodies as in vivo diagnostic tracers have been and are currently being developed.[102] Nanobodies have many favorable characteristics as targeted tracers, including high stability in harsh conditions, such as elevated temperatures and extreme pHs offering the potential to use a broader range of radiochemistry methods. Other favorable characteristics include high affinity and specificity for their cognate antigen and facile production (Figure 2(a,b)). As such, nanobodies have been developed as efficient radiotracers directed against a variety of membrane-bound biomarkers [103] in various animal models of cancer,[104–107] inflammation,[108] and cardiovascular diseases [102] using SPECT/PET. Because of their exceptional targeting specificity that is unaffected by labeling with various radionuclides, nanobodies have become valuable vehicles for both nuclear imaging and TRNT.[105–107] Furthermore, nanobodies possess various advantages over mAbs. First, the molecular weight of nanobodies (15 kDa) is one-tenth of that of conventional Abs (150 kDa), making it possible to recognize and bind hidden isotopes. Second, nanobodies have a low immunogenicity because of their rapid blood clearance and high sequence identity to human variable domains of the heavy chain. Furthermore, previous studies by our group demonstrated that nanobodies efficiently penetrate tumor tissues and bind tumor antigens rapidly and specifically in vivo. Meanwhile, there is very little nonspecific binding to other tissues, which, along with the rapid blood clearance, results in high tumor-to-background ratios as early as 1 h after injection.[109] Therefore, the nanobody technology could provide an adequate solution to the off-target toxicity problem caused by long blood circulation, as is observed during mAb-based TRNT. A first-in‐human PET study with a GMP-grade HER2-targeting nanobody-based tracer for breast cancer has recently been completed at our university hospital [110] and new clinical trials with nanobodies targeting HER2 and tumor-associated macrophages are planned for 2016. The first clinical study confirmed the fast clearance of nanobodies in patients, with only 10% of the injected activity remaining in the blood at 1 h p.i. (Figure 3(a)). In addition, high tumor-to-background ratios could be observed in 17 out of 19 primary tumors, with mean standard uptake values ranging between 0.7 and 11.8 (Figure 3(b)). Furthermore, the utility of nanobodies as vehicles for TRNT has been investigated in preclinical models using the β−-particle-emitting radionuclide 177Lu. The most relevant in vivo study demonstrated that 177Lu-labeled anti-HER2 nanobody efficiently targeted HER2pos s.c. xenografts in a 5-day follow-up study, while radioactivity levels in normal organs were low (Figure 2(b)).[109] Weekly i.v. administrations of 177Lu-labeled anti-HER2 nanobody in mice with small HER2pos tumors completely prevented tumor growth, while tumors grew exponentially in untreated mice or in mice receiving a control, nontargeting nanobody. In addition, TRNT using a 177Lu-labeled anti-5T2 multiple myeloma nanobody led to an inhibition of disease progression in treated mice compared to control animals.[111] These proof-of-concept TRNT studies show that nanobodies display a more beneficial toxicity profile than mAbs and can deliver a specific lethal radiation dose to a developing tumor. The low molecular weight of nanobodies, below the kidney cut-off for glomerular filtration, and the subsequent charged-based nonspecific tubular reuptake result in significant accumulation and retention of radioactivity in the kidneys. To avoid potential kidney-related toxicities, strategies were tested to reduce renal retention. Both the removal of nonessential positively charged amino acids in the nanobody sequence and co-infusion with positively charged amino acids or the plasma expander Gelofusin were able to lower kidney retention significantly.[107,109] Another approach to reduce the kidney retention is to use optimized radiolabeling procedures. For instance, Zalutsky and colleagues labeled an anti-HER2 nanobody with iodine-131 (131I), using the prosthetic group N-succinimidyl-4-guanidinomethyl-3-iodobenzoate (SGMIB). SGMIB is a prosthetic group used for antibody and small-protein radioiodination and possesses improved properties as a group that stabilizes 131I and maximizes the retention in tumor cells.[112,113] Remarkably, 131I-SGMIB-anti-HER2-nanobody was not retained in the kidneys, while tumor targeting was maintained. In addition, Zalutsky and coworkers recently labeled an anti-HER2 nanobody with 211At, using this similar residualizing agent, referred to as N-succinimidyl-3-[211At]astato-4-guanidinomethylbenzoate (SAGMB).[114] Paired-label biodistribution studies directly compared the in vivo behavior of 211At-SAGMB-nanobody to that of its 131I analog SGMIB-nanobody in athymic mice, showing excellent preservation of HER2 binding after 211At labeling in combination with high internalization and optimal tumor uptake. Further investigation of this 211At-SAGMB-nanobody compound is warranted.Figure 2.