Population genetics of self-incompatibility in a clade of relict cliff-dwelling plant species
ABSTRACT
---
This study highlights the value of performing detailed mating system studies in plant species of high conservation value, such as the rare and relict species of Sonchus section Pustulati described here. This study adds to the evidence that outcrossing mating systems based on SSI are highly resilient even under long-term conditions of small, fragmented, and isolated populations, possibly due to mating system flexibility with the presence of some selfing and the fact that high cross-compatibility is achieved for relatively modest dominantly expressed S allele polymorphism. We highlight the importance of taking mating system factors into account as part of conservation efforts.
No MeSH data available.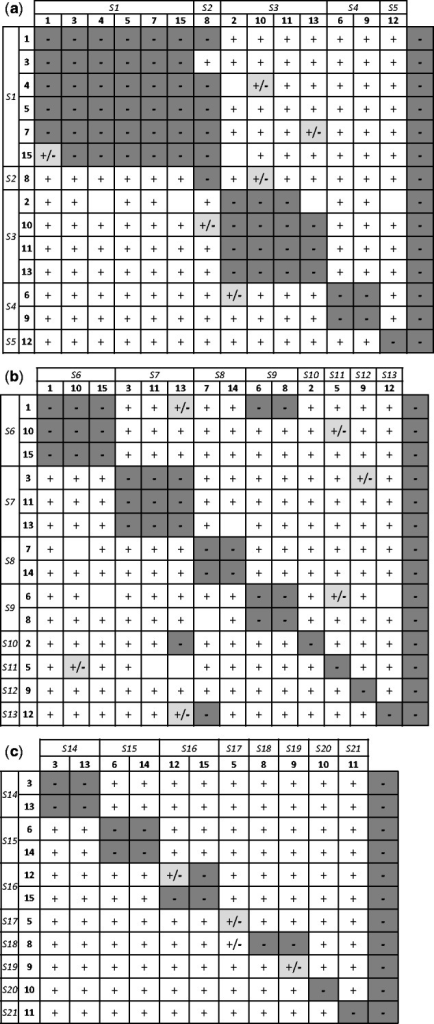 © Copyright Policy - creative-commons
License
getmorefigures.php?uid=PMC4940477&req=5
Mentions: Our three complete diallels for populations ANT, TAL and GHO1 of Spanish and Moroccan ranges of S. pustulatus and S. fragilis allowed the identification of five, eight and eight incompatibility groups, respectively (Fig. 5a–c). These were interpreted as the numbers of different expressed S alleles in each population sample (Fig. 5a–c and [see Supporting Information – Tables S1 and S2]). It is worth noting that as the number of individuals used in the crosses was 14, 14 and 11, respectively, the number of potential alleles were 28, 28 and 22. We numbered the S alleles found from S1 to S21, although individuals from different populations may share some of these alleles among them. From our diallel results, we interpreted S alleles to be expressed dominantly in those individuals belonging to a single incompatibility group. A SSI model of complete dominance among alleles satisfactorily explained the majority of the crossing results in each population (94.3–99.1% of results supported; [see Supporting Information – Table S1]). Furthermore, assuming co-dominance of alleles S1 and S2 in the pollen of plant 8 from ANT, and co-dominance of alleles S6 and S9 in the stigma of plant 1 from TAL [see Supporting Information – Figure S3], the SSI model explained a further 2.8 and 1.1% of the crossing results for each of these populations, respectively [see Supporting Information – Table S1]. Very few crossing anomalies, i.e. those not fitted into the SSI model, were detected across the diallels (0.9–4.6%; [see Supporting Information – Table S1]). The S allele number estimator of Brennan et al. (2002) predicted approximately 5, 11 and 15 S distinct alleles for the entire populations ANT, TAL and GHO1, respectively (Table 2). Repeatability values were 0.88, 0.77 and 0.70 for the three populations, respectively (Table 2), suggesting that sampling has been sufficient to capture most of the S allele diversity present in these populations.Figure 5.