Conceptual convergence: increased inflammation is associated with increased basal ganglia glutamate in patients with major depression
ABSTRACT
---
Inflammation and altered glutamate metabolism are two pathways implicated in the pathophysiology of depression. Interestingly, these pathways may be linked given that administration of inflammatory cytokines such as interferon-α to otherwise non-depressed controls increased glutamate in the basal ganglia and dorsal anterior cingulate cortex (dACC) as measured by magnetic resonance spectroscopy (MRS). Whether increased inflammation is associated with increased glutamate among patients with major depression is unknown. Accordingly, we conducted a cross-sectional study of 50 medication-free, depressed outpatients using single-voxel MRS, to measure absolute glutamate concentrations in basal ganglia and dACC. Multivoxel chemical shift imaging (CSI) was used to explore creatine-normalized measures of other metabolites in basal ganglia. Plasma and cerebrospinal fluid (CSF) inflammatory markers were assessed along with anhedonia and psychomotor speed. Increased log plasma C-reactive protein (CRP) was significantly associated with increased log left basal ganglia glutamate controlling for age, sex, race, body mass index, smoking status and depression severity. In turn, log left basal ganglia glutamate was associated with anhedonia and psychomotor slowing measured by the finger-tapping test, simple reaction time task and the Digit Symbol Substitution Task. Plasma CRP was not associated with dACC glutamate. Plasma and CSF CRP were also associated with CSI measures of basal ganglia glutamate and the glial marker myoinositol. These data indicate that increased inflammation in major depression may lead to increased glutamate in the basal ganglia in association with glial dysfunction and suggest that therapeutic strategies targeting glutamate may be preferentially effective in depressed patients with increased inflammation as measured by CRP.
No MeSH data available.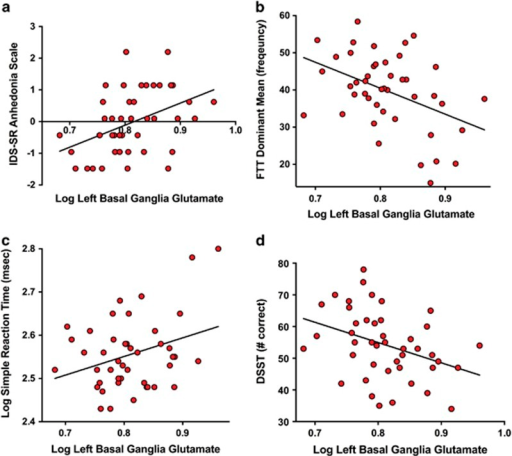 © Copyright Policy - open-access
License
getmorefigures.php?uid=PMC4940313&req=5
Mentions: After controlling for covariates, the left basal ganglia glutamate was positively associated with anhedonia subscale scores (β=0.42, t=3.03, P=0.004, Cohen's f2=0.21, power=0.82, predictors=8). To correct for multiple comparisons between glutamate and the measures of psychomotor speed, simple correlation coefficients between log left basal glutamate and neurocognitive assessments were calculated using an FDR <0.05. Three measures, that is, mean finger-tapping frequency in the dominant hand (r=−0.42, p(FDRcorr)=−0.032), simple reaction time (ms; r=0.32, p(FDRcorr)=0.048) and Digit Symbol Substitution Test performance (r=−0.36, p(FDRcorr)=0.048), survived FDR correction and thus were considered in subsequent analyses. Log left basal ganglia glutamate positively predicted a simple reaction time (β=0.32, t=2.18, P=0.035, Cohen's f2=0.11, power=0.66, predictors=8; Figure 2) and negatively predicted mean frequency of taps on the finger-tapping test and performance on the Digit Symbol Substitution Test (β=−0.38, t=2.95, P=0.005, Cohen's f2=0.32, power=0.90 and β=−0.36, t=2.54, P=0.01, Cohen's f2=0.15, power=0.74, predictors=8, respectively; Figure 2).