FOXA1 acts upstream of GATA2 and AR in hormonal regulation of gene expression
ABSTRACT
---
Hormonal regulation of gene expression by androgen receptor (AR) is tightly controlled by many transcriptional cofactors, including pioneer factors FOXA1 and GATA2, which, however, exhibit distinct expression patterns and functional roles in prostate cancer. Here, we examined how FOXA1, GATA2, and AR crosstalk and regulate hormone-dependent gene expression in prostate cancer cells. ChIP-seq analysis revealed that FOXA1 reprograms both AR and GATA2 cistrome by preferably recruiting them to FKHD-containing genomic sites. By contrast, GATA2 is unable to shift AR or FOXA1 to GATA motifs. Rather, GATA2 co-occupancy enhances AR and FOXA1 binding to nearby ARE and FKHD sites, respectively. Similarly, AR increases, but not re-programs, GATA2 and FOXA1 cistromes. Concordantly, GATA2 and AR strongly enhance the transcriptional program of each other, whereas FOXA1 regulates GATA2- and AR-mediated gene expression in a context-dependent manner due to its reprogramming effects. Taken together, our data delineated for the first time the distinct mechanisms by which GATA2 and FOXA1 regulate AR cistrome and suggest that FOXA1 acts upstream of GATA2 and AR in determining hormone-dependent gene expression in prostate cancer.
No MeSH data available.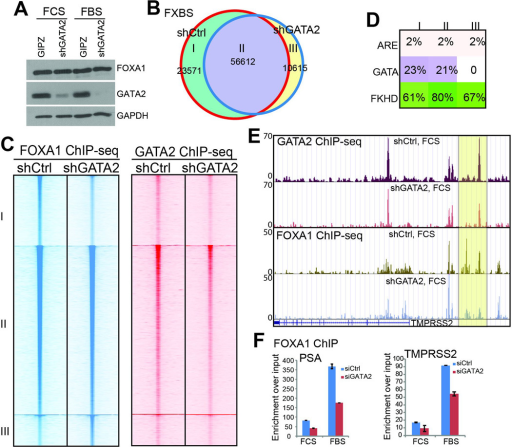 © Copyright Policy
getmorefigures.php?uid=PMC4940300&req=5
Mentions: We next investigated how GATA2 regulates the genomic landscapes of FOXA1. By western blot analysis, we did not observe significant alterations in FOXA1 protein levels following GATA2 knockdown in both presence and absence of androgen (Figure 5A). To determine how GATA2 regulates FOXA1 cistrome, we first conducted FOXA1 ChIP-seq in control and GATA2-knockdown LNCaP cells in the absence of androgen, in order to preclude confounding effects caused by AR. Interestingly, ChIP-seq showed dramatically decreased number of FOXA1 binding sites following GATA2 depletion; over 23,000 FXBS were lost whereas only about 10,000 new sites were gained (Figure 5B). The decrease in FOXA1 binding was accompanied by reduced GATA2 ChIP-seq read intensities, suggesting that GATA2 co-occupancy might have augmented FOXA1 chromatin binding (Figure 5C). While as expected GATA motif was no longer enriched in the gained (shGATA2-only, III) FXBS, the occurrence of FKHD motif was also not significantly increased, ruling out potential FKHD-mediated reprogramming (Figure 5D). As an example, genome browser view depicted reduced FOXA1 binding at the TMPRSS2 enhancer following GATA2 knockdown and decreased GATA2 binding (Figure 5E). To validate this, ChIP-qPCR was performed and confirmed a decrease of GATA2 binding at the PSA and TMPRSS2 enhancers following GATA2 knockdown (Figure S5). Interestingly, FOXA1 ChIP-qPCR further validated the decrease in FOXA1 occupancy at these enhancers in both androgen-depleted and –replenished cells, supporting GATA2 as a collaborating transcription factor of FOXA1 (Figure 5F). Therefore, our results suggest that, unlike FOXA1 regulation of GATA2, GATA2 is not able to reprogram FOXA1.