FOXA1 acts upstream of GATA2 and AR in hormonal regulation of gene expression
ABSTRACT
---
Hormonal regulation of gene expression by androgen receptor (AR) is tightly controlled by many transcriptional cofactors, including pioneer factors FOXA1 and GATA2, which, however, exhibit distinct expression patterns and functional roles in prostate cancer. Here, we examined how FOXA1, GATA2, and AR crosstalk and regulate hormone-dependent gene expression in prostate cancer cells. ChIP-seq analysis revealed that FOXA1 reprograms both AR and GATA2 cistrome by preferably recruiting them to FKHD-containing genomic sites. By contrast, GATA2 is unable to shift AR or FOXA1 to GATA motifs. Rather, GATA2 co-occupancy enhances AR and FOXA1 binding to nearby ARE and FKHD sites, respectively. Similarly, AR increases, but not re-programs, GATA2 and FOXA1 cistromes. Concordantly, GATA2 and AR strongly enhance the transcriptional program of each other, whereas FOXA1 regulates GATA2- and AR-mediated gene expression in a context-dependent manner due to its reprogramming effects. Taken together, our data delineated for the first time the distinct mechanisms by which GATA2 and FOXA1 regulate AR cistrome and suggest that FOXA1 acts upstream of GATA2 and AR in determining hormone-dependent gene expression in prostate cancer.
No MeSH data available.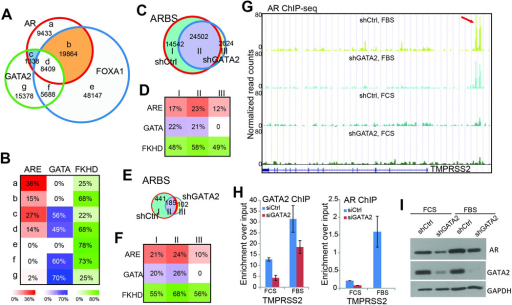 © Copyright Policy
getmorefigures.php?uid=PMC4940300&req=5
Mentions: Both FOXA1 and GATA2 were thought pioneer cofactors of AR. We and others have recently demonstrated that FOXA1 reprograms AR cistrome by recruiting AR from ARE-only sites to FKHD sites6, 7. However, how GATA2 regulates AR cistromes has not been carefully investigated. To address this, we first performed comparative genome-wide location analyses of all three transcription factors in LNCaP cells, and found that substantially more AR binding sites (ARBS) are co-occupied by FOXA1 than GATA2 (Figure 1A). Approximately 25% of ARBS (c+d sites in Figure 1A) were co-occupied by GATA2, whereas up to 75% of ARBS (b+d) were co-bound by FOXA1. Moreover, a majority (86%, d) of GATA2-AR co-occupied loci were also bound by FOXA1, leaving only 3% of ARBS (c) co-occupied by GATA2 alone. These data suggest that, unlike FOXA1, GATA2 alone is probably insufficient in recruiting AR. Concordantly, motif analysis demonstrated that ARE is only weakly enriched in ARBS co-occupied by FOXA1, either alone (15%, b) or together with GATA2 (14%, d), suggesting the strong ability of FOXA1 in recruiting AR to chromatin regions lacking full AREs (Figure 1B). By contrast, ARE remains highly prevalent, and thus may be necessary, in the ARBS co-occupied by GATA2 only (c sites). Our data thus suggest major differences between FOXA1 and GATA2 regulation of AR cistrome; unlike FOXA1, GATA2 may be unable to reprogram AR.