Transcriptome-wide mining suggests conglomerate of genes associated with tuberous root growth and development in Aconitum heterophyllum Wall
ABSTRACT
---
Tuberous roots of Aconitum heterophyllum constitute storage organ for secondary metabolites, however, molecular components contributing to their formation are not known. The transcriptomes of A. heterophyllum were analyzed to identify possible genes associated with tuberous root development by taking clues from genes implicated in other plant species. Out of 18 genes, eight genes encoding GDP-mannose pyrophosphorylase (GMPase), SHAGGY, Expansin, RING-box protein 1 (RBX1), SRF receptor kinase (SRF), β-amylase, ADP-glucose pyrophosphorylase (AGPase) and Auxin responsive factor 2 (ARF2) showed higher transcript abundance in roots (13–171 folds) compared to shoots. Comparative expression analysis of those genes between tuberous root developmental stages showed 11–97 folds increase in transcripts in fully developed roots compared to young rootlets, thereby implying their association in biosynthesis, accumulation and storage of primary metabolites towards root biomass. Cluster analysis revealed a positive correlation with the gene expression data for different stages of tuberous root formation in A. heterophyllum. The outcome of this study can be useful in genetic improvement of A. heterophyllum for root biomass yield.
Electronic supplementary material: The online version of this article (doi:10.1007/s13205-016-0466-y) contains supplementary material, which is available to authorized users.
No MeSH data available.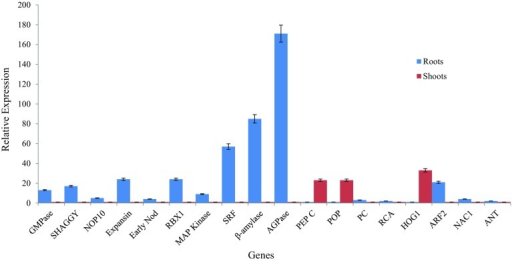 © Copyright Policy - OpenAccess
License
getmorefigures.php?uid=PMC4940232&req=5
Mentions: To gain an insight into the molecular basis of sink organ, i.e., tuberous root development in A. heterophyllum, quantitative expression of 18 genes was studied in different tissues using transcript abundance analysis. qPCR analysis revealed that 15 out of 18 genes of aforementioned classes had relatively higher expression in roots of A. heterophyllum compared to shoots. Eight genes encoding GMPase, SHAGGY, Expansin, RBX1, SRF, β-amylase, AGPase and ARF2 showed elevated level of transcripts in roots (13–171 folds) compared to shoots (Fig. 1). The transcripts of AGPase, β-amylase and SRF genes showed highest transcript abundance of 171-, 85- and 57-fold, respectively, in roots. Relatively higher expression of genes coding for AGPase and β-amylase enzymes was positively correlated to their role in starch biosynthesis in M. esculenta (Ihemere et al. 2006; Saithong et al. 2013), I. batatas (Wang et al. 2005) and model crop species like Oryza sativa and Zea mays (Geigenberger 2011). Additionally, the starch production is regulated by the activity of AGPase, the first enzyme of the starch biosynthetic pathway (Li et al. 2012). The transcript of SRF gene increased 57-fold in roots compared to shoots. The gene has been found to developmentally regulate storage root formation in I. batatas by actively initiating cell division process, thereby causing thickening of tuberous roots (Tanaka et al. 2005). The higher expression of this gene has been shown to regulate plant carbohydrate metabolism in I. batatas (Li and Zhang 2003). The genes encoding for RBX1 and Expansin enzymes showed 24-fold transcript increase in the roots of A. heterophyllum. The ubiquitination activities, which are primarily active during tuberous root development, are controlled by RBX1 enzyme (Dreher and Callis 2007). Similarly, Expansin is well known regulator of cell wall extension during sink organ development in R. glutinosa (Sun et al. 2010). The results of this analysis were in agreement with the in silico expression profiles of nine genes reported in Pal et al. (2015).Fig. 1