A Ca V 2.1 N-terminal fragment relieves the dominant-negative inhibition by an Episodic ataxia 2 mutant
ABSTRACT
---
Episodic ataxia 2 (EA2) is an autosomal dominant disorder caused by mutations in the gene CACNA1A that encodes the pore-forming CaV2.1 calcium channel subunit. The majority of EA2 mutations reported so far are nonsense or deletion/insertion mutations predicted to form truncated proteins. Heterologous expression of wild-type CaV2.1, together with truncated constructs that mimic EA2 mutants, significantly suppressed wild-type calcium channel function, indicating that the truncated protein produces a dominant-negative effect (Jouvenceau et al., 2001; Page et al., 2004). A similar finding has been shown for CaV2.2 (Raghib et al., 2001). We show here that a highly conserved sequence in the cytoplasmic N-terminus is involved in this process, for both CaV2.1 and CaV2.2 channels. Additionally, we were able to interfere with the suppressive effect of an EA2 construct by mutating key N-terminal residues within it. We postulate that the N-terminus of the truncated channel plays an essential part in its interaction with the full-length CaV2.1, which prevents the correct folding of the wild-type channel. In agreement with this, we were able to disrupt the interaction between EA2 and the full length channel by co-expressing a free N-terminal peptide.
No MeSH data available.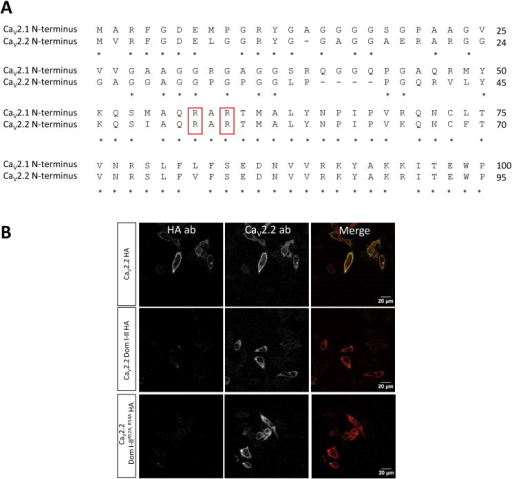 © Copyright Policy - CC BY
License
getmorefigures.php?uid=PMC4940211&req=5
Mentions: The CaV2.1 and CaV2.2 N-termini show a high degree of homology (Fig. 1A). Here we assessed the role of the two conserved arginine residues (indicated by the red rectangles in Fig. 1A) in the dominant-negative suppression of CaV2 channels by truncated two domain constructs. We initially monitored the surface expression of the full-length and truncated CaV2.2 harbouring an exofacial HA tag (Cassidy et al., 2014), co-expressed with the auxiliary subunits α2δ-1 and β1b. CaV2.2 was used to monitor cell surface expression, since in our hands CaV2.1 with an exofacial tag (Watschinger et al., 2008) was not well exposed on the cell surface. While the full-length CaV2.2 channel was found to be expressed on the cell surface of non-permeabilized Neuro2A cells, as shown by the HA signal (Fig. 1B), a truncated CaV2.2 construct, consisting of Dom I–II and the II–III loop was retained intracellularly, and no surface HA signal was detected (Fig. 1B). CaV2.2 Dom I–IIR52A, R54A, in which the key arginine residues identified in Fig. 1A were substituted by alanine, was also not trafficked to the surface (Fig 1B). The fact that the truncated two domain CaV2.2 constructs are not expressed at the cell surface is not surprising as it has already been shown that the truncated mutant CaV2.1 channels alone do not form functional channels (Jouvenceau et al., 2001). However, for CaV2.2 and CaV1.2, co-expression of complementary truncated domain pairs was found to give rise to currents, although their amplitude was smaller than the full-length channel current (Raghib et al., 2001, Michailidis et al., 2014), indicating that channel fragments can interact and fold appropriately, when all the domains are present.