Golgi self-correction generates bioequivalent glycans to preserve cellular homeostasis
ABSTRACT
---
Essential biological systems employ self-correcting mechanisms to maintain cellular homeostasis. Mammalian cell function is dynamically regulated by the interaction of cell surface galectins with branched N-glycans. Here we report that N-glycan branching deficiency triggers the Golgi to generate bioequivalent N-glycans that preserve galectin-glycoprotein interactions and cellular homeostasis. Galectins bind N-acetyllactosamine (LacNAc) units within N-glycans initiated from UDP-GlcNAc by the medial-Golgi branching enzymes as well as the trans-Golgi poly-LacNAc extension enzyme β1,3-N-acetylglucosaminyltransferase (B3GNT). Marginally reducing LacNAc content by limiting N-glycans to three branches results in T-cell hyperactivity and autoimmunity; yet further restricting branching does not produce a more hyperactive state. Rather, new poly-LacNAc extension by B3GNT maintains galectin binding and immune homeostasis. Poly-LacNAc extension is triggered by redistribution of unused UDP-GlcNAc from the medial to trans-Golgi via inter-cisternal tubules. These data demonstrate the functional equivalency of structurally dissimilar N-glycans and suggest a self-correcting feature of the Golgi that sustains cellular homeostasis.
Doi:: http://dx.doi.org/10.7554/eLife.14814.001
No MeSH data available.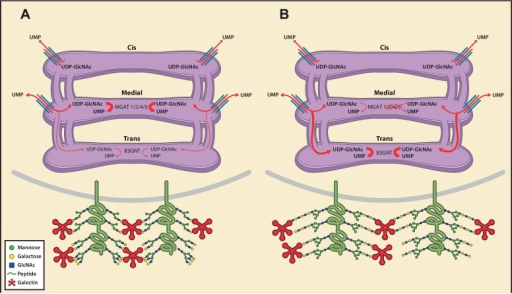 © Copyright Policy
License
getmorefigures.php?uid=PMC4940165&req=5
Mentions: Although the mechanism for cargo transport between Golgi cisterna is incompletely understood, the prevailing model is cisternal maturation, where entire cisterna move forward with their cargo, while Golgi enzymes/transporters are pulled back to earlier cisterna by vesicular transport (Glick and Luini, 2011). However, this model has recently been expanded by data suggesting that small cargo transits the Golgi by diffusion via inter-cisternal tubules that vertically connect the cis, medial, and trans compartments (Martínez-Alonso et al., 2013; Beznoussenko et al., 2014; Trucco et al., 2004). Indeed, at least in CHO cells, there is evidence for functional continuity throughout sub-compartments of the Golgi (Kim et al., 2001). Golgi stacks, consisting of the cis, medial, and trans compartments, are also connected longitudinally to other Golgi stacks by tubules. Nocodazole, which interrupts longitudinal but not vertical Golgi tubules, had no effect on poly-LacNAc induction by SW in Jurkat T cells (Figure 6G). In contrast, pyrrophenone disrupts both longitudinal and inter-cisternal vertical tubules via inhibition of cytosolic phospholipase A2-α (San Pietro et al., 2009). Pyrrophenone significantly blocked SW induced up-regulation of poly-LacNAc in Jurkat T cells in a dose dependent manner, as indicated by comparing its effects on LEA and ConA staining; the latter controlling for any changes in Golgi transport (Figure 6H and Figure 6—figure supplement 1E). In contrast, pyrrophenone had no effect on ConA, LEA, or L-PHA levels in control Jurkat T cells lacking SW (Figure 6—supplement figure 1F–H). We conclude that when branching enzymes under-utilize UDP-GlcNAc in the medial Golgi, UDP-GlcNAc accumulates and then shifts by diffusion to the trans Golgi via inter-cisternal tubules, thereby increasing substrate supply to B3GNT and triggering poly-LacNAc extension (Figure 7). However, our data do not exclude additional transfer of UDP-GlcNAc via vesicles or by cisternal maturation.10.7554/eLife.14814.019Figure 7.Model of an inherent Golgi self-correcting mechanism to maintain LacNAc homeostasis.