Golgi self-correction generates bioequivalent glycans to preserve cellular homeostasis
ABSTRACT
---
Essential biological systems employ self-correcting mechanisms to maintain cellular homeostasis. Mammalian cell function is dynamically regulated by the interaction of cell surface galectins with branched N-glycans. Here we report that N-glycan branching deficiency triggers the Golgi to generate bioequivalent N-glycans that preserve galectin-glycoprotein interactions and cellular homeostasis. Galectins bind N-acetyllactosamine (LacNAc) units within N-glycans initiated from UDP-GlcNAc by the medial-Golgi branching enzymes as well as the trans-Golgi poly-LacNAc extension enzyme β1,3-N-acetylglucosaminyltransferase (B3GNT). Marginally reducing LacNAc content by limiting N-glycans to three branches results in T-cell hyperactivity and autoimmunity; yet further restricting branching does not produce a more hyperactive state. Rather, new poly-LacNAc extension by B3GNT maintains galectin binding and immune homeostasis. Poly-LacNAc extension is triggered by redistribution of unused UDP-GlcNAc from the medial to trans-Golgi via inter-cisternal tubules. These data demonstrate the functional equivalency of structurally dissimilar N-glycans and suggest a self-correcting feature of the Golgi that sustains cellular homeostasis.
Doi:: http://dx.doi.org/10.7554/eLife.14814.001
No MeSH data available.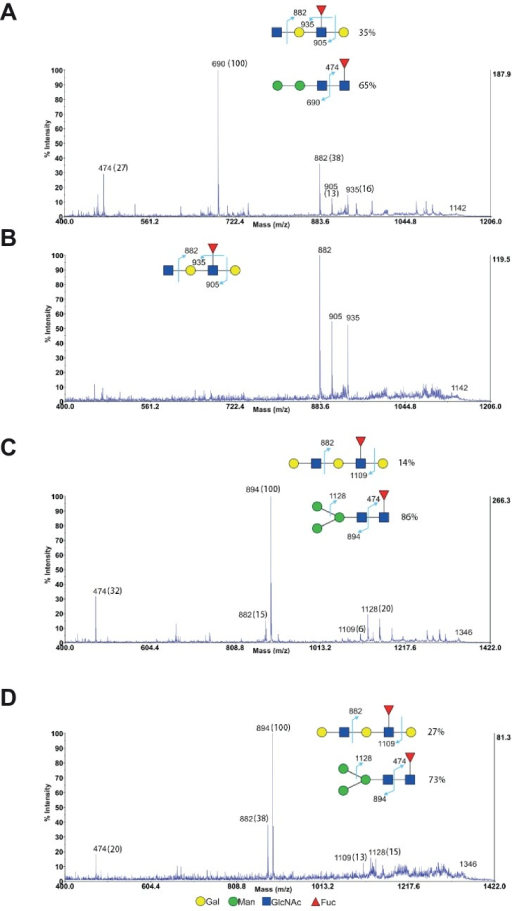 © Copyright Policy
License
getmorefigures.php?uid=PMC4940165&req=5
Mentions: (A) Thymocytes were analyzed for L-PHA and LEA binding by flow cytometry, gating on CD4+CD8+ double positive cells. (B and C) CHO and Lec1 cells were grown in the presence or absence of 500 nM SW for 3 days followed by analysis for L-PHA (B) or LEA (C) binding by flow cytometry. (D) Resting primary human T cells were treated as indicated for 3 days and analyzed for L-PHA (upper) or LEA (lower) binding by flow cytometry, gating on live, non-blasting CD4+ cells. (E-–G) MALDI-TOF analysis of Sialidase A (E) or Endo-β-galactosidase treated N-glycans from Jurkat T cells treated without (F) or with SW (E and G). Hybrid glycans with extended antennae were observed in (E) at m/z 2897, 3102, 3347, 3551 and 4000, which are highlighted with red arrows. The % intensities of the peaks in (F, G) are shown in the brackets after m/z values. The signals at m/z 518, 722 and 1084 are derived from linear poly-LacNAc antennae and are used to represent the length of antennae. The calculation is shown above the spectrum. In addition, a minority of non-sialylated poly-LacNAc antennae were found to be internally fucosylated yielding GlcNAcβ1,3Galβ1,4(Fucα1,3)GlcNAcβ1,3Gal (m/z 1142) and Galβ1,4GlcNAcβ1,3Galβ1,4(Fucα1,3)GlcNAcβ1,3Gal (m/z 1346) upon digestion. MS/MS analysis of the peaks at m/z 1142 and 1346 also revealed the presence of isobaric pauci-mannose glycans, their relative abundances are indicated on the figure (see Figure 2—figure supplement 3). Ions are in the form of M+Na+. Peaks are annotated with putative structures according to the molecular weight, the glycan biosynthetic pathway and for (E), the MALDI-TOF analysis of the N-glycans before Sialidase A treatment (shown in Figure 2—figure supplement 2). NS, not significant; **p<0.01; ***p<0.001 (unpaired two-tailed t-test with Welch's (B–D) and Bonferroni correction (D)). Data show one experiment representative of at least three independent experiments (A–D), except mass spectrometry (E–G), which was performed once. Error bars indicate mean ± s.e.m.