PROP1 triggers epithelial-mesenchymal transition-like process in pituitary stem cells
ABSTRACT
---
Mutations in PROP1 are the most common cause of hypopituitarism in humans; therefore, unraveling its mechanism of action is highly relevant from a therapeutic perspective. Our current understanding of the role of PROP1 in the pituitary gland is limited to the repression and activation of the pituitary transcription factor genes Hesx1 and Pou1f1, respectively. To elucidate the comprehensive PROP1-dependent gene regulatory network, we conducted genome-wide analysis of PROP1 DNA binding and effects on gene expression in mutant mice, mouse isolated stem cells and engineered mouse cell lines. We determined that PROP1 is essential for stimulating stem cells to undergo an epithelial to mesenchymal transition-like process necessary for cell migration and differentiation. Genomic profiling reveals that PROP1 binds to genes expressed in epithelial cells like Claudin 23, and to EMT inducer genes like Zeb2, Notch2 and Gli2. Zeb2 activation appears to be a key step in the EMT process. Our findings identify PROP1 as a central transcriptional component of pituitary stem cell differentiation.
Doi:: http://dx.doi.org/10.7554/eLife.14470.001
No MeSH data available.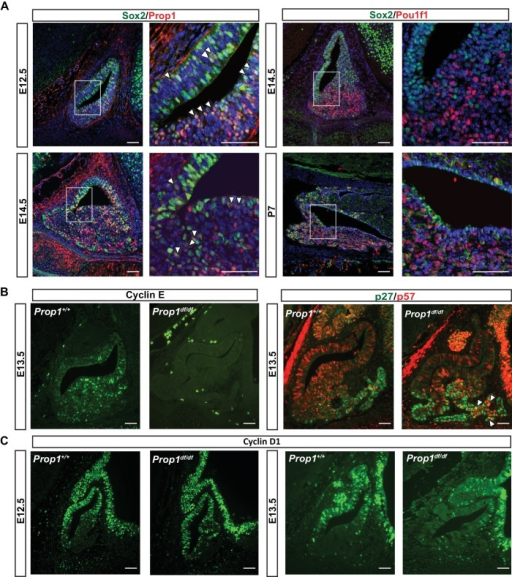 © Copyright Policy
License
getmorefigures.php?uid=PMC4940164&req=5
Mentions: PROP1 is the earliest known exclusive marker of pituitary identity, and it is detectable at embryonic day 11.5 (e11.5) in the mouse and rat (Sornson et al., 1996; Yoshida et al., 2009). Genetic tracing experiments revealed that Sox2-expressing cells in the embryonic pituitary give rise to Sox2-expressing cells postnatally and to all the hormone-producing cell types of the anterior pituitary gland, demonstrating that SOX2-positive cells are the pituitary stem cells (Rizzoti et al., 2013; Andoniadou et al., 2013). We recently demonstrated that all the hormone-producing cells of the anterior and intermediate lobes of the pituitary gland pass through a Prop1 expressing intermediate (Davis et al., 2016). Pituitary stem cells are reported to express PROP1 and SOX2 (Garcia-Lavandeira et al., 2009), but the overlap in expression of these genes during mouse embryogenesis has not been analyzed. PROP1-expressing cells are largely co-incident with SOX2 expressing progenitors at e12.5, although SOX2-positive cells extend over a larger area of Rathke's pouch (Figure 1A, left panel). Later in development, at e14.5, PROP1 expression is decreased, particularly in the dorsal region of Rathke's pouch, where the highly proliferative SOX2-positive cells still predominate. At this time, Prop1-expressing cells are predominately located in the transitional zone, where cells are migrating ventrally to populate the anterior lobe (Figure 1A, left panel) (Ward et al., 2005; Suh et al., 2002). One of the known functions of PROP1 is to activate expression of another pituitary-specific transcription factor, POU1F1. Little or no co-localization of POU1F1 and SOX2 is observed in the cell nuclei, either during development or after birth (Figure 1A, right panel). The consistently mutually exclusive expression of SOX2 and POU1F1 supports the idea that POU1F1 regulates a later stage of differentiation, and it suggests that any effect of POU1F1 on pituitary stem cells would be indirect. Thus, PROP1, but not POU1F1, is initially expressed in SOX2 expressing stem cells in the embryonic pituitary, and the co-localization of PROP1 and SOX2 is transient, ceasing as cells migrate and transition to differentiation.10.7554/eLife.14470.002Figure 1.PROP1 is expressed in pituitary stem cells and is necessary for cell cycle regulation.