Architecture and RNA binding of the human negative elongation factor
ABSTRACT
---
Transcription regulation in metazoans often involves promoter-proximal pausing of RNA polymerase (Pol) II, which requires the 4-subunit negative elongation factor (NELF). Here we discern the functional architecture of human NELF through X-ray crystallography, protein crosslinking, biochemical assays, and RNA crosslinking in cells. We identify a NELF core subcomplex formed by conserved regions in subunits NELF-A and NELF-C, and resolve its crystal structure. The NELF-AC subcomplex binds single-stranded nucleic acids in vitro, and NELF-C associates with RNA in vivo. A positively charged face of NELF-AC is involved in RNA binding, whereas the opposite face of the NELF-AC subcomplex binds NELF-B. NELF-B is predicted to form a HEAT repeat fold, also binds RNA in vivo, and anchors the subunit NELF-E, which is confirmed to bind RNA in vivo. These results reveal the three-dimensional architecture and three RNA-binding faces of NELF.
Doi:: http://dx.doi.org/10.7554/eLife.14981.001
No MeSH data available.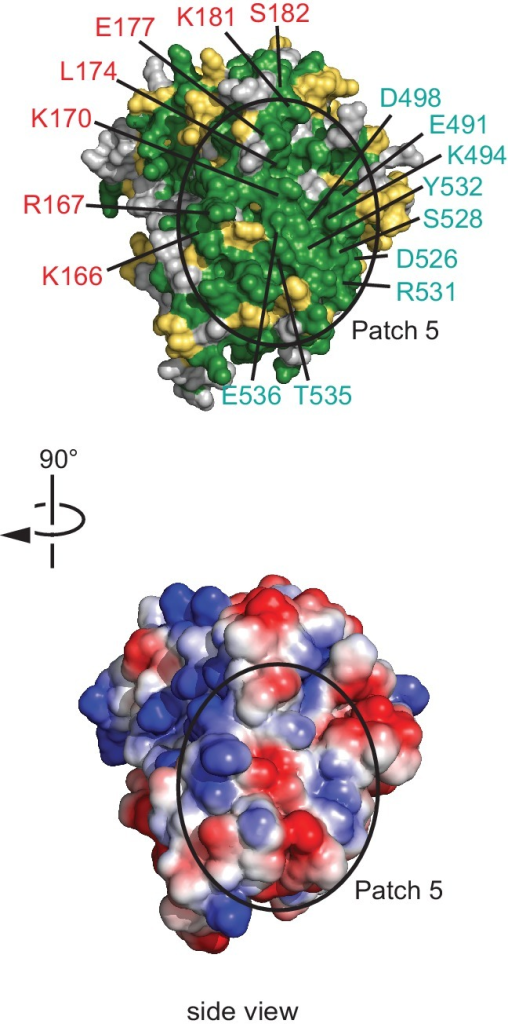 © Copyright Policy
License
getmorefigures.php?uid=PMC4940160&req=5
Mentions: Analysis of the surface of the NELF-AC structure showed that the face opposite of where we detected NELF-BE crosslinks contains four positively charged patches (Figure 4A–C, bottom view). Patch 1 consists of NELF-A residues R65 and R66 and NELF-C residues R291 and K315. Patch 2 encompasses NELF-C residues K371, K372, and K374, and patch 3 contains NELF-C residues K384 and K388. Patch 4 is composed of NELF-A residues K146, K161, K168, and R175, and NELF-C residues R419 and R506. These patches are well conserved among metazoans, and are partially conserved in Dictyostelium (Figure 1B). Our crosslinking MS data revealed that all positive patches, except for patch 3 (NELF-C K384, K388), were devoid of crosslinks with NELF-B or -E indicating that surface patches 1, 2, and 4 are not involved in subunit contacts. In addition to the four positive patches, the NELF-AC surface contains a conserved polar patch (patch 5) that is formed by NELF-A residues K166, R167, K170, L174, E177, K181, and S182, and residues E491, K494, D498, D526, S528, R531, Y532, T535 and E536 that protrude from NELF-C helices α18' and α20' (Figure 4—figure supplement 1). Interestingly, three lysines in this region (NELF-A K166, K181, NELF-C K494) crosslink to NELF-B.