Reduced Nrf2 expression mediates the decline in neural stem cell function during a critical middle-age period.
Bottom Line: These studies indicate that although NSPC function continuously declines with advancing age, there is a critical time period during middle age (13-15 months) when a striking reduction in NSPC survival and regeneration (proliferation and neuronal differentiation) occurs.When Nrf2 expression was suppressed in 'young' NSPCs, using short interfering RNAs, the survival and regeneration of the NSPCs was significantly compromised and mirrored 'old' NSPCs.These results identify a novel regulatory role for Nrf2 in NSPC function during aging and have important implications for developing NSPC-based strategies to support healthy aging and to treat age-related neurodegenerative disorders.
Affiliation: Department of Neurology, University of Arizona, Tucson, AZ, USA.
No MeSH data available.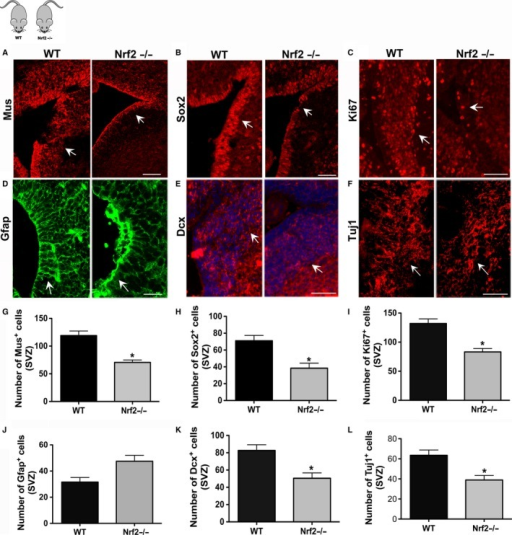 © Copyright Policy - creativeCommonsBy
License
getmorefigures.php?uid=PMC4933666&req=5
Mentions: We also examined the effects of Nrf2 knockout on SVZ NSPCs in vivo, in the newborn animals, by studying the expression of antigens that identify SVZ stem and progenitor cells, and their progeny. Specifically, we examined cells positive for Musashi1 and Sox2 (expressed in type B and C NSPCs), doublecortin (expressed in type A NSPCs, an indicator of neurogenesis), Tuj1 (neuronal marker), and GFAP (expressed by type B NSPCs, glial marker). We also studied cellular proliferation in the SVZ using Ki67 as a marker. These data indicated that Musashi1 (Fig. 6A, G; P < 0.05, unpaired t‐test, t = 5.1, df = 3) and Sox2 (Fig. 6B, H; P < 0.05, unpaired t‐test, t = 13.7, df = 3) expressing NSPCs were significantly reduced in the Nrf2−/− animals compared to WT controls. In addition, Dcx+ neuronal progenitors and Tuj1+ neurons (Fig. 6E, K; P < 0.05, unpaired t‐test, t = 3.5, df = 3; Fig. 6F,L; P < 0.05, unpaired t‐test, t = 3.5, df = 3) were significantly lower, whereas GFAP+ cells were present in greater numbers (although not significantly, Fig. 6D, J). These data supported the in vitro data in Fig. 5 and indicated that neuronal and glial differentiation had been altered in the Nrf2−/− animals. Finally, the number of Ki67+ cells was determined to be significantly lower in the SVZ of the Nrf2−/− mice, indicating that the proliferative potential of the NSPCs had also been dampened (Fig. 6C, I; P < 0.01, unpaired t‐test, t = 4.9, df = 3).