Dynamic Axonal Translation in Developing and Mature Visual Circuits
ABSTRACT
---
Local mRNA translation mediates the adaptive responses of axons to extrinsic signals, but direct evidence that it occurs in mammalian CNS axons in vivo is scant. We developed an axon-TRAP-RiboTag approach in mouse that allows deep-sequencing analysis of ribosome-bound mRNAs in the retinal ganglion cell axons of the developing and adult retinotectal projection in vivo. The embryonic-to-postnatal axonal translatome comprises an evolving subset of enriched genes with axon-specific roles, suggesting distinct steps in axon wiring, such as elongation, pruning, and synaptogenesis. Adult axons, remarkably, have a complex translatome with strong links to axon survival, neurotransmission, and neurodegenerative disease. Translationally co-regulated mRNA subsets share common upstream regulators, and sequence elements generated by alternative splicing promote axonal mRNA translation. Our results indicate that intricate regulation of compartment-specific mRNA translation in mammalian CNS axons supports the formation and maintenance of neural circuits in vivo.
No MeSH data available.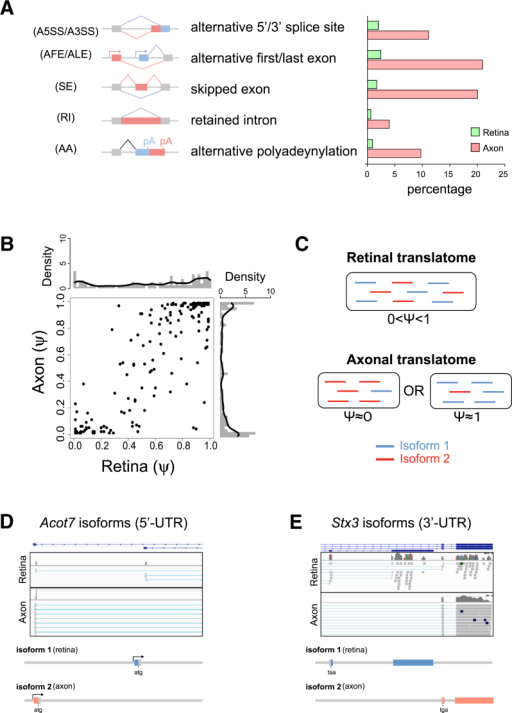 © Copyright Policy - CC BY
License
getmorefigures.php?uid=PMC4930487&req=5
Mentions: Post-transcriptional RNA processing events, including alternative splicing, are widely used to control gene expression in neurons. To assess whether these regulate local mRNA translation, we analyzed the mRNA isoforms on mapped sequence reads using MISO software (Katz et al., 2010). Intriguingly, the axonal translatome showed more-extensive diversity of mRNA isoforms than the somal translatome (Figure 6A). To address the possibility of isoform-specific axonal translation, we selected 164 alternative events that produce two isoforms both in the axonal and retinal translatomes. Then, we calculated the "percentage spliced in" (PSI or Ψ) values, which represent the fraction of the longer isoform (Katz et al., 2010). Ψ retina was uniformly distributed (0 < Ψ < 1), indicating that there is no clear bias in translational efficacy (Figures 6B and 6C). However, Ψ axon was biased to the two extremes (i.e., Ψ = 0 or Ψ = 1), indicating that only one of the two isoforms is selectively translated in the axon (Figures 6B and 6C). Notable examples are Acot7, an acyl-coenzyme A (CoA) thioesterase gene required for lipid biosynthesis and neuron survival (Ellis et al., 2013); Syntaxin 3 (Stx3), a SNARE component gene; and Clta, a clathrin light chain A gene, which show clear axon-specific usage of first, last, and internal exons, respectively (Figures 6D, 6E, and S6A). Intriguingly, axon-specific isoforms of Acot7 and Stx3 encode proteins with slightly different amino acids at the N and C termini, respectively (see gene models in Figures 6D and 6E), suggesting that alternative splicing may couple axon-specific protein isoforms with a unique sequence tag in the UTR.