Dynamic Axonal Translation in Developing and Mature Visual Circuits
ABSTRACT
---
Local mRNA translation mediates the adaptive responses of axons to extrinsic signals, but direct evidence that it occurs in mammalian CNS axons in vivo is scant. We developed an axon-TRAP-RiboTag approach in mouse that allows deep-sequencing analysis of ribosome-bound mRNAs in the retinal ganglion cell axons of the developing and adult retinotectal projection in vivo. The embryonic-to-postnatal axonal translatome comprises an evolving subset of enriched genes with axon-specific roles, suggesting distinct steps in axon wiring, such as elongation, pruning, and synaptogenesis. Adult axons, remarkably, have a complex translatome with strong links to axon survival, neurotransmission, and neurodegenerative disease. Translationally co-regulated mRNA subsets share common upstream regulators, and sequence elements generated by alternative splicing promote axonal mRNA translation. Our results indicate that intricate regulation of compartment-specific mRNA translation in mammalian CNS axons supports the formation and maintenance of neural circuits in vivo.
No MeSH data available.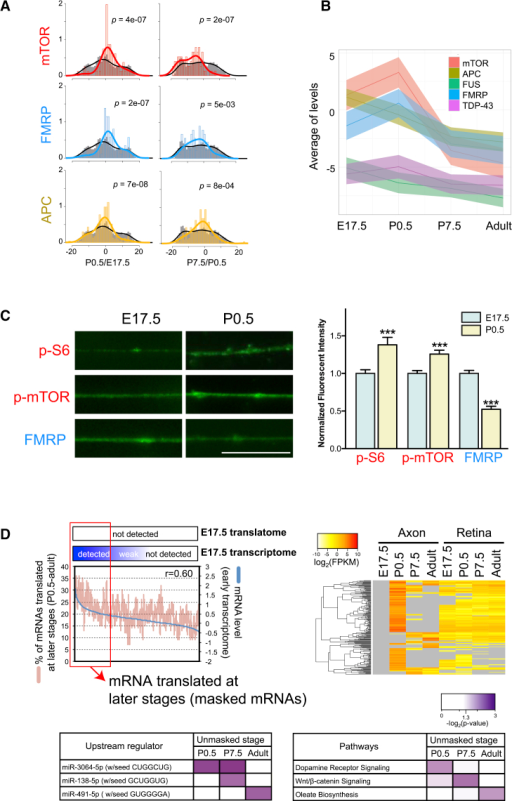 © Copyright Policy - CC BY
License
getmorefigures.php?uid=PMC4930487&req=5
Mentions: We have shown that the axonal translatome is dynamically regulated during development, and this raises the important question of how axonal translation is controlled by upstream signaling pathways. To investigate this, we performed IPA upstream regulator analysis, which is based on published data of gene knockdown or knockout studies where protein products were measured when translational regulator function was impaired. mTORC1 activity was predicted to peak in actively wiring axons, as its target mRNAs showed a steep increase at P0.5 (Figure S5A), consistent with previous studies demonstrating that axonal mRNA translation is regulated by mTORC1 (Campbell and Holt, 2001) and required for axon branching (Spillane et al., 2013). In contrast, the activity of FMRP was predicted to peak later at P7.5, because its target mRNAs (whose translation is repressed) showed a coordinate decrease in translation in mature axons (Figures 5A, 5B, S5A, and S5B). This result suggests that the translational brake mediated by FMRP is utilized in maturing CNS axons as in dendrites (Bagni and Greenough, 2005, Darnell and Klann, 2013). Consistent with this result, known targets of FMRP and mTORC1 in the axonal translatome showed clearly different translational patterns from the non-target mRNAs: their translation increased at P0.5 (Figure 5A, left panel, red and blue; median shifts right) and decreased at P7.5 (right panel). Another intriguing translational regulator was APC, which was recently shown to regulate microtubule assembly and axonal growth by local translation (Preitner et al., 2014). Our analysis indicates that the translation of APC target mRNAs is highest in the youngest axons (E17.5) and steadily decreases thereafter (Figures 5A and 5B), consistent with the primary role of microtubule assembly in axon growth. In contrast, the targets of TDP-43 and FUS, well-known neuronal RNA-binding proteins (RBPs), showed a distribution not significantly different from the total axonal translatome (Figures 5B and S5C), although the possibility remains that TDP-43 and FUS regulate stage-independent axonal mRNA translation. A principal-component analysis (PCA) also showed clear separation of the mTORC1, FMRP, and APC targets from the rest of the axonal translatome (Figure S5D). MicroRNAs (miRNAs) make up another class of translational regulators that function in the axon (Sasaki et al., 2014). We found that the translation of miR-1 target mRNAs decreases as the axon matures, suggesting that miR-1 abundance and/or activity increases during RGC axonal development (Figure S5A).