An ER-Associated Pathway Defines Endosomal Architecture for Controlled Cargo Transport
ABSTRACT
---
Through a network of progressively maturing vesicles, the endosomal system connects the cell's interior with extracellular space. Intriguingly, this network exhibits a bilateral architecture, comprised of a relatively immobile perinuclear vesicle "cloud" and a highly dynamic peripheral contingent. How this spatiotemporal organization is achieved and what function(s) it curates is unclear. Here, we reveal the endoplasmic reticulum (ER)-located ubiquitin ligase Ring finger protein 26 (RNF26) as the global architect of the entire endosomal system, including the trans-Golgi network (TGN). To specify perinuclear vesicle coordinates, catalytically competent RNF26 recruits and ubiquitinates the scaffold p62/sequestosome 1 (p62/SQSTM1), in turn attracting ubiquitin-binding domains (UBDs) of various vesicle adaptors. Consequently, RNF26 restrains fast transport of diverse vesicles through a common molecular mechanism operating at the ER membrane, until the deubiquitinating enzyme USP15 opposes RNF26 activity to allow vesicle release into the cell's periphery. By drawing the endosomal system's architecture, RNF26 orchestrates endosomal maturation and trafficking of cargoes, including signaling receptors, in space and time.
No MeSH data available.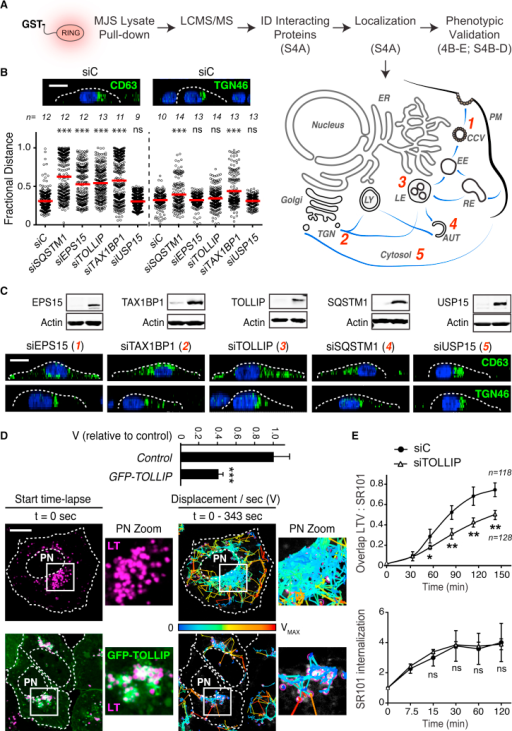 © Copyright Policy - CC BY
License
getmorefigures.php?uid=PMC4930482&req=5
Mentions: To understand how an ER-located protein exerts control over the endosomal system and the TGN, we sought out interacting partners of the cytosolic tail of RNF26. Mass spectrometric analysis of proteins co-precipitating with either GST-ΔTM or GST-RING (Figures 4A and S4A) identified three membrane-associated adaptor proteins functioning in sorting and trafficking of endo- or exocytic vesicles—EPS15 (Benmerah et al., 1999), T6BP/TAX1BP1 (Morriswood et al., 2007), and TOLLIP (Ankem et al., 2011), a ubiquitin scaffold p62/SQSTM1 (Ciani et al., 2003) known for its role in autophagy (Lippai and Löw, 2014) and a DUB USP15, which localizes to the nucleus and cytosol, targeting the transforming growth factor β (TGF-β) and nuclear factor kappa-light-chain enhancer of activated B cells (NF-κB) pathways (Eichhorn et al., 2012, Schweitzer et al., 2007). Collectively, cargo specificities of the three former proteins afford broad coverage of both endocytic and biosynthetic vesicle trajectories (Figures 4A and S4A), implying that by association with different vesicle-targeting adaptors, RNF26 may influence positioning of a wide range of endosomes and the TGN. Silencing the above proteins (excluding USP15) produced marked LE dispersion (Figures 4B and 4C). By contrast, TGN vesicle dispersion resulted only from depletion of the TGN-associated adaptor TAX1BP1 and SQSTM1, but not of endocytic adaptors EPS15 and TOLLIP (Figures 4B and 4C), and overall cell shape parameters were profoundly altered only by depletion of TAX1BP1 (Figure S4B). Further, co-silencing multiple adaptors resulted in additive effects on CD63 distribution (Figure S4C), underscoring the contribution of multi-directional traffic to the global architecture of the LE compartment.