Non-Smc element 5 (Nse5) of the Smc5/6 complex interacts with SUMO pathway components.
Bottom Line: Our characterization of Nse5 establishes a previously unidentified relationship between the Smc5/6 complex and factors of the SUMO pathway.Nse5 physically associates with the E2 conjugating enzyme, Ubc9, where contacts are stabilized by non-covalent interactions with SUMO.Overall, given the extensive connection between Nse5 and components of the SUMO pathway, we speculate that one function of the Smc5/6 complex might be as a scaffold center to enable sumoylation events in budding yeast.
Affiliation: Department of Biochemistry and Molecular Biology, Robson DNA Science Centre, Arnie Charbonneau Cancer Institute, Cumming School of Medicine, University of Calgary, 3330 Hospital Drive N.W., Calgary, Alberta, Canada T2N 4N1.
No MeSH data available.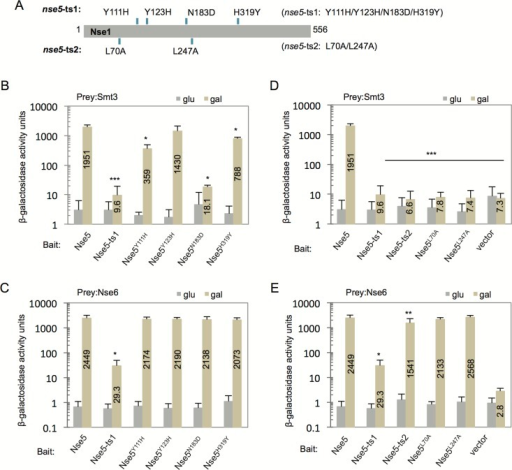 © Copyright Policy - open-access
License
getmorefigures.php?uid=PMC4920195&req=5
Mentions: As Nse5 interacts with SUMO, and its interactions with Siz1, Siz2, and Ubc9 are mediated by SUMO, we wanted to identify critical residues in Nse5 that regulate its interactions with SUMO. The nse5-ts1 allele was generated by PCR-based random mutagenesis and contains 4 amino acid substitutions (Fig. 3A) (Bustard et al., 2012). Here we performed site-directed mutagenesis on the Y2H vector containing NSE5 to generate the individual mutations collectively found in nse5-ts1 (Fig. 3A). Interactions between Smt3 (SUMO) with Nse5, wild-type and mutant proteins, were assessed after verification of expression levels (Fig. S3A). The Nse5-ts1 protein showed a marked reduction in its interaction with Smt3 to 0.5% of wild type (Fig. 3B) (Bustard et al., 2012). The individual point mutants showed varied interactions with Smt3. N183D and Y111H had the most severe defects, down to 1% and 18% of wild type respectively. There was also measurable, but less severe, reduction in the binding between Smt3 with H319Y to 40% of wild type (Fig. 3B), and downward trend, but a non-significant reduction, with Y123H (75%) compared to wild type (Fig. 3B). Next, we determined the ability of the point mutants to interact with Nse6, which is the binding partner of Nse5 within the complex. In contrast to Nse5-ts1, all mutants containing the individual amino acid substitutions interacted with Nse6 at levels comparable to wild type (Fig. 3C; Fig. S3B), indicating that the loss of Nse5-ts1 binding to Nse6 is not attributed to a single mutation. In a parallel set of experiments, we also characterized protein-protein interactions with nse5-ts2, another mutant that contains two substitutions, L70A and L247A (Fig. 3A) (Bustard et al., 2012). The point mutants and Nse5-ts2, which contains both L70A and L247A, showed a complete loss of interaction with Smt3 to the level of the vector control (Fig. 3D; Fig. S3A). In contrast, the individual alanine substitution, L70A and L247A, maintained a level of association with Nse6 that was indistinguishable from wild type (Fig. 3E; Fig. S3B) (Horigome et al., 2015). By comparison, the interaction of Nse5-ts2 with Nse6 was reduced to ∼63% of wild-type levels, which was more serve than the single mutants but was not as severe as Nse5-ts1 at only 1% of wild type (Fig. 3E). With Nse5 mutants that lose interaction with SUMO now identified, we next wanted to determine their impact in vivo on Smc5 sumoylation and cell survival upon MMS treatment.Fig. 3.