Genome-wide analysis of auxin response factor gene family members in medicinal model plant Salvia miltiorrhiza.
Bottom Line: Based on a genome-wide strategy using the medicinal model plant Salvia miltiorrhiza, 25 S. miltiorrhiza ARF (SmARF) gene family members in four classes (class Ia, IIa, IIb and III) were comprehensively analyzed to identify characteristics including gene structures, conserved domains, phylogenetic relationships and expression patterns.In a hybrid analysis of the phylogenetic tree, microRNA targets, and expression patterns of SmARFs in different organs, root tissues, and methyl jasmonate or indole-3-acetic acid treatment conditions, we screened for candidate SmARFs involved in various developmental processes of S. miltiorrhiza Based on this analysis, we predicted that SmARF25, SmARF7, SmARF16 and SmARF20 are involved in flower, leaf, stem and root development, respectively.With the further insight into the targets of miR160 and miR167, specific SmARF genes in S. miltiorrhiza might encode products that participate in biological processes as described for ARF genes in Arabidopsis Our results provide a foundation for understanding the molecular basis and regulatory mechanisms of SmARFs in S. miltiorrhiza.
Affiliation: Institute of Medicinal Plant Development, Chinese Academy of Medical Science, Peking Union Medical College, Beijing 100193, China Key Laboratory of Bioactive Substances and Resources Utilization of Chinese Herbal Medicine, Ministry of Education, Beijing 100193, China.
No MeSH data available.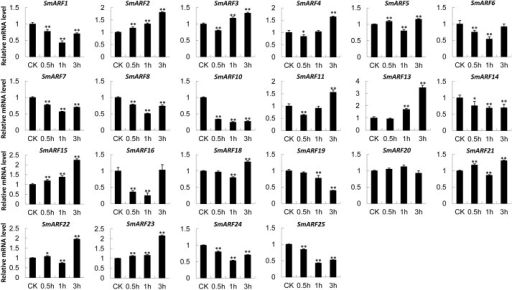 © Copyright Policy - open-access
License
getmorefigures.php?uid=PMC4920185&req=5
Mentions: Auxin is a central regulator of plant growth and development. To investigate the response of SmARF genes to exogenous IAA stimulation, we analyzed the variation in SmARF gene expression at 0, 0.5, 1 and 3 h after 20 μM IAA treatment using qRT-PCR (Fig. 4). As expected, most SmARF genes were significantly auxin-sensitive. The overall expression patterns of SmARFs varied, with 11 SmARF mRNAs (SmARF2, 3, 4, 5, 11, 13, 15, 18, 21, 22 and 23) showing up-regulation and eight SmARF mRNAs (SmARF1, 7, 8, 10, 14, 19, 24 and 25) showing down-regulation at 3 h of IAA treatment (P<0.01 for all). One SmARF gene (SmARF20) did not display significant changes in expression (P>0.05) regardless of the treatment duration. The unmentioned SmARF6 and SmARF16 displayed significantly down-regulated expression at 0.5 and 1 h, and at 3 h, the expression of these genes returned to the same level as that for mock IAA treatment. The most strongly up-regulated SmARF genes, SmARF13, 15 and 23, were markedly induced after IAA treatment [greater than twofold increase, log (expression level) >1]. Similarly, the expression of five SmARF genes (SmARF1, 10, 16, 19, 25) showed marked down-regulation [greater than twofold decrease, log (expression level) >1]. For IAA treatment, 13 SmARF genes (SmARF1, 3, 5, 6, 7, 8, 11, 16, 18, 21, 22, 24 and 25) displayed significant up- or downregulation over the three examined time points. For example, the expression level of SmARF1 was decreased by greater than twofold at 1 h but was significantly increased at 3 h compared with the control levels.Fig. 4.