In vitro transdifferentiation of human peripheral blood mononuclear cells to photoreceptor-like cells.
Bottom Line: We found that retinal disease-related genes were efficiently detected in CRX-transduced cells, most of which are crucial to photoreceptor functions.In functional studies, a light-induced inward current was detected in some CRX-transduced cells.Moreover, by modification of the culture conditions including additional transduction of RAX1 and NEUROD1, we found a greater variety of retinal disease-related genes than that observed in CRX-transduced PBMCs.
Affiliation: Visual Functions Section, Department of Rehabilitation for Sensory Functions, Research Institute, National Rehabilitation Center for Persons with Disabilities, Tokorozawa, Saitama 359-8555, Japan.
No MeSH data available.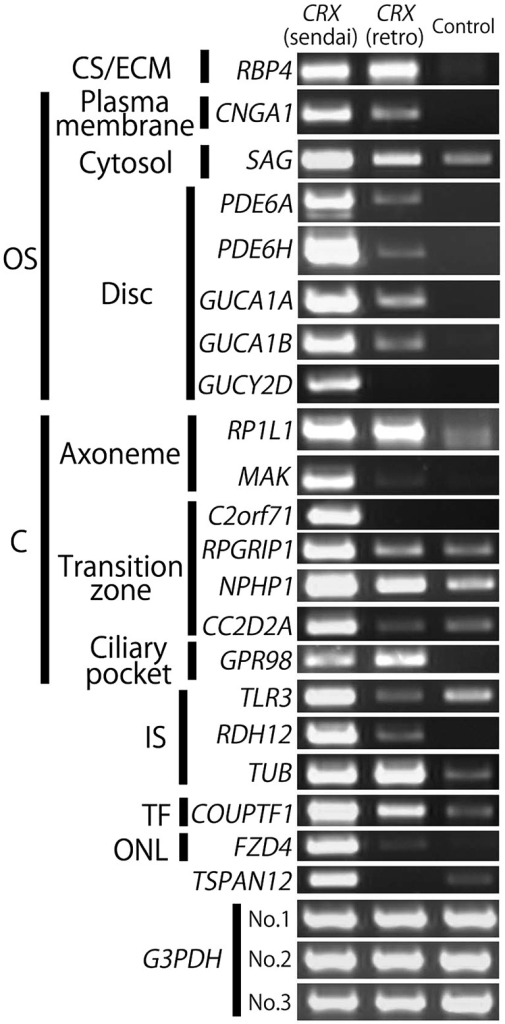 © Copyright Policy - open-access
License
getmorefigures.php?uid=PMC4920181&req=5
Mentions: Because retinal disease-related genes (listed on the RetNet website; https://sph.uth.edu/retnet/, defects of these genes are associated with retinal diseases) are considered to manage important functions of photoreceptor cells, we analyzed the expression of some retinal diseases-related genes in CRX-transduced Nos 1-3 PBMCs by RT-PCR to investigate the applicability of our induced photoreceptor-like cells for basic and clinical studies on photoreceptor cells. Detected genes are indicated in Fig. 3. The expression of most of these genes was more efficiently increased in CRX-transduced cells prepared using SeV vectors than in those prepared using retrovirus vectors. Most retinal disease-related genes that were detected in CRX-transduced cells are specifically expressed in photoreceptor cells (Cremers et al., 2002; Ikeda et al., 2002; Rachel et al., 2012; Roosing et al., 2014; Smith et al., 2009; Trifunović et al., 2008; Yu and Hazlett, 2006). Among genes that were detected by CRX transduction, retinal disease-related genes such as GUCA1A (guanylate cyclase activator 1A), GUCA1B (guanylate cyclase activator 1B), GUCY2D (guanylate cyclase 2D), PDE6A (phosphodiesterase 6A, CGMP-specific, rod, alpha), PDE6H, SAG, CNGA1, CNGA3 and CNGB3 are ordinarily expressed in the retinal outer segments, RP1, RP1L1, MAK (male germ cell-associated kinase), RPGRIP1 (retinitis pigmentosa GTPase regulator interacting protein 1), NPHP1 (nephronophthisis 1), C2orf71 (chromosome 2 open reading frame 71), CC2D2A (coiled-coil and C2 domain containing 2A), and GPR98 (ADGRV1; adhesion G protein-coupled receptor V1) are expressed in the cilia, TLR3, RDH12 and TUB (tubby bipartite transcription factor) are expressed in the retinal inner segments, and FZD4 is expressed in the inner nuclear layer. Expression of the transcription factor COUPTF1 increased as well. TSPAN12 (Tetraspanin 12) was also detected but was previously reported to be expressed in the retinal vascular endothelial cells (Tummala et al., 2010). Genes that remained undetected here were analyzed again in Fig. 4 under improved culture conditions.Fig. 3.