Musculocontractural Ehlers – Danlos syndrome and neurocristopathies: dermatan sulfate is required for Xenopus neural crest cells to migrate and adhere to fibronectin
ABSTRACT
---
Of all live births with congenital anomalies, approximately one-third exhibit deformities of the head and face. Most craniofacial disorders are associated with defects in a migratory stem and progenitor cell population, which is designated the neural crest (NC). Musculocontractural Ehlers–Danlos syndrome (MCEDS) is a heritable connective tissue disorder with distinct craniofacial features; this syndrome comprises multiple congenital malformations that are caused by dysfunction of dermatan sulfate (DS) biosynthetic enzymes, including DS epimerase-1 (DS-epi1; also known as DSE). Studies in mice have extended our understanding of DS-epi1 in connective tissue maintenance; however, its role in fetal development is not understood. We demonstrate that DS-epi1 is important for the generation of isolated iduronic acid residues in chondroitin sulfate (CS)/DS proteoglycans in early Xenopus embryos. The knockdown of DS-epi1 does not affect the formation of early NC progenitors; however, it impairs the correct activation of transcription factors involved in the epithelial–mesenchymal transition (EMT) and reduces the extent of NC cell migration, which leads to a decrease in NC-derived craniofacial skeleton, melanocytes and dorsal fin structures. Transplantation experiments demonstrate a tissue-autonomous role for DS-epi1 in cranial NC cell migration in vivo. Cranial NC explant and single-cell cultures indicate a requirement of DS-epi1 in cell adhesion, spreading and extension of polarized cell processes on fibronectin. Thus, our work indicates a functional link between DS and NC cell migration. We conclude that NC defects in the EMT and cell migration might account for the craniofacial anomalies and other congenital malformations in MCEDS, which might facilitate the diagnosis and development of therapies for this distressing condition. Moreover, the presented correlations between human DS-epi1 expression and gene sets of mesenchymal character, invasion and metastasis in neuroblastoma and malignant melanoma suggest an association between DS and NC-derived cancers.
No MeSH data available.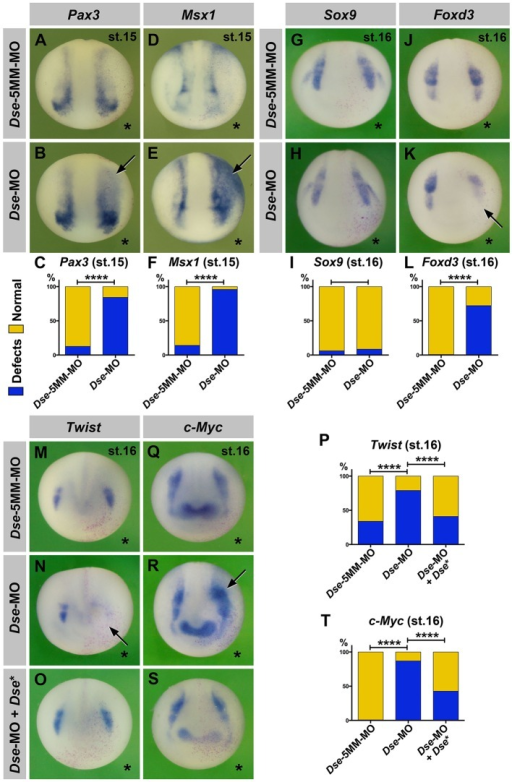 © Copyright Policy - open-access
License
getmorefigures.php?uid=PMC4920151&req=5
Mentions: Animal injection of Dse-MO did not affect the extent of the Sox2+ neural plate or Cytokeratin+ epidermis (Fig. S5A,B); however, it expanded the expression domains of the neural plate border markers Pax3 and Msx3 into the ventral ectoderm at stage 15 (Fig. 4B,C,E,F). DS-epi1 knockdown had no substantial effect on the Sox9 expression in the pre-migratory CNC (Fig. 4H,I); however, it reduced the levels of both the Foxd3 and Twist markers (Fig. 4K,L,N,P) and concomitantly expanded the c-Myc expression in these cells (Fig. 4R,T). The Dse-5MM-MO had no effect (Fig. 4A,D,G,J,M,Q), and the co-injection of Dse* mRNA and Dse-MO reverted the reduction of Twist and the expansion of the c-Myc expression (Fig. 4O,S,P,T), which supports the specificity of the phenotypes. Thus, DS-epi1 is not involved in the early dorsoventral ectoderm patterning; however, it controls the expression of neural-plate-border- and distinct CNC-specific transcription factors in neurula embryos.Fig. 4.