Two different pathogenic mechanisms, dying-back axonal neuropathy and pancreatic senescence, are present in the YG8R mouse model of Friedreich ' s ataxia
ABSTRACT
---
Frataxin (FXN) deficiency causes Friedreich's ataxia (FRDA), a multisystem disorder with neurological and non-neurological symptoms. FRDA pathophysiology combines developmental and degenerative processes of dorsal root ganglia (DRG), sensory nerves, dorsal columns and other central nervous structures. A dying-back mechanism has been proposed to explain the peripheral neuropathy and neuropathology. In addition, affected individuals have non-neuronal symptoms such as diabetes mellitus or glucose intolerance. To go further in the understanding of the pathogenic mechanisms of neuropathy and diabetes associated with the disease, we have investigated the humanized mouse YG8R model of FRDA. By biochemical and histopathological studies, we observed abnormal changes involving muscle spindles, dorsal root axons and DRG neurons, but normal findings in the posterior columns and brain, which agree with the existence of a dying-back process similar to that described in individuals with FRDA. In YG8R mice, we observed a large number of degenerated axons surrounded by a sheath exhibiting enlarged adaxonal compartments or by a thin disrupted myelin sheath. Thus, both axonal damage and defects in Schwann cells might underlie the nerve pathology. In the pancreas, we found a high proportion of senescent islets of Langerhans in YG8R mice, which decreases the β-cell number and islet mass to pathological levels, being unable to maintain normoglycemia. As a whole, these results confirm that the lack of FXN induces different pathogenic mechanisms in the nervous system and pancreas in the mouse model of FRDA: dying back of the sensory nerves, and pancreatic senescence.
No MeSH data available.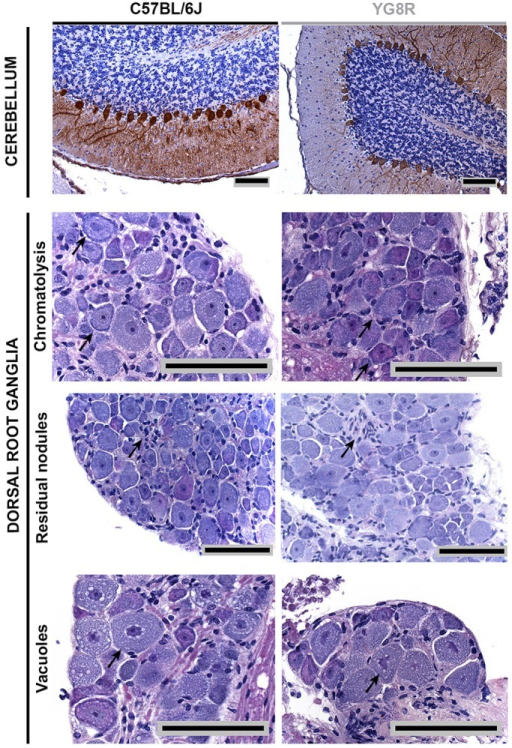 © Copyright Policy - open-access
License
getmorefigures.php?uid=PMC4920149&req=5
Mentions: Pathological changes in the DRG have previously been described in YG8R mice (Al-Mahdawi et al., 2006). The authors observed vacuoles and chromatolysis in the DRG of the lumbar region from 6-month-old animals, and lipofuscin in the DRG of 20-month-old mice. To establish the pathological changes in our model, we performed a histological study in the DRG of the lumbar region and cerebellum from YG8R and WT mice aged 6, 9, 12 and 24 months old. No changes were observed in the cerebellum: Purkinje and granule cells were normal, and no cell loss was observed (Fig. 4). In the DRG, the most obvious changes were observed at 22 months (Fig. 4), and included the presence vacuoles, chromatolysis and residual nodules (Nageotte nodules). However, all of these changes were identified in both genotypes, so can be interpreted as being associated with the aging process. However, we observed significant differences in the number of cells in the DRG, with 1226 cells/mm2 in the WT mice vs 1091 cells/mm2 in the YG8R mice (Fig. 5A). But what about the sensory axons? Did the dorsal roots show any pathological alteration besides molecular differences? To investigate further the possible relationship between axonal defects and the appearance of motor defects in older mutant animals, we performed transmission electron microscopy (TEM) analysis to obtain morphological information about the myelinated fibers of dorsal roots from 24-month-old YG8R and WT mice. Whereas most WT mice had myelinated axons with compact layers of myelin lamellae, YG8R mice had a widespread number of disrupted layers of myelin lamellae (Fig. 5B). Infolded myelin loops were present in both genotypes, but were found more frequently in YG8R axons. In YG8R mice, we observed a large number of degenerated axons surrounded by a sheath exhibiting enlarged adaxonal compartments (defined as the rim of cytoplasm of the Schwann cell and the innermost myelin layer adjacent to the axon) (Young and Boentert, 2005) or by a thin disrupted myelin sheath. We observed vacuoles and other undefined structures in the adaxonal compartment of the YG8R axons. The number of axons was significantly lower at 24 months in YG8R mice (1.75 axons/100 μm2) compared to WT (2.065 axons/100 μm2) (Fig. 5C). Morphometric analysis indicated that the myelin area of the YG8R mice was significantly lower than in WT animals (Fig. 5D), and such demyelination was more evident in the large axons (Fig. 5E). Moreover, axon area (inner area) and myelinated axon area (total area) were also reduced (Fig. 5D). In YG8R mice, we also detected changes in axonal distribution compared to WT (Fig. 5F). There were more 2- to 6-μm axons in YG8R than in WT mice. But the percentage of axons with an axonal diameter over 6 μm was lower. In addition, the g ratio (calculated by dividing the inner area by total area) was significantly reduced (Fig. 5G).Fig. 4.