TLR-mediated albuminuria needs TNF α -mediated cooperativity between TLRs present in hematopoietic tissues and CD80 present on non-hematopoietic tissues in mice
ABSTRACT
---
Transient albuminuria induced by pathogen-associated molecular patterns (PAMPs) in mice through engagement of Toll-like receptors (TLRs) is widely studied as a partial model for some forms of human nephrotic syndrome (NS). In addition to TLRs, CD80 has been shown to be essential for PAMP-mediated albuminuria. However, the mechanistic relationships between TLRs, CD80 and albuminuria remain unclear. Here, we show that albuminuria and CD80-uria induced in mice by many TLR ligands are dependent on the expression of TLRs and their downstream signalling intermediate MyD88 exclusively in hematopoietic cells and, conversely, on CD80 expression exclusively in non-hematopoietic cells. TNFα is crucial for TLR-mediated albuminuria and CD80-uria, and induces CD80 expression in cultured renal podocytes. IL-10 from hematopoietic cells ameliorates TNFα production, albuminuria and CD80-uria but does not prevent TNFα-mediated induction of podocyte CD80 expression. Chitohexaose, a small molecule originally of parasite origin, mediates TLR4-dependent anti-inflammatory responses, and blocks TLR-mediated albuminuria and CD80-uria through IL-10. Thus, TNFα is a prominent mediator of renal CD80 induction and resultant albuminuria in this model, and small molecules modulating TLR-mediated inflammatory activation might have contributory or adjunct therapeutic potential in some contexts of NS development.
No MeSH data available.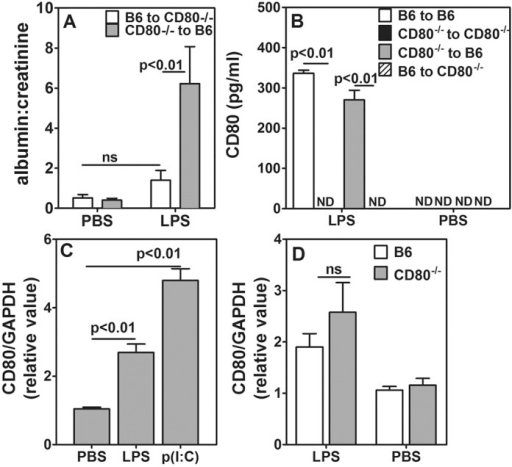 © Copyright Policy - open-access
License
getmorefigures.php?uid=PMC4920147&req=5
Mentions: CD80 is expressed normally by many BM-derived cell lineages. Although renal cells are not known to express CD80 under physiological conditions, they do express it under various stress conditions, such as upon exposure to TLR3 and TLR4 ligands or chronic hypoxia (Chang et al., 2013; Shimada et al., 2012). We also observed expression of CD80 in the podocytes of B6 mice that had been treated with LPS, but not in untreated mice (Fig. S1). Podocytes from CD80−/− mice, as expected, did not show presence of CD80 whether treated with LPS or not (Fig. S1). Neither our data above nor those published previously (Reiser et al., 2004) establish whether the presence of CD80 on renal cells and/or on BM cells is necessary for LPS-mediated albuminuria. To address this, we generated homologous and heterologous BM chimeras, where irradiated CD80−/− and B6.SJL mice received BM cells from either B6.SJL or CD80−/− mice (i.e. B6.SJL to B6.SJL, CD80−/− to CD80−/−, B6.SJL to CD80−/− and CD80−/− to B6.SJL combinations). At 4-6 weeks after transfer, we tested for chimerism in these mice. Representative data from blood analyses of B6.SJL-to-CD80−/− and CD80−/−-to-B6.SJL mice show that chimerism was established successfully (Fig. S2A). Further, we stained splenic cells after red blood cell lysis in order to examine whether myeloid cells in the spleen can express CD80 after LPS injection. Myeloid cells, primarily comprising macrophages from B6.SJL mice (CD45.1+ CD11b+) showed CD80 staining (Fig. S2B), whereas those from CD80−/− mice (CD45.2+ CD11b+) did not (Fig. S2C). Splenic macrophages from CD80−/−-to-B6.SJL chimeric mice (CD11b+) did not stain for CD80 (Fig. S2D). Sera from CD80−/−-to-B6.SJL chimeric mice also did not show elevation of serum CD80 levels in response to LPS (Fig. S2E), further confirming appropriate reconstitution following lethal radiation. For albuminuria experiments, LPS was given 10-12 weeks post chimerization. Recipient B6.SJL mice, which received BM from CD80- mice showed a higher albumin:creatinine ratio in response to LPS (Fig. 2A). In contrast, CD80−/− recipient mice, which received BM from B6.SJL mice, did not show any significant enhancement in the albumin:creatinine ratio in response to LPS over and above the background (Fig. 2A). Homologous CD80−/−-to-CD80−/− chimeric mice showed no albuminuria, whereas B6.SJL-to-B6.SJL mice showed high levels of albuminuria, as expected (Fig. S3A). When urinary CD80 excretion was evaluated in these mice, CD80−/− recipients did not excrete CD80 in urine whether they were reconstituted with B6.SJL or CD80−/− BM (Fig. 2B). These data suggest that CD80 expression on radiation-resistant cells such as podocytes is necessary for the induction of albuminuria, whereas CD80 expression on BM-derived cells is not required, and that the radiation-resistant renal cells expressing CD80 excrete it in urine following treatment with LPS.Fig. 2.