A novel Drosophila model of TDP-43 proteinopathies: N-terminal sequences combined with the Q/N domain induce protein functional loss and locomotion defects
ABSTRACT
---
Transactive response DNA-binding protein 43 kDa (TDP-43, also known as TBPH in Drosophila melanogaster and TARDBP in mammals) is the main protein component of the pathological inclusions observed in neurons of patients affected by different neurodegenerative disorders, including amyotrophic lateral sclerosis (ALS) and fronto-temporal lobar degeneration (FTLD). The number of studies investigating the molecular mechanisms underlying neurodegeneration is constantly growing; however, the role played by TDP-43 in disease onset and progression is still unclear. A fundamental shortcoming that hampers progress is the lack of animal models showing aggregation of TDP-43 without overexpression. In this manuscript, we have extended our cellular model of aggregation to a transgenic Drosophila line. Our fly model is not based on the overexpression of a wild-type TDP-43 transgene. By contrast, we engineered a construct that includes only the specific TDP-43 amino acid sequences necessary to trigger aggregate formation and capable of trapping endogenous Drosophila TDP-43 into a non-functional insoluble form. Importantly, the resulting recombinant product lacks functional RNA recognition motifs (RRMs) and, thus, does not have specific TDP-43-physiological functions (i.e. splicing regulation ability) that might affect the animal phenotype per se. This novel Drosophila model exhibits an evident degenerative phenotype with reduced lifespan and early locomotion defects. Additionally, we show that important proteins involved in neuromuscular junction function, such as syntaxin (SYX), decrease their levels as a consequence of TDP-43 loss of function implying that the degenerative phenotype is a consequence of TDP-43 sequestration into the aggregates. Our data lend further support to the role of TDP-43 loss-of-function in the pathogenesis of neurodegenerative disorders. The novel transgenic Drosophila model presented in this study will help to gain further insight into the molecular mechanisms underlying neurodegeneration and will provide a valuable system to test potential therapeutic agents to counteract disease.
No MeSH data available.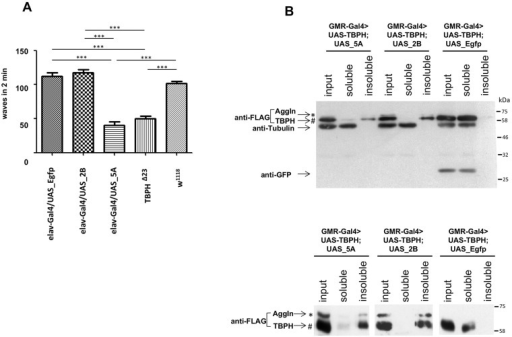 © Copyright Policy - open-access
License
getmorefigures.php?uid=PMC4920146&req=5
Mentions: The possibility of an early lethality of the AggIn flies was checked: we selected third-instar larvae and transferred them to fresh food tubes. After 6 days, we calculated the percentages of eclosed flies, pupal lethality and larval lethality (Fig. S2). Whereas the elav-Gal4>UAS_2B line did not show differences in larval lethality compared to controls (elav-Gal4>+, elav-Gal4>UAS_Egfp) and revealed only a slight increase in pupal lethality, elav-Gal4>UAS_5A animals demonstrated a higher larval and pupal lethality compared to both the controls and to the elav-Gal4>UAS_2B line. Nonetheless, we were able to analyze the phenotype of the animals during the larval stage. To this aim, we assayed third-instar larvae movement by counting the number of their peristaltic waves in 2 min on a suitable solid substrate (see Materials and Methods for details). In addition, as a negative control of the experiment, we used a transgenic line expressing the irrelevant protein EGFP in neurons (elav-Gal4>UAS_Egfp) and the wild-type control line w1118. We also, as a positive control, analyzed the movement of TBPHΔ23 larvae, the first-discovered dTDP-43- allele fly line, which shows a severe neurodegenerative phenotype with a locomotion defect in larval stages and dramatic locomotive defects after eclosion (Feiguin et al., 2009). We did not observe any significant difference in larval motility of the elav-Gal4>UAS_2B larvae with respect to the negative controls (Fig. 6A). The elav-Gal4>UAS_5A larvae, however, showed a significant motility impairment, as compared to the negative controls, with a reduced number of peristaltic waves, quantitatively comparable to those counted with dTDP-43- larvae (TBPHΔ23) (Fig. 6A). Therefore, these results show that the locomotion impairment of the elav-Gal4>UAS_5A fly line is comparable with that of the dTDP-43- model.Fig. 6.