Cellular dynamics of regeneration reveals role of two distinct Pax7 stem cell populations in larval zebrafish muscle repair
ABSTRACT
---
Heterogeneity of stem cells or their niches is likely to influence tissue regeneration. Here we reveal stem/precursor cell diversity during wound repair in larval zebrafish somitic body muscle using time-lapse 3D confocal microscopy on reporter lines. Skeletal muscle with incision wounds rapidly regenerates both slow and fast muscle fibre types. A swift immune response is followed by an increase in cells at the wound site, many of which express the muscle stem cell marker Pax7. Pax7+ cells proliferate and then undergo terminal differentiation involving Myogenin accumulation and subsequent loss of Pax7 followed by elongation and fusion to repair fast muscle fibres. Analysis of pax7a and pax7b transgenic reporter fish reveals that cells expressing each of the duplicated pax7 genes are distinctly localised in uninjured larvae. Cells marked by pax7a only or by both pax7a and pax7b enter the wound rapidly and contribute to muscle wound repair, but each behaves differently. Low numbers of pax7a-only cells form nascent fibres. Time-lapse microscopy revealed that the more numerous pax7b-marked cells frequently fuse to pre-existing fibres, contributing more strongly than pax7a-only cells to repair of damaged fibres. pax7b-marked cells are more often present in rows of aligned cells that are observed to fuse into a single fibre, but more rarely contribute to nascent regenerated fibres. Ablation of a substantial portion of nitroreductase-expressing pax7b cells with metronidazole prior to wounding triggered rapid pax7a-only cell accumulation, but this neither inhibited nor augmented pax7a-only cell-derived myogenesis and thus altered the cellular repair dynamics during wound healing. Moreover, pax7a-only cells did not regenerate pax7b cells, suggesting a lineage distinction. We propose a modified founder cell and fusion-competent cell model in which pax7a-only cells initiate fibre formation and pax7b cells contribute to fibre growth. This newly discovered cellular complexity in muscle wound repair raises the possibility that distinct populations of myogenic cells contribute differentially to repair in other vertebrates.
No MeSH data available.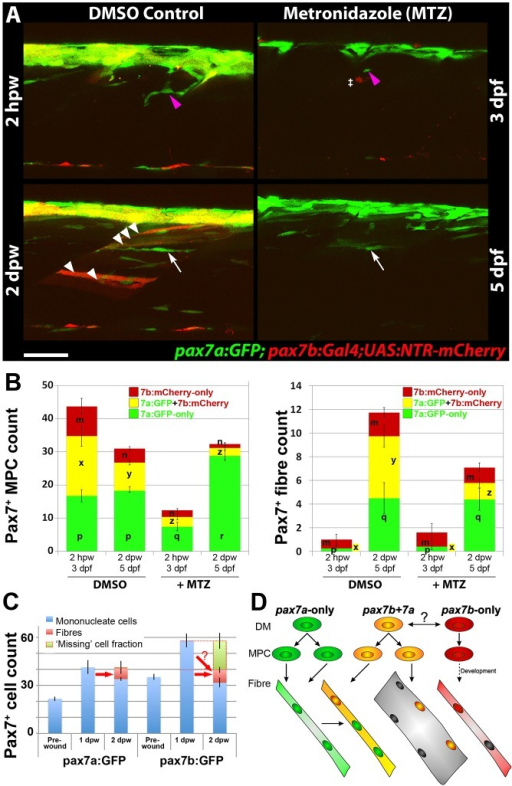 © Copyright Policy - open-access
License
getmorefigures.php?uid=PMC4920144&req=5
Mentions: When untreated larvae were wounded, numerous NTR-mCherry-labelled fibres arose within the wound at 2 dpw (Fig. 7A,B). In contrast, when MTZ-treated larvae were wounded, few pax7b:NTR-mCherry-labelled fibres arose within the wound, consistent with the ablation of most pax7b:NTR-mCherry MPCs (Fig. 7A,B; Table S1). Nevertheless, remaining pax7a:GFP-only cells accumulated in the wound (Fig. 7A). Strikingly, however, no recovery of NTR-mCherry-labelled cells was observed until at least 3 dpw, demonstrating that pax7a:GFP-only cells did not give rise to pax7b-expressing cells (Fig. 7A,B). Within wounds, pax7a:GFP-only cells formed thin nascent fibres expressing GFP, both in MTZ-treated and untreated larvae (Fig. 7A,B; Table S1). At 1 and 2 dpw, pax7a:GFP cells were more numerous in wounded somites in the absence of pax7b:NTR-mCherry cells than in their presence, suggesting rapid proliferation of remaining pax7a:GFP cells (Fig. 7B; Table S1 and data not shown). Nevertheless, the extra pax7a:GFP-only MPCs did not give rise to additional GFP-only fibres compared with non-ablated injured controls, at least prior to 3 dpw, the latest time point examined (Fig. 7B; Table S1). In contrast, MTZ greatly reduced formation of new dual-labelled fibres, consistent with the reduction in pax7b-expressing MPCs (Fig. 7B; Table S1). Surprisingly, despite the absence of pax7b:NTR-mCherry-labelled fibres and lack of compensating increase in pax7a:GFP fibres, the gross morphology of wounds in MTZ-treated fish did not appear worse than that of untreated wounded larvae at 2 dpw (data not shown). These results show that pax7a:GFP-only cells do not convert to pax7b-expressing cells within wounds and do not substitute for the depletion of the latter cells by enhanced differentiation.Fig. 7.