Screening of a Library of FDA-Approved Drugs Identifies Several Enterovirus Replication Inhibitors That Target Viral Protein 2C.
Bottom Line: All compounds acted through the inhibition of genome replication.Mutations in the coding sequence of the coxsackievirus B3 (CV-B3) 2C protein conferred resistance to dibucaine, pirlindole, and zuclopenthixol but not formoterol, suggesting that 2C is the target for this set of compounds.Importantly, dibucaine bound to CV-B3 protein 2C in vitro, whereas binding to a 2C protein carrying the resistance mutations was reduced, providing an explanation for how resistance is acquired.
Affiliation: Department of Infectious Diseases and Immunology, Virology Division, Faculty of Veterinary Medicine, Utrecht University, Utrecht, The Netherlands.
No MeSH data available.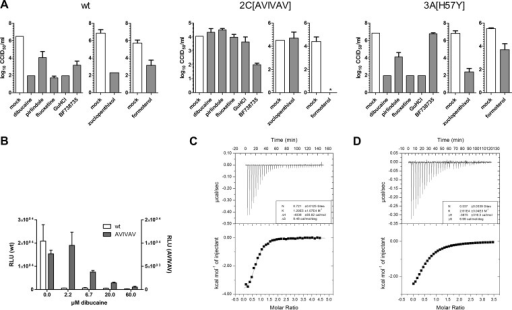 © Copyright Policy - open-access
License
getmorefigures.php?uid=PMC4862474&req=5
Mentions: As a first step to identify the antiviral target of the compounds, we studied their effect on the replication of CV-B3 mutant viruses that we previously selected for resistance against other inhibitors of genome replication. CV-B3 carrying a mutation in 3A [3A(H57Y)], which confers resistance to phosphatidylinositol 4-kinase III beta (PI4KIIIβ) inhibitors (e.g., PIK93, enviroxime, GW5074, and BF738735) (24) and inhibitors of oxysterol-binding protein (itraconazole and OSW-1) (8), or in 2C [2C(A224V,I227V,A229V)], which confers resistance to fluoxetine, TBZE-029, and GuHCl (10, 18), was tested for cross-resistance to formoterol, dibucaine, pirlindole, and zuclopenthixol. Cells were transfected with in vitro-transcribed RNA of (i) wt CV-B3, (ii) the 3A(H57Y) mutant virus, or (iii) the 2C(A224V,I227V,A229V) mutant virus and treated with 10 μM pirlindole, 5 μM dibucaine, 3 μM zuclopenthixol, or 10 μM formoterol or mock treated. The PI4KIIIβ inhibitor BF738735 (named compound 1 in reference 5) or the 2C-targeting compounds GuHCl and fluoxetine were included as controls. Virus titers were determined at 8 h posttransfection. The 2C mutant virus in the presence of pirlindole, dibucaine, or zuclopenthixol replicated to titers similar to those in untreated cells (Fig. 6A). Also, GuHCl- and fluoxetine-treated 2C mutant virus replicated to similar titers. Conversely, titers of the 3A(H57Y) mutant virus were reduced in the presence of pirlindole, dibucaine, zuclopenthixol, and formoterol, indicating that this mutation does not confer resistance to either of these compounds, while this virus, as previously described (5), was not sensitive to the PI4KIIIβ inhibitor BF738735 (Fig. 6A). In summary, neither of the two tested mutants conferred resistance to formoterol, while the mutations in 2C conferred resistance to pirlindole, dibucaine, and zuclopenthixol, which is suggestive of a mode of action for these three compounds that is similar to that for GuHCl and fluoxetine.