TANGO1 and Mia2/cTAGE5 (TALI) cooperate to export bulky pre-chylomicrons/VLDLs from the endoplasmic reticulum
ABSTRACT
---
Santos et al. show that TANGO1 and a TANGO1-like protein, TALI, bind each other and function together as receptors to export bulky ApoB-containing lipid particles from the endoplasmic reticulum. However, TANGO1-mediated export of bulky collagens by the same cells is TALI independent.
No MeSH data available.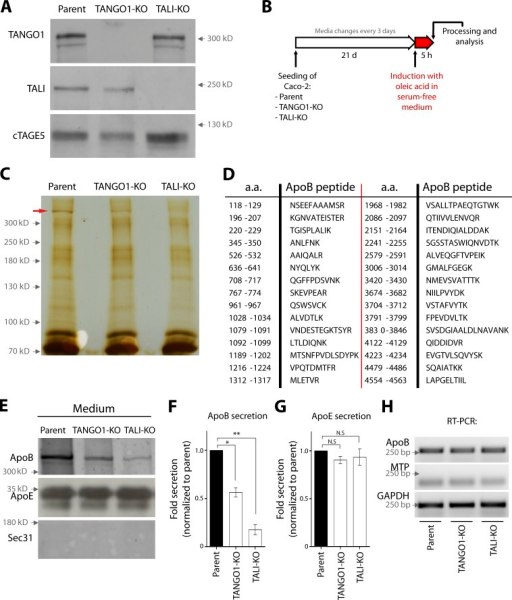 © Copyright Policy - openaccess
License 1 - License 2


getmorefigures.php?uid=PMC4862334&req=5

Mentions: We next tested whether TANGO1 and TALI were required for secretion of ApoB, a protein that forms the shell of chylomicrons and VLDLs. We generated Caco-2 cell lines in which endogenous TANGO1 and TALI were deleted by the clustered regularly interspaced short palindromic repeat (CRISPR)/Cas9 system (Cong et al., 2013; Mali et al., 2013). Western blots confirmed the complete absence of TANGO1 and TALI in Caco-2 cells by the CRISPR/Cas9 method. Importantly, the TALI guide RNAs (gRNAs) were designed to target the sequence corresponding to MIA2, and so cTAGE5 expression was not affected (Fig. 2 A). Although Caco-2 cells are derived from a colon carcinoma, upon polarization they are morphologically and functionally similar to the enterocytes of the small intestine and thus a well-established system to study the form and function of enterocytes. To induce the secretion of chylomicrons, we seeded parental and CRISPR-cells (TANGO1-knockout [KO] and TALI-KO), and allowed them to differentiate for 21 d. At that time, the cells were washed and incubated with fresh FCS-free medium containing oleic acid (1.5 mM; Fig. 2 B). After 5 h, we collected the medium and, after TCA precipitation, visualized secreted proteins on a 6% SDS-PAGE gel by silver staining. A protein corresponding to a size greater than 300 kD was present in the medium of parental cells but was substantially reduced in the medium of both TANGO1-KO and TALI-KO cells (Fig. 2 C). The band from the parental sample was excised from the gel and identified by mass spectrometric analysis. This procedure revealed 30 peptides that were specific for ApoB (Fig. 2 D), which indicated a role for TANGO1 and TALI in the secretion of ApoB-containing particles. To confirm the results obtained by mass spectrometry, we repeated the secretion-inducing procedure described earlier, but this time we probed the supernatants of parental, TANGO1-KO, and TALI-KO cells by Western blotting with an anti-ApoB antibody. As expected, knockout of TANGO1 and TALI led to a block in secretion of ApoB to ∼44% and 82%, respectively, compared with the parental cells (Fig. 2, E and F). On the other hand, secretion of apoE, a lipoprotein that associates with chylomicrons extracellularly and does not play a role in their assembly or secretion (Plump et al., 1992; Zhang et al., 1992), was not affected in the TANGO1 and TALI KO cells (Fig. 2, E and G). To test whether the reduction in secretion of ApoB in the absence of TANGO1 or TALI was caused by down-regulation of the mRNA levels of ApoB or MTP, a chaperone that is necessary for the folding and assembly of ApoB-containing lipid particles at the ER, we extracted total RNA from differentiated parental, TANGO1-KO, and TALI-KO Caco-2 cells and produced cDNA by RT-PCR. We did not detect any differences in the levels of mRNA of ApoB or MTP between the parental and KO cells (Fig. 2 H). Altogether, these findings indicate that secretion of fully assembled chylomicrons is impaired in the absence of TANGO1 or TALI.