Regulation of podocalyxin trafficking by Rab small GTPases in 2D and 3D epithelial cell cultures
ABSTRACT
---
Epithelial polarity establishment involves transcytosis of podocalyxin to the apical domain, but its route and regulation are unclear. Here, Mrozowska and Fukuda demonstrate that different Rabs and Rab effectors coordinate podocalyxin transport during polarization in 2D and 3D structures.
No MeSH data available.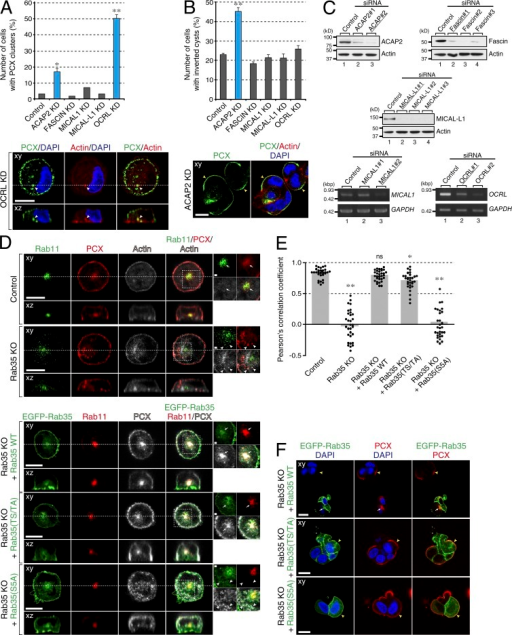 © Copyright Policy - openaccess
License 1 - License 2


getmorefigures.php?uid=PMC4862332&req=5

Mentions: Rabs generally control membrane trafficking through interaction with their specific effector molecules (Fukuda, 2008; Zhen and Stenmark, 2015). To molecularly understand the difference in Rab35-depletion (clustered PCX phenotype in 2D cells versus inverted phenotype in 3D cysts), we attempted to identify effector molecules of Rab35, through which Rab35 regulates PCX trafficking in 2D and 3D cell cultures. So far, at least five different Rab35 effectors have been reported in mammals: ACAP2 (also known as centaurin-β2; Kanno et al., 2010; Kobayashi and Fukuda, 2012), Fascin (Zhang et al., 2009), MICAL1 (Fukuda et al., 2008), MICAL-L1 (Fukuda et al., 2008; Rahajeng et al., 2012; Kobayashi and Fukuda, 2013a), and OCRL (Fukuda et al., 2008; Dambournet et al., 2011). Because all five Rab35 effectors are endogenously expressed in MDCK II cells, we depleted each effector with specific siRNAs (Fig. 7 C), and the 2D and 3D KD cells were observed to determine PCX localization. Provided that certain Rab35 effector functions together with Rab35 during PCX trafficking in developing 2D monolayers or 3D cysts, its KD should phenocopy Rab35 deficiency. In 2D KD cells growing on glass-bottom dishes, the clustered PCX phenotype was mimicked largely by the suppression of OCRL and to the lesser extent by that of ACAP2 (Fig. 7 A). To further confirm the importance of Rab35–effector interaction during PCX trafficking, we used two recently developed Rab35 mutants with amino acid substitutions in the switch II effector region (Etoh and Fukuda, 2015): a Rab35(TS/TA) mutant with decreased binding affinity only for ACAP2 and a Rab35(S5A) with decreased affinity for all the effectors, including OCRL. In control cells, intracellular PCX showed extensive colocalization with the recycling endosome marker Rab11 (Fig. 2 C and Fig. 7 D, arrows, and Fig. 7 E), whereas in Rab35-KO cells, such colocalization was almost completely lost (Fig. 7, D and E) and instead PCX clusters were often colocalized with actin (Fig. 7 D, arrowheads). To determine the ability of Rab35 mutants to rescue the PCX trafficking defect, we quantified the Pearson's correlation coefficient of colocalization between PCX and Rab11 in Rab35-KO cells expressing Rab35 mutants. The reexpression of Rab35 wild type in Rab35-KO cells was able to completely rescue the colocalization and, to a considerable extent, the reexpression of Rab35(TS/TA) mutant. In contrast, the Rab35(S5A) mutant was unable to rescue the colocalization at all (Fig. 7, D and E). These Rab35 KO-rescue results together with the aforementioned data of Rab35 effectors KD (Fig. 7 A) collectively point at OCRL as the main effector through which Rab35 regulates PCX trafficking in 2D cells, although ACAP2 may also partly contribute to this pathway. It should be noted, however, that KD of OCRL in 3D cysts (24 h) did not induce an inverted phenotype, indicating that a different Rab35 effector should function in PCX trafficking in 3D cysts. Interestingly, in Matrigel culture, only ACAP2 KD induced the inverted phenotype, identical to the one observed in Rab35-KD/KO cysts (Fig. 7 B). In accordance with the ACAP2-KD data, the inverted phenotype of Rab35-KO cells was unable to be rescued by reexpression of either of the ACAP2 binding-deficient mutants, whereas wild-type Rab35 clearly rescued it (Fig. 7 F). Thus, ACAP2 is likely to act as a major Rab35 effector during PCX trafficking in 3D cysts.