A mitotic SKAP isoform regulates spindle positioning at astral microtubule plus ends
ABSTRACT
---
The Astrin/SKAP complex regulates mitotic chromosome alignment and centrosome integrity, but previous work found conflicting results for SKAP function. Here, Kern et al. demonstrate that a previously unappreciated short SKAP isoform mediates mitotic spindle positioning at astral microtubule plus ends.
No MeSH data available.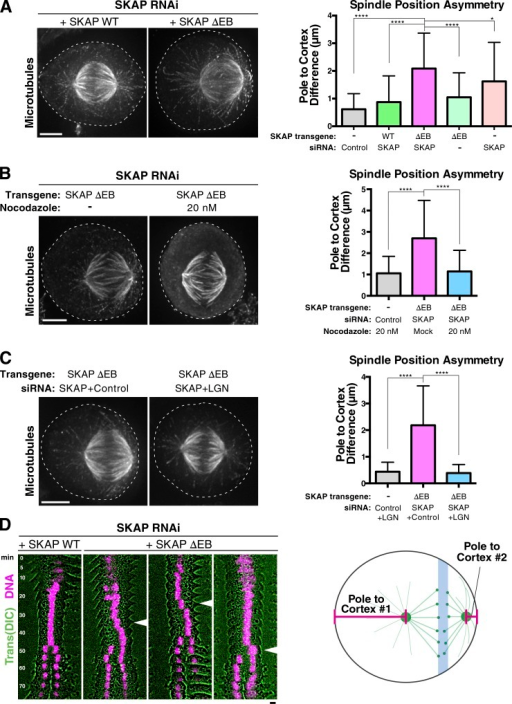 © Copyright Policy - openaccess
License 1 - License 2


getmorefigures.php?uid=PMC4862331&req=5

Mentions: Although the SKAP ΔEB mutant was able to facilitate normal chromosome segregation, during our analysis of chromosome alignment, we unexpectedly observed that many spindles in the SKAP ΔEB mutant were dramatically mispositioned away from the cell midzone, often adjacent to or abutting the cell cortex (Fig. 5 A). In these extreme cases, cells appeared to have centrosomes and their astral microtubules directly in contact with the cortex (Fig. S3 C). In control cells or cells in which wild-type SKAP rescued endogenous SKAP depletion, we found that the spindle was typically positioned symmetrically within the dividing cells with similar distances between each spindle pole and the cell cortex (mean spindle displacement: control, 0.62 µm; rescue, 0.87 µm; Fig. 5 A). In contrast, we found that the spindle was positioned asymmetrically within the cell in SKAP ΔEB mutant cells such that one spindle pole was often much closer to the cell cortex (mean spindle displacement: ΔEB, 2.1 µm; Fig. 5 A), including cells with extremely mispositioned spindles (Fig. 5 A). Expression of the SKAP ΔEB mutant without depletion of the endogenous protein resulted in a modest, but statistically significant, shift in spindle positioning (mean spindle displacement: 1.05 µm; Fig. 5 A), potentially because of the formation of mixed Astrin/SKAP complexes. SKAP-depleted cells display dramatic and pleiotropic defects in chromosome alignment and centrosome stability (Fig. 2), which can influence spindle positioning indirectly (Kiyomitsu and Cheeseman, 2012; Tame et al., 2016), thereby preventing a directed analysis of spindle positioning phenotypes in SKAP-depleted cells with more extreme phenotypes (see Video 1). To test for spindle positioning defects in SKAP-depleted cells without substantial secondary defects, we quantified cells with clearly defined metaphase plates, which likely represent cells with an intermediate SKAP depletion. In these depleted cells, we found substantial spindle mispositioning (mean spindle displacement: 1.62 µm; Fig. 5 A), although slightly less than that observed in the SKAP ΔEB mutant. We conclude that SKAP ΔEB mutant replacement has a potent and specific effect on spindle positioning.