Talin tension sensor reveals novel features of focal adhesion force transmission and mechanosensitivity
ABSTRACT
---
The cytoskeletal adapter protein talin plays a prominent role in adhesive structures connecting integrins to the actin cytoskeleton. In this work, Kumar et al. use a novel talin sensor to measure talin tension and provide insights into focal adhesion force transmission and mechanosensitivity.
No MeSH data available.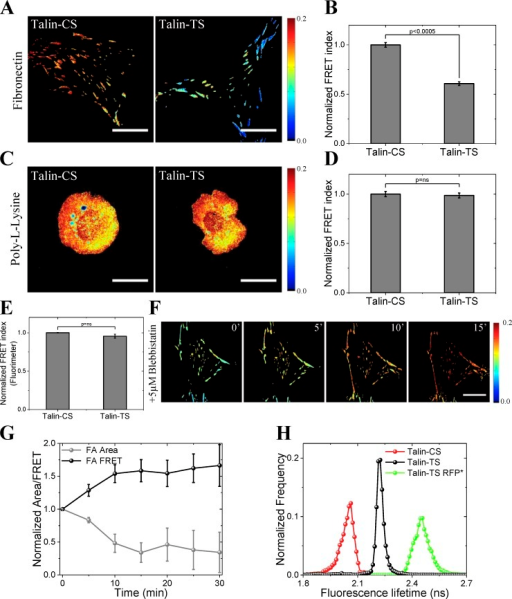 © Copyright Policy - openaccess
License 1 - License 2


getmorefigures.php?uid=PMC4862330&req=5

Mentions: To determine the tension on talin, we measured the FRET index in live cells as an approximation of FRET/molecule (Grashoff et al., 2010). This method measures FRET intensity, subtracts the background and the bleed through for the two fluorophores, and then normalizes to acceptor intensity. For these experiments, we analyzed FAs >0.25 µm2, as smaller adhesions are harder to identify and quantify. In cells plated on fibronectin, FRET for talin-TS within FAs was low compared with talin-CS (Fig. 2, A and B). In contrast, when cells were plated on poly-l-lysine, where talin does not localize to FAs, FRET was high for both talin-TS and CS (Fig. 2, C and D). To check whether the talin-TS is sensitive to conformational changes associated with talin activation, we took advantage of the fact that talin recruitment to membranes is dependent on its conformational opening (Lagarrigue et al., 2015). Thus, membrane-bound talin outside of adhesive areas should be activated but without tension. Cells plated on polylysine show a clear rim of membrane-bound talin against the diffuse cytoplasmic pool. Membrane-bound versus cytoplasmic talin in cells on polylysine, at a plane well above the coverslip, showed no difference in FRET index (Fig. S2, A and B). Additionally, when FRET efficiency was measured in cell lysates by fluorimetry (Grashoff et al., 2010), talin-TS and CS were equivalent (Fig. 2 E). FRET index for talin-TS was similar in 3T3 cells that expressed endogenous talin (Fig. S2, C and D), indicating that the method is applicable to other cell types. Together, these data show that talin in FAs is under tension.