Sliding of centrosome-unattached microtubules defines key features of neuronal phenotype
ABSTRACT
---
Rao et al. show that during migration, neurons contain a small population of centrosome-unattached microtubules in the leading process that are capable of sliding. Increasing the proportion of centrosome-unattached microtubules alters neuronal morphology, migration path, and microtubule behavior in the leading process.
No MeSH data available.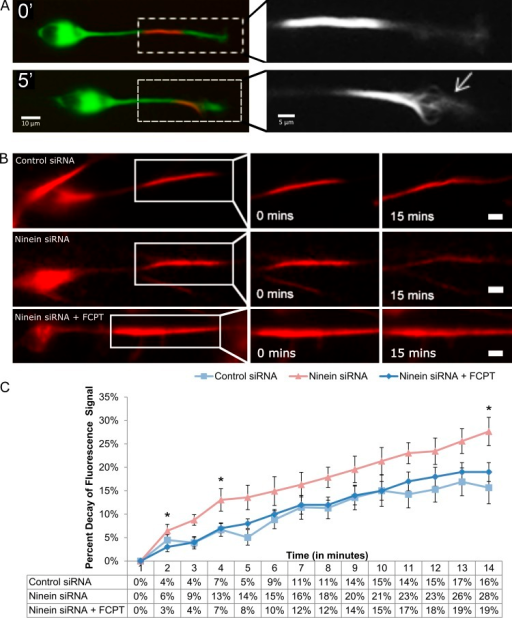 © Copyright Policy - openaccess
License 1 - License 2


getmorefigures.php?uid=PMC4862329&req=5

Mentions: Although MT sliding could be observed in some control migratory neurons, this was rare, with most control neurons not having sufficient sliding of MTs to be directly visualized. Furthermore, MTs in the leading process could occasionally be seen buckling (Fig. 4 A), presumably resulting from sliding that had been interrupted. These observations led us to hypothesize that limited MT sliding occurs in control neurons, but is usually too subtle to directly observe as MT movements with our imaging paradigm. Therefore, to quantitatively compare MT sliding in control and ninein-depleted neurons, tdEos-tubulin was photoconverted in a portion of the leading process of migratory neurons, and the rate of signal decay of the converted tubulin was measured in the red channel, the idea being that more sliding of MTs would result in a greater decay of fluorescence signal. Under control conditions, the tdEos-tubulin signal decreased by 16 ± 3% over 14 min. Loss of tubulin signal jumped to 28 ± 3% after ninein-depletion (Fig. 4 B, top and middle panels, respectively). To ensure that the observed signal decay resulted from MT sliding and not changes in MT stability, we used FCPT, an ATP-competitive inhibitor of kinesin-5 that locks the motor onto the MTs in a rigor-like state that cross-links and immobilizes the two MTs engaged by the motor (Groen et al., 2008). (Kinesin-5 normally acts as a brake on MT movements in neurons [Falnikar et al., 2011; Kahn et al., 2015a], but acts in a regulated fashion that still permits a great deal of MT movement to occur at any given time. By making a rigor complex of most MT-associated kinesin-5 molecules, FCPT is an effective inhibitor of MT sliding.) Fluorescence-decay in ninein-depleted neurons treated with FCPT was reduced from 28 ± 3% to 19 ± 2% (Fig. 4, B [bottom] and C; and Video 3). Similar results were obtained using GSK246053, an ATP-competitive inhibitor of kinesin-5 that is structurally dissimilar to FCPT and yet produces the same effects (Parrish et al., 2007; Groen et al., 2008). These results indicate that the observed increase in fluorescence decay after ninein depletion predominantly results from an increase in MT sliding (Fig. 4 C, quantification).